Menu Of The Day at Sanderson
Every day


12:30 PM - 10:30 PM

at The Restaurant at Sanderson in Sanderson
- London -
Enjoy a leisurely meal at The Restaurant at Sanderson from our Menu Of The Day. Priced at £28, it's not one to miss.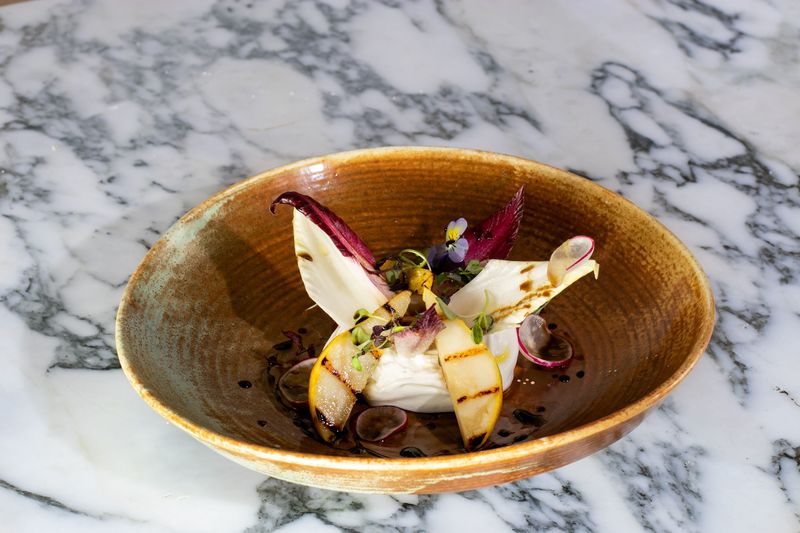 STARTERS
CHICKEN TERRINE pickled walnuts | homemade piccalilli
GRILLED OCTOPUS seaweed tartare | black lemon purée
BURRATA grilled pears | red radish | chicory | molasses
MAINS
STUFFED CHICKEN wild mushrooms | truffle dauphinoise | red wine just
HAKE shrimp butter | bean cassoulet | samphire
GNOCCI wild mushrooms | spinach | porcini cream | parmesan crisp
SIDES (all priced at £5)
TRUFFLE DAUPHINOISE
FRENCH FRIES
RAINBOW CAULIFLOWER WITH TOASTED BUCKWHEAT
DESSERTS
BLACK FOREST DELICE tonka ice cream | cherry coulis
BRAEBURN APPLE TART salted caramel sauce | crème fraîche ice cream
ICED NOUGAT mandarin & thyme sorbet | cranberry coulis | tuile
The Menu Of The Day is available every day from 12pm - 2.30pm, and 6pm - close.
So dig in and enjoy! To book please either call 020 7300 1400 or email london-guestservices@sbe.com