Flow-In-The-Dark - The Acro Yoga Edition
Move. Sweat. Connect.
February 01, 2019


6:30 PM - 9:00 PM

in St Martins Lane
- London -
Don your brightest workout gear and pop on some neon face paint, St Martins Lane is playing host to The Wellscene's next Flow-In-The- Dark class - the Acro Yoga edition with Anna Karides, on Friday 1 February 2019.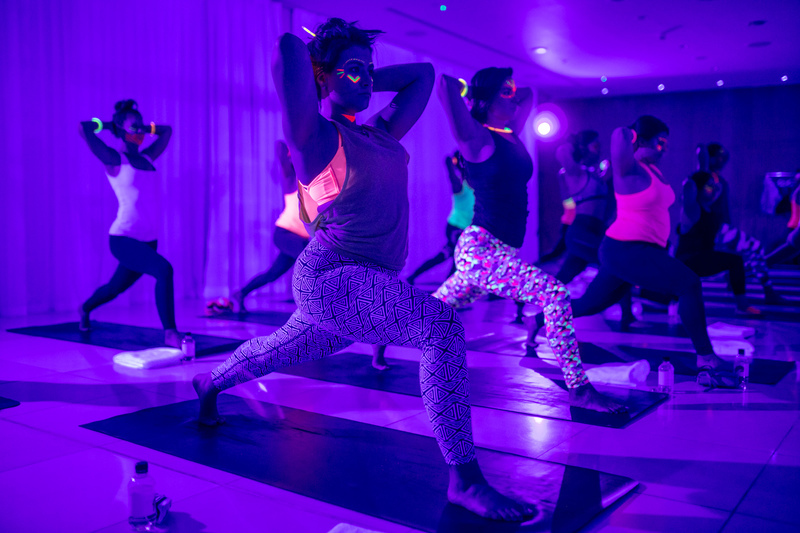 At The Wellscene, they do yoga differently. They turn off the light, crank up the music and team up with London's favourite yoga teachers to give you sweat dripping feel-good yoga. You can expect an uplifting, fun and grounding 60-minute yoga class that will get you twisting, sweating and moving, making sure you'll leave the mat feeling rejuvenated, blissful and inspired. Unlike most other yoga classes, this one will take place in the near dark. The space will solely be illuminated by black lights. To make things extra spectacular, we ask you to come in your brightest active wear. We give you glow sticks when you arrive and have a DIY neon face paint station set up so you can literally flow and glow in the dark.
Join us for a very special acro yoga class where the wisdom of yoga, the dynamic power of acrobatics and the loving kindness of healing arts are blended into one. Acro yoga is performed mainly in pairs or in groups and is open to all levels (modifications will be given). No previous experience required and it's totally okay to come on your own!
Don't rush off straight after class though, as we'll be treating you to a Neat-Nutrition smoothie, cheeky glass of wine or beer. It's Friday after all…
Sounds good? Grab your friends, get your ticket and we'll see you on the mat! For tickets click here: https://www.eventbrite.co.uk/e/flow-in-the-dark-the-acro-yoga-edition-tickets-53948831407
SCHEDULE:
6.30 - 7.00pm Doors open + DIY face paiting
7.00 - 8.00pm Acro yoga with Anna
8.00 - 9.00pm Social hour
Please note £1 of your ticket is donated to Cool Earth, a non-profit organisation that does incredible work to fight deforestation - one of the leading causes of climate change.