Creative Hour
Creative Hour at Skybar is taking the traditional happy hour up a notch
Every Tuesday from June 28, 2016 - August 16, 2016


7:00 PM - 8:30 PM

at Skybar in Mondrian LA
- Los Angeles -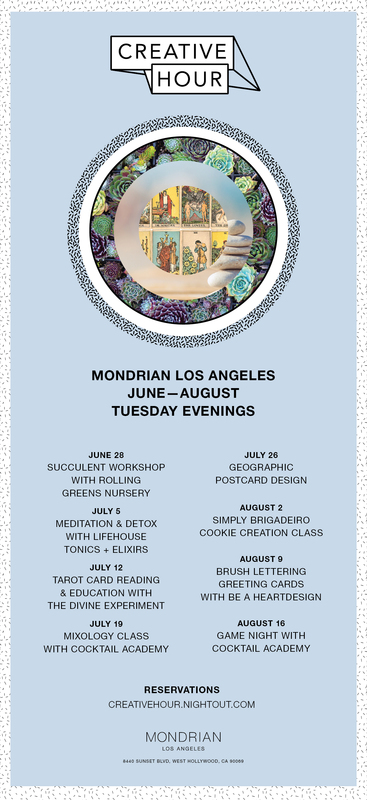 Creative Hour at Mondrian Los Angeles is taking the traditional happy hour up a notch by offering DIY & innovative classes all from the comfort of the hotel's famed Skybar. Every Tuesday this summer from 7-8:30p, we will offer a diverse catalog of programming from local artisans such as Succulent 101 from Rolling Greens Nursery, Tarot Card Reading & Education to Mixology with Cocktail Academy. All classes are open to the public & hotel guests 21+ and guarantee a fun educational experience unlike anything in Los Angeles this summer! New innovative Creative Hours are being added to the schedule, and please check in for updates and class fees. Immediately following the Creative Hour is our returning concert series Tunesday, offering guests an intimate musical experience with some of the best known and emerging artists, a complimentary experience for all.
Must register below to attend. For additional information and pricing for each class, please email us here.
Stay at Mondrian Los Angeles and celebrate its 20 year anniversary! Being founded in 1996, Mondrian is offering 19.96% off studios and above and includes two signature Skybar cocktails. Book now.
June 28 - Succulent Workshop with Rolling Greens Nursery - $35/student
Learn artisanal succulent arrangement with Rolling Green Nursery's team during this private class. Each student will receive a satchel with all the materials to design your plant work of work. Take your succulent home and learn how to care for various types of succulents.
July 5 - Meditation & Detox with Lifehouse Tonics + Elixirs - Pricing TBA
Sip Lifehouse Tonics, and relax after the long holiday weekend. Spend the evening in meditation and cleanse the long weekend away.
July 12 - Tarot Card Reading & Education with The Divine Experiment - $55/person
Join Angie and Alisa of The Divine Experiment for an evening of ritual and reconnection. Come learn techniques for reading the tarot, working with botanical remedies like flower essences and connecting more deeply to your intuition. A tarot deck and flower essences are included in the cost to attend.
July 19 - Mixology Class with Cocktail Academy - Pricing TBA
Learn the art of artisanal cocktails with industry pros Cocktail Academy. The team will show you the basics of shaken vs. stirred and will guide you on recreating cocktails right from Skybar's menu as well as a few classics.
July 26 - WILL BE RESCHEDULED
August 2 - Simply Brigadeira Cookie Creation Class - Pricing TBA
Learn about Brazil's favorite cookie the Brigadeiro. Decorate and take home a set of 12 Brigadeiros (classic milk chocolate, white chocolate and dark chocolate) you rolled and decorated yourself. Chef Sabrina and Simply Brigadeiro are a Martha Stewart "Made in America" Finalist.
August 9 - Brush Lettering Greeting Cards with @BeAHeartDesign - $35/person
Learn the art of brush lettering with LA based Letterer Erica Teige of Be A Heart Design, en vogue for place settings, invitations and much more. Participants will walk away with ink, brushes and a set of cards. Erica's lettering work was featured in the June issue of Elle Magazine.
August 16 - Game Night with Cocktail Academy - Pricing TBA
The guys from Cocktail Academy are back to showcase their skills behind the bar and teach guests how to make some of the summer's best poolside sips. Classic board games from across the world will be set up at Skybar to enjoy with your craft cocktails (you made yourself)!
August 23 - Kombucha Class with Health-Ade - Complimentary
Sip on your favorite Health-Ade kombucha flavor while Co-Founder Daina Slekys Trout walks you through the steps to make your very own brew at home. Guests will take home tips and tricks from the best in the business, as well as everything they need to make their own delicious kombucha brew. Daina will also show how to mix things up with kombucha mocktails and all attendees will walk away with their very own brew-kit!
August 30 - Tarot Reading 101 with Natalia Benson
Head Astrologer for WhoWhatWear.com, Modern Mystic & esoteric enthusiast, Natalia Benson, is holding a Tarot 101 Class at the Mondrian Hotel in West Hollywood. Tarot is rich with symbolism & practical life wisdom. Natalia guides this 2.5 hour long workshop complete with intuitive meditation, covering every aspect of the Tarot & how you can embark upon the journey the Tarot offers for yourself. This class is wonderful for any skill level, total beginner to advanced reader. Come prepared with an open mind and a Tarot deck you'd like to learn with. Starchild Tarot Deck's by artist, Danielle Noel, will be available for purchase at the class.
More dates to be announced