March 17, 2015
The record collector—that nomadic soul in search of vinyl gold—is a particular creature. To sum it up in one trait, the word would be: obsession. Pit against an era that keeps advancing towards intangibility, collectors scour the globe to dig out seductive, immortalized objects with a lushly crackling sound—one that provides an aurally expansive, even cinematic experience. And for some, the collecting zeal gets sparked from early exposure.

"I got my first record around age four (though obviously I didn't buy it for myself)," says Andrew Yeomanson, aka DJ Le Spam. "It was Johnny Cash's At Folsom Prison. Cash was my boyhood hero, so once I had some pocket money, I would buy another Johnny Cash record, and this went on until I was about 11 years old."

Best known as the vanguard behind the Spam Allstars (who've been trailblazing the innovative, world-embracing, Miami-fusion sound for 18 years now), Yeomanson is also a notoriously prolific record collector, having accumulated around 15,000 records since he began as a wee kid. Not surprisingly, he describes his collecting process as "obsessive."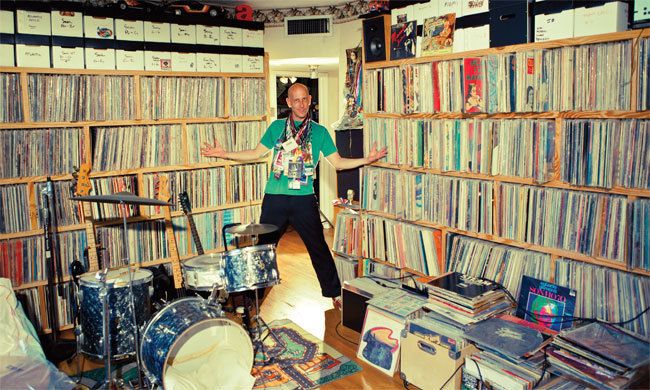 "I have many different strands in my collection," he says. "I might go for a while without adding to one of them and then suddenly add a few new pieces…I like it when I get called upon to delve into a certain area—this usually leads me to some new discoveries."

Having been a collector for decades, Yeomanson has the luxury to stay home and dig through his crates, rather than constantly go out to hunt down new finds. He used to acquire over 100 records per week—a momentum that has understandably slowed down, now fluctuating between "a couple" and over 100 a month: "I drop in on the thrift stores, garage sales, a few dealers, record shows, and our local record stores (such as Sweat Records and Radio-Active). I also buy from other collectors and eBay."

"I'm especially into Miami records from the '50s to '80s," he adds. "I'm fascinated by Miami's musical history and unique sounds." But certain recordings can be elusive to even the most diehard collectors, especially when they come from older labels that are a bit recherché. Yeomanson says he's still searching for a few, including Jimmie "Bo" Horne's mellifluent R&B single, "I Can't Speak," released in 1969 on Dade Records (which was run by legendary producer Henry Stone): "It's beautiful and local to Miami!"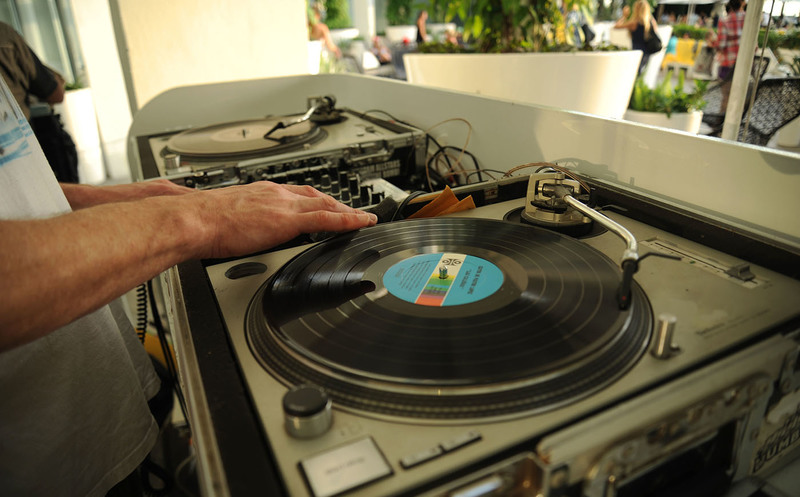 And since Yeomanson's affinity for the record goes back such a long way, he fittingly only spins vinyl on DJ (and live band) gigs: "It's the format I grew up with and you could say that my ears are accustomed to that. I like the physical nature of sound on plastic and to me the size of an LP makes it a perfect vehicle for design art."

Harboring similar tastes for a global variety of music, Marcello Bentine is another avid collector and DJ who has devoted many years to finessing his turntablist skills and honing an exploratory sense for finding compelling music around the world. He has also collaborated with Yeomanson, such as on a Tropicália-inspired party, which he's held in various international destinations.

His love affair with the record began with an unfortunate incident: "Right about the time I was finishing graduate school, all of my CDs were stolen. I bought two turntables and a box of vinyl the next day and never looked back. A few months later, I started DJing mostly with my mom's Brazilian vinyl collection in a small dingy cigar bar for fun."

For Bentine, a big part of the collecting journey is encompassed by his travels. "I love world music bought specifically in its respected country, so my vacations usually revolve around the proximity of a good record shop," he says. "There's just something nostalgic about buying used records that were previously listened to by people indigenous to their region. I found my best records in countries like India, Cuba, Colombia, Japan, England, and Brazil (of course)."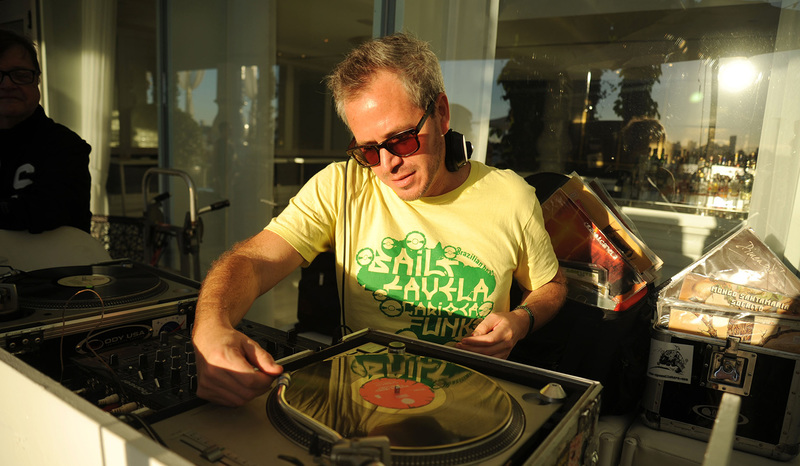 Bentine now counts thousands of records in his collection, cheekily letting on that the total would be at "over 5,000, but under a million." Professionally, he's a medical speech and language pathologist, who uses music in therapy with his patients. But during his free time, the search continues: "I'll hit up some local used stores (example: Yesterday and Today Records) and thrift shops. Nowadays, most record dealers sell from their private warehouses, so I would make a couple appointments with local dealers like Bob Perry at Blue Note Records, followed by a night of online bidding on eBay. Nerd-alert!"

However, he sometimes encounters setbacks when he can't find what he's looking for in a physical store. Case in point: "Tim Maia was considered 'The Brazilian Funk Soul Godfather' and he's one of my all-time favorites. In the '70s, he was lured away from the mainstream record labels by the Cult of Rational Energy (which he joined), and he produced two obscure albums for them: Rational: Volumes 1 & 2 (a bootleg Volume 3 came out as well).

"I own Volume 1 and the bootleg. Volume 2 is one of his best and rarest—a holy grail for record collectors. Last year, I found one at an online record store for a pretty penny, but when the box finally arrived in the mail, it was empty."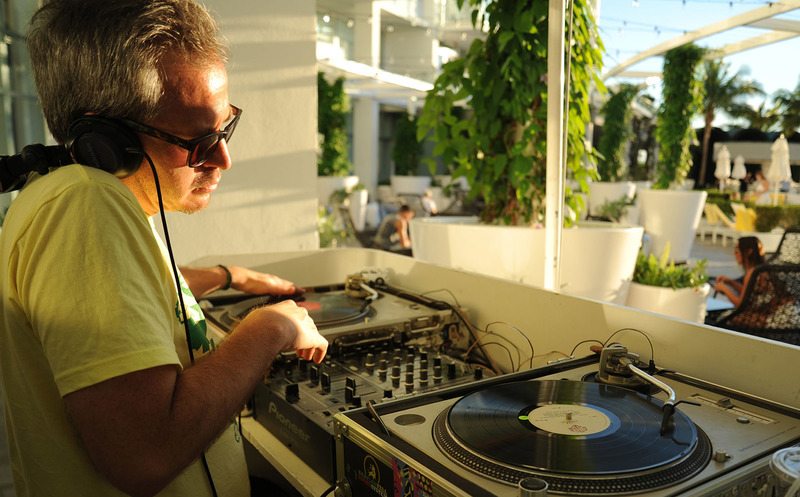 Currently, both Bentine and Yeomanson headline their own all-vinyl, daytime-into-evening bashes at the Mondrian South Beach, each of them hosted by the Mondrian Pool Club—a casual-cool, pool-side gathering with bayside views, intent on celebrating Miami's cultural melting pot. Their once-monthly events are perfectly in-sync conceptually, with Bentine showcasing a vibrant parade of multihued sounds at Brazil Miami.

"To me, the Mondrian Pool Club has a minimal '60s lounger feel, surrounded by turquoise waters," he says. "I immediately think of artists who would complement this environment, such as Cal Tjader, Vanja Orico, Antônio Carlos Jobim, Walter Wanderley, and João and Astrud Gilberto.

"I always prefer vinyl for the obvious reasons, like 'It sounds better' and 'I can touch the music,' but I enjoy the challenge as well. For example, with a computer, you have thousands of songs at your fingertips, which can feel overwhelming at times. With vinyl, you only have a few records so you really have to be creative to make it work. Six hours is a long time for an all-vinyl, Brazilian themed event, so I prepare several boxes into sub-genres (samba, bossa nova, forró, carimbó, Brazilian boogie/disco, etc).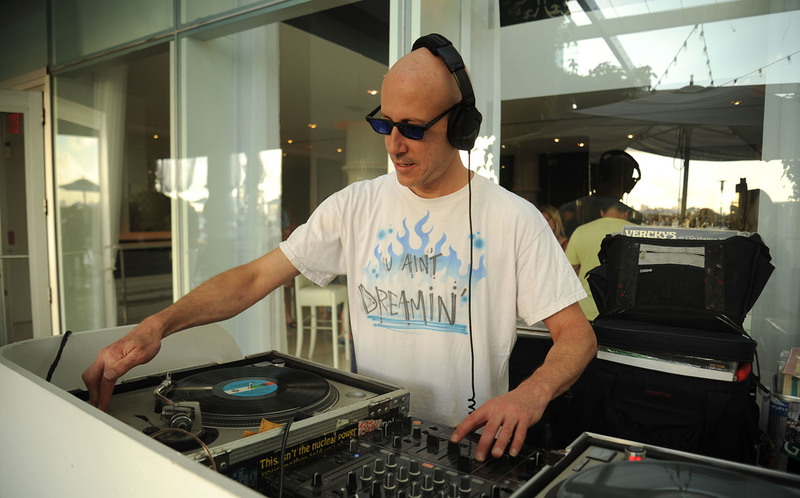 Meanwhile, Yeomanson uses Cuban influences as a jump-off for his Havana Express party at the Mondrian Pool Club, but he relishes the opportunity to create a full-on, transatlantic tour. After all, with such a diverse collection, he'd be hard-pressed to run out of relevant tracks to throw into the medley.

"I try to keep it fun and love the opportunity to spin a wide variety of things—Cuban, deep funk, salsa, African, Brazilian, mostly from the '50s to '70s," he says. "I like it best when I can mix it all up, drawing a line that goes through Cuba, Africa, and Brazil, stopping off in Colombia, Haiti, Dominican Republic, Jamaica, and who knows where else. And I love taking everyone along for the ride."
Story written by guest contributor Omar Sommereyns. Header photography by Jeffrey Delannoy.
What makes a great party? A killer soundtrack, of course.
09.01.16September 1 2016 / Music Makers
A review of M3LL155X- The third extended play by English singer and songwriter FKA twigs, released on 13 August 2015
09.14.15September 14 2015 / Music Makers
A review of Thundercat's latest EP
07.29.15July 29 2015 / Music Makers