January 17, 2019
Matt Smiley (yes, that's his real last name) is bringing smiles to Mondrian Los Angeles.
The exhibit is called REFRESH.
"The idea spawned when I got back from the holidays and revisited the Magic Box in the hotel lobby. From traveling, the thing I feel I heard the most in the murmurs walking around was everyone's excitement to put the past year behind them and start fresh. I knew in the back of my mind that smiley faces were a symbol that people have really responded to in my work. At my last show, I created a 'Smiley' room that I figured would bring about a little bit of happiness to my guests. Sometimes it's the most simple of things that can make someone smile. It was a hit! People loved it and I was getting a lot of messages about creating similar rooms in people's homes. I toyed around with the concept a bit and decided I'd let myself have fun with creating a series using smiley face symbolism and see where the journey would lead on canvas (much easier than physically painting in homes). I'm actually currently working on a few pieces that will push that concept even further. Aside from my hand going numb from the repetitive movements, there's this beautiful tranquility I feel as I let the symbols dictate what journey they will take on the canvas," Matt comments on the idea that inspired REFRESH.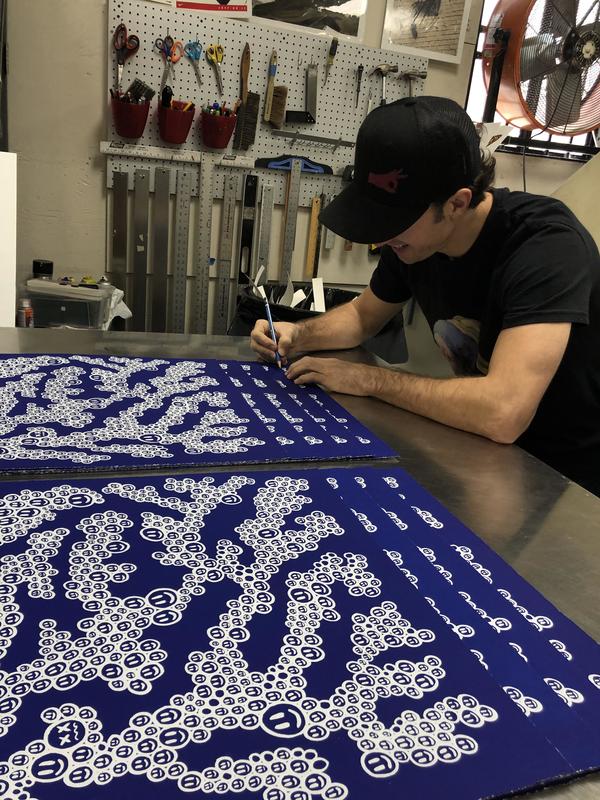 "I'm heavily inspired by pop culture and how it relates to our day-to-day life," Smiley says, "We're constantly bombarded with information, I thought it was important to have a portion of the exhibit dedicated to the simple task of brightening someone's day... my main focal points were nostalgia and happiness. I'm very happy letting people come up with their own interpretations of the work. They take on a life of their own."
One of the pieces in Smiley's REFRESH features our very own Skybar.
"There's very few people who haven't been blessed with the great vibe of the Sky Bar Pool Lounge area. To me, it's a hugely iconic LA location that symbolizes' happiness amongst friends. While I usually create fantasy worlds with human characters, I felt using animals was appropriate. Sadly, we don't get to see enough real wild animals in our day to day lives and perhaps those opportunities will continue to diminish as the years go by. Never a bad thing to remind people of the beautiful wonders of the world. Funny concept to give animals the day off and a much needed drink!"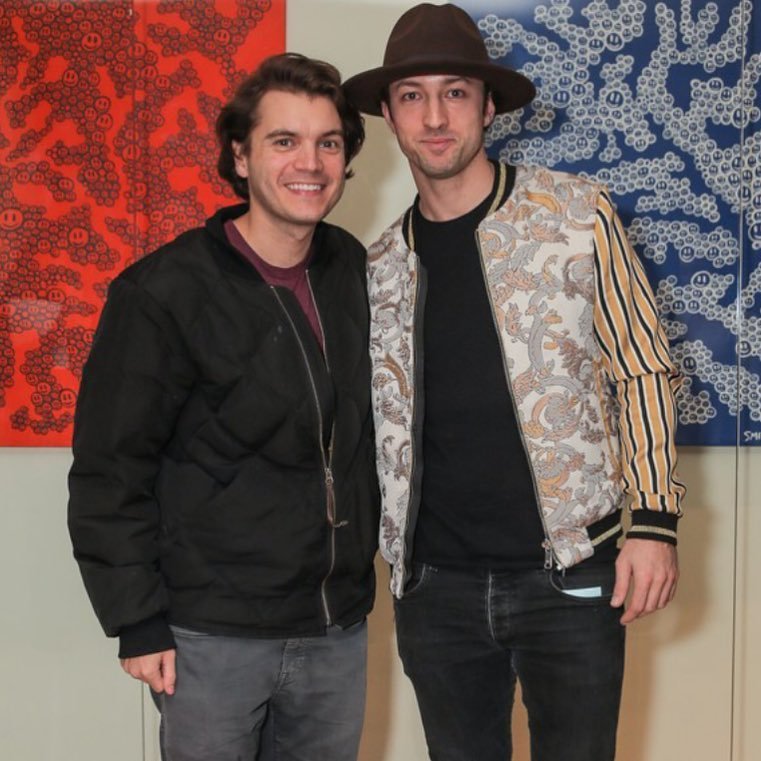 So what is the ultimate goal with REFRESH?
"That viewers walk away with a smile. Sounds somewhat corny when I say it, but that would truly be the best compliment someone could say as they view the work," says Smiley.
"I felt that was also something I needed to be conscious of in the hotel lobby. While it is a huge honor to showcase my work at the Mondrian, it was important for me that the collection I put together lend itself to putting people in a good mood. Hotels are transient by nature. From the moment you walk into a hotel, you get this euphoric feeling that you're here for a short time period. Most people want to decompress, get to their rooms and tune out for a few moments before they explore the city. The building becomes a bubble of security. One of the things I love about the Mondrian, is that they're pushing the boundaries of fantasy and dreams. They're taking that concept a step further with what they have planned soon. I think that lends itself very well with my work. I'm a dreamer, lost at sea, with a bucket of paint and a desire to let people into my thoughts. And let's face it, my last name is Smiley. I may as well embrace my heritage and share a little bit of happiness with others. At least with this exhibit, that's my hope!"
Smiley's REFRESH is on view now at Mondrian Los Angeles.
06.19.19June 19 2019 / Acts of Creation
Here's The Scoop...
06.10.19June 10 2019 / Acts of Creation
Sip, Dine, Pool
06.10.19June 10 2019 / Acts of Creation