May 30, 2019
It's time to swap the umbrellas for sunglasses and embrace the outdoors. Whilst enjoying cocktails in the sunshine, check out our list of things happening in London this June as we embrace the first month of summer – and the longest day!
The Den Terrace
St Martins Lane is delighted to be opening its doors onto The Den Terrace to bring you a tropical paradise right in the heart of Covent Garden. In partnership with Veuve Clicquot, enter into a jungle oasis with overflowing foliage, flurries of butterflies and neon lights.
Enjoy our much-loved Afternoon Tea, or a glass of Veuve Clicquot perfectly complemented by luscious additions to The Den's menu. For those extra warm days, ice cream from Ruby Violet will provide further summer refreshment with personal tubs available in an array of different flavours.
Set to be a desirable destination for all Londoners, come and embrace all that The Den has to offer this summer.
Find out more here.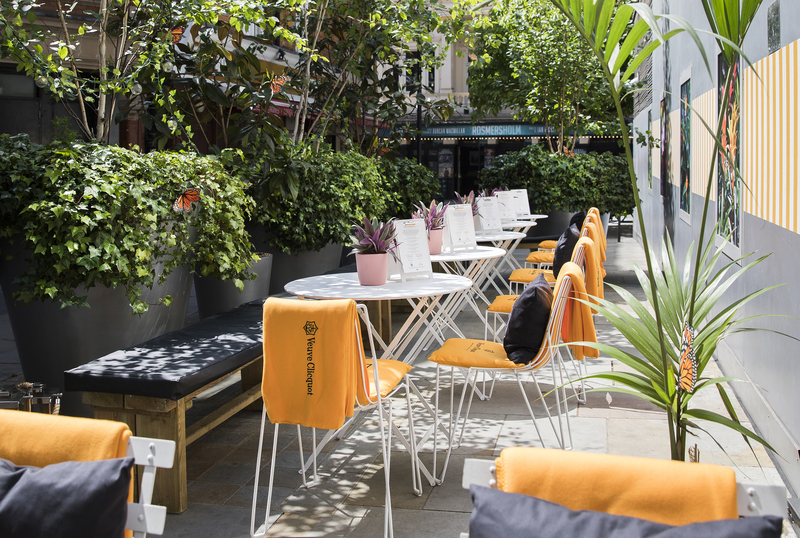 To book your table, please call 020 7300 5500 or email london-guestservices@sbe.com
The Summer Courtyard Garden
Retreat form the hustle and bustle of the city, as you escape into the captivating, whimsical world of Sanderson's Courtyard Garden in collaboration with Veuve Clicquot for the summer months. Enter into a tropical open-air oasis with exotic flowers, parrots and butterflies in abundance, teamed with a fountain, mosaics and a reflecting pool.
Enjoy our Mad Hatters Afternoon Tea, the restaurant's fresh new dishes, or a glass of Veuve Clicquot, perfectly complemented by the exclusive additions to the Courtyard Garden's menu.
The Courtyard Garden is an architecturally classified Heritage Garden with a blissfully heated outdoor terrace. Guests can drink, dine or simply relax in this private sanctuary that is unique in all of London.
Find out more here.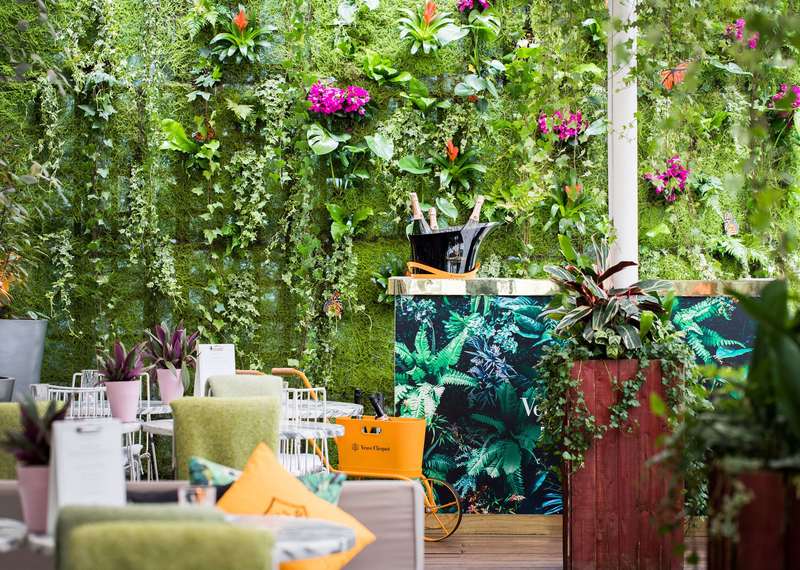 To book or for any special requests, please call Restaurant Reservations on 020 7300 5588. Alternatively you can email london-guestservices@sbe.com
Waitress The Musical
Waitress is the comedy musical that tells the story of Jenna Hunterson, a waitress in an abusive relationship with her husband Earl. When Jenna unexpectedly becomes pregnant, she begins an affair with her gynecologist, Dr. Jim Pomatter. Looking for ways out, she sees a pie contest and its grand prize as her chance.
To celebrate Waitress hitting the West End, come and join us at St Martins Lane Kitchen and enjoy our Waitress Pre & Post Theatre Menu which includes 2 courses and a cocktail for £20 per person. Please book here.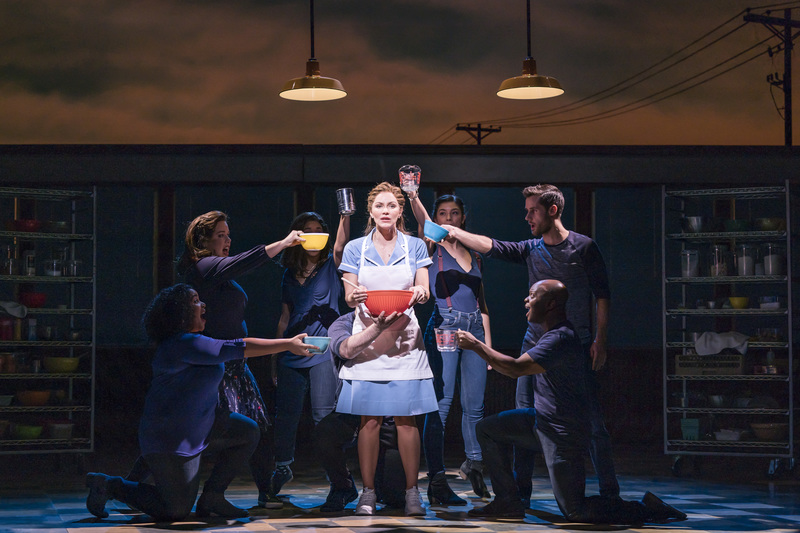 Available Monday - Wednesday
12pm - 2.30pm | 5pm - 6.30pm | 10pm - close
Terms & Conditions: Available on set menu only. Minimum covers per booking - 1 person. Maximum covers per booking - 8 people. Does not include 15% service charge. Any extras ordered must be paid on the day by the guest. End Date: 30 September 2019
After purchasing your tickets, please call 020 7300 5500 or email london-guestservices@sbe.com to book your table. You can view our set menu here.
London Men's Fashion Week (8 - 10 June)
London Fashion Week Men's June 2019 will showcase the best of British design, with catwalk shows, presentations, the Designer Showrooms, and events organised throughout the week. To find out more about seeing shows and purchasing tickets, check out the London Fashion Week page.
On Your Feet! (from 14 June)
On Your Feet! is a jukebox musical that is coming to St Martins Lane's neighbour, the London Coliseum, from 14 June to 31 August. Based on true events, the musical tells the inspiring true love story of Emilio and Gloria Estefan and charts their journey from its origins in Cuba, onto the streets of Miami and finally to international superstardom.
Catch the show and grab a pre or post theatre bite at St Martins Lane Kitchen. Check out the menu here.
Royal Ascot (19 - 22 June)
Make your way to Berkshire for the British horseracing event of the year – Royal Ascot. From the 19 to 22 June, The Queen and up to 300,000 visitors get dressed up in their finest clothes and place their bets over a glass of fizz or two.
West End Live (22 - 23 June)
Sing along to some of the West End's leading musicals and discover London's exciting new shows, with free performances in Trafalgar Square. Every year, the cast of London's hottest shows perform in front of thousands of spectators, to showcase the best of the London stage. From Everybody's Talking About Jamie, to Six, to Disney's Aladdin, there's something for everyone at 2019's West End LIVE.
The start of Pride in London (from 24 June)
St Martins Lane is going to become a rainbow haven from the 24 June - 7 July.
From the outside, we're going to have a photo moment which will have the whole neighbourhood talking. Spread your wings on our Pride flag butterfly and get that perfect pride Instagram, then take a trip inside and strut down our rainbow runway to St Martins Lane Kitchen Bar for a taste of Jubilee Passion.
In honour of Stonewall's jubilee, we've created a colourful, layered cocktail which can be enjoyed from 24 June to 7 July during Pride in London. The Jubilee Passion is made of Ketel One vodka, Koko Kanu and green tea syrup. Garnished with maraschino, strawberry and passion fruit caviar, this tasty fruity cocktail isn't one to be missed.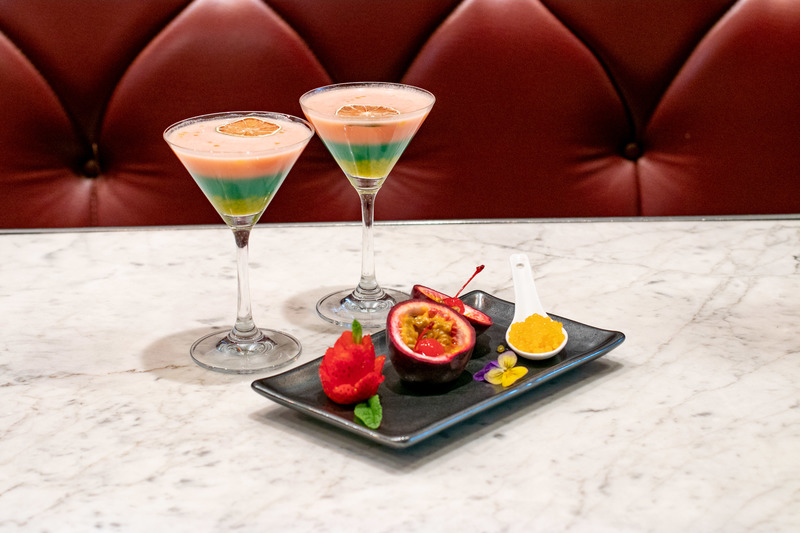 On Friday 28 June, join us for Coming Out Monologues. Featuring a unique collection of coming out stories from the LGBTQ+ community, it's set to be a raw, inspiring, transformative and intimate live event, whereby two actors will read out the submissions of our followers and their experiences. Purchase your tickets here and enjoy a complimentary Absolut Vodka cocktail "A Drop Of Love" on us. If you've got a coming out story you want to be shared, please send us a direct message on Instagram or a private message on Facebook. Submissions can be read out anonymously upon request.
Upcycling Design At It's Most Festive
11.27.19November 27 2019 / Local Guides
Seven Days, Seven Films, One Hotel
11.18.19November 18 2019 / Local Guides
Bounce your way into 2020
11.04.19November 4 2019 / Local Guides