November 01, 2017
Presents, feasting and merriment aside, the festive season can be stressful. Work Christmas party plans gone awry? We feel your pain. Glazed ham-induced anxiety attacks? Not fun for anyone. Burnt Brussel Sprouts? Don't even get us started. It's a wonder that any of us make it through the preparation for the holidays alone.
Don't lose hope just yet though – this year can be different. Ditch the turkey, cancel your work's "festive" night out at the local, and celebrate Christmas at our luxury boutique hotels instead. Once again, we're opening our doors - and liqueur cabinets - so you can celebrate with your loved ones in style this year. Here's our guide to the ultimate Christmas in London...
Christmas at Mondrian London
From parties of two to parties of two hundred, your celebratory needs are well and truly covered this holiday season, courtesy of Mondrian London.
Enjoy a Festive Feast at Sea Containers Restaurant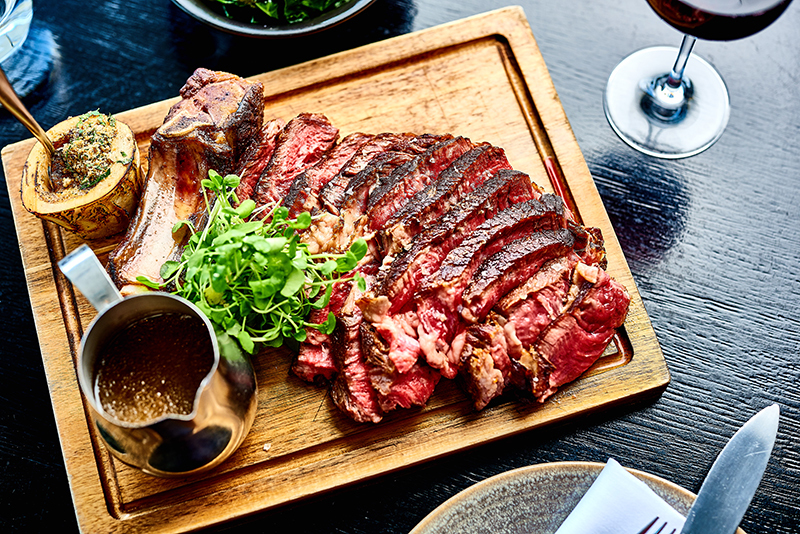 Tis' the season to be jolly, and if it's a festive feast you're after, we've know just the place. Inspired by the Golden Age of transatlantic travel and designed under the creative helms of visionary Tom Dixon, Sea Containers Restaurant brings the best of American and British cuisine to the Southbank. For the holidays, maritime and merriment meet in the middle, with Sea Containers Restaurant's feasting menus proving the perfect anecdote to your usual dried-out Turkey dish at home.
Sea Containers Christmas Feast Menus are available throughout the festive season (from the 24th November through to Christmas Day), with prices for groups of 6+ beginning at £70 per person. Head to our website for all the details.
Have a holly jolly Christmas at the World's Best Bar, Dandelyan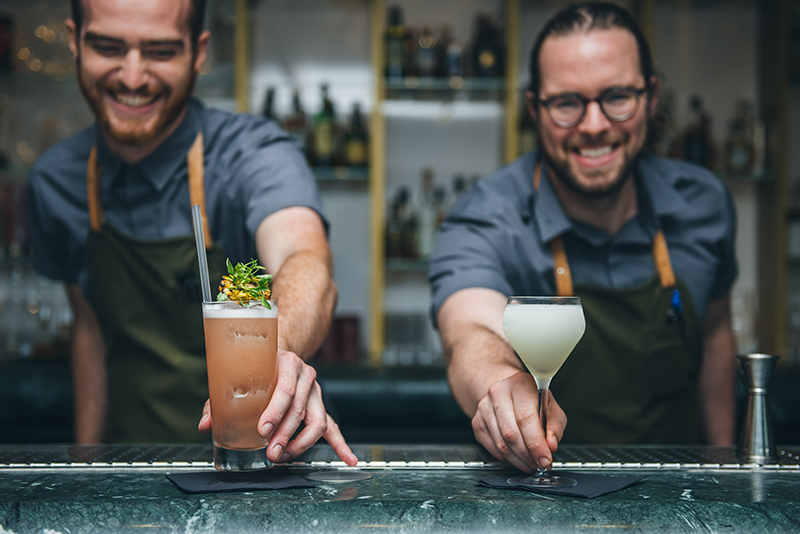 With all things merry and bright on the agenda and cheery cocktails at the ready, celebrating the festive season at Dandelyan is a must. Recently awarded World's Best Cocktail Bar, Best International Bar Team and Best International Hotel Bar (2017) at the Tales of the Cocktail Spirited Awards and Best Bar Team in London at the Time Out Bar Awards (2016 & 2017), Dandelyan is far from your average local.
Dandelyan is open as usual throughout the festive season. Minimum spends will apply for groups of ten or more. For bespoke bookings and larger groups, reach out to our reservations team via our website.
Party in style at rooftop bar, Rumpus Room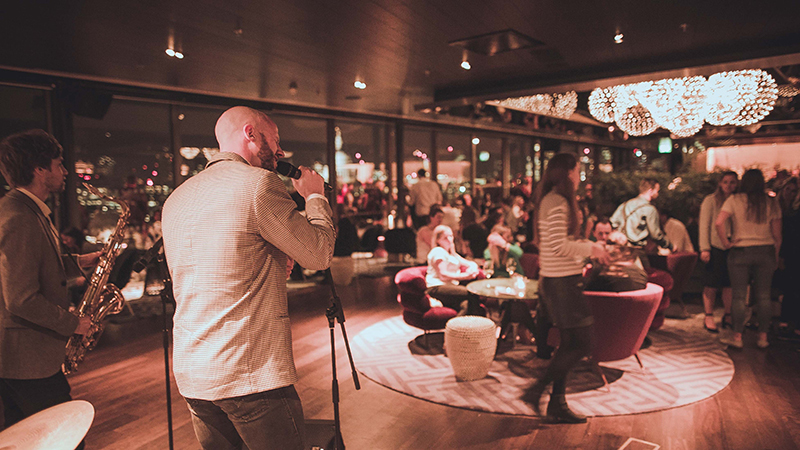 Up on the Mondrian London's 12th floor, rooftop bar and lounge Rumpus Room delivers striking views of London's skyline alongside Champagne cocktails, signature punches and eats. The perfect place to celebrate, each Thursday, Friday and Saturday at Rumpus Room sees London's leading DJ's take over the turntables.
Another favourite event in Rumpus Room's cultural calendar, the live music series known as 'Skyline Sessions' takes place every Wednesday evening. Complete with a festive upgrade, each week throughout the holidays sees new bands take the mic, dishing out hits to South Bank's cool crowd. You'll be jingling your bells all the way to Rumpus Room this party season.
During the festive season, minimum spends for table bookings in Rumpus Room will apply. Rumpus Room will be closed Christmas Eve, Christmas Day and New Year's Day. Head to our website for all the details.
CLICK HERE TO VIEW OUR CHRISTMAS BROCHURE
Christmas at St Martins Lane
In case you hadn't heard, here at St Martins Lane, we love a party. Whether you fancy a festive feast with family and friends at Asia de Cuba or decadent cocktails in Blind Spot, all you want for Christmas will be found at St Martins Lane.
Wine and Dine at Asia de Cuba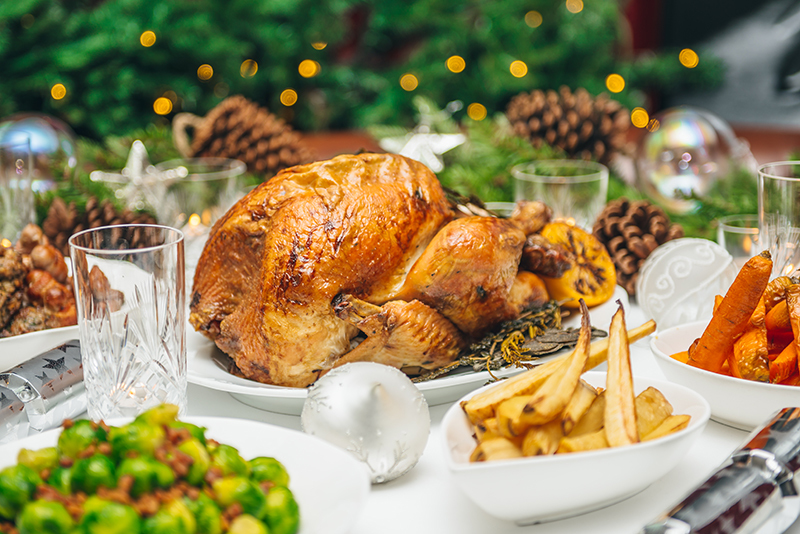 The team at Asia de Cuba know that Christmas is stressful enough without the hassle of entertaining. Which is why they are giving the best Christmas present of all this year — no cooking or cleaning. All you need to bring is your Christmas cheer, and in return, the team will dish up festive meals throughout the season as well as all the merry beverages your heart desires.
Christmas Day Menu (available 25 December)
Leave the cooking at home and join us for a Christmas to remember. Be greeted with a festive Bellini on arrival before enjoying a 3 course meal. Available for lunch from 12 - 2.30 or dinner from 5 - 10.30. Priced at £75 per person and £35 for children under 12.
Festive Group Booking (available 1-24 December)
Whether you're celebrating with family, friends or work colleagues, we have you covered at Asia de Cuba. Get your group of 8 or more together, choose your menu and enjoy shared dishes. If you're feeling really festive this season, swap one of your main courses for the traditional Turkey, or if you're really wanting to indulge add as an additional dish. Whatever you decide, your group lunch or dinner should be with us. See here for the menu options.
Satisfy those tastebuds with Festive Afternoon Tea in The Den.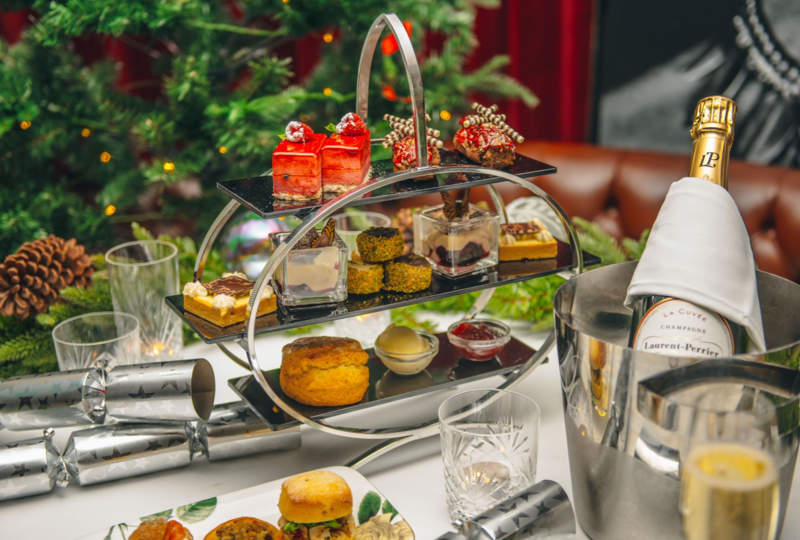 What better way than bringing the festivities to the table by tucking into our delicious Festive Afternoon Tea in The Den with sweet and savoury bites to delight. Feast upon Coconut Snowman Macaroons, and a Christmas Ball to name a few, whilst feeling fully festive and warm with unlimited Hotel Chocolat Hot Chocolate. For those wanting to spread the joy even further, treat yourself to a glass of Laurent-Perrier champagne or one of our signature gin & tonics. At St Martins Lane, even the surliest of scrooges will find themselves getting into the festive spirit once they've tried this Afternoon Tea. Available from 1 - 31 December,
Let your hearts be light with a celebratory cocktail in Blind Spot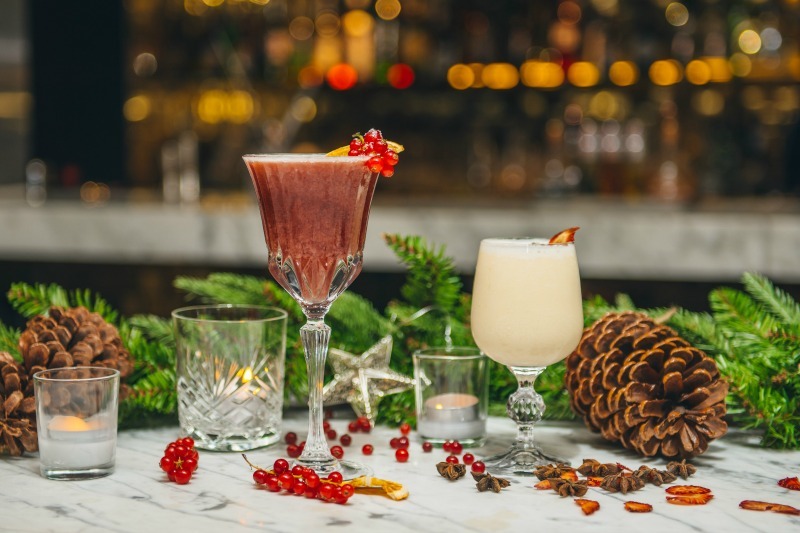 Christmas calls for costing up to friends and family over a few drinks, and nowhere fits the bill more than speakeasy bar, Blind Spot. Throughout the festive month of December, sip on carefully crafted cocktails such as Bittersweet Melody with a dash of tequila, amaretto, champagne and magic bitter or the Creme Anglaise with galliano liquor, cointreau liqueur, vanilla milk and fresh orange juice to name a few. Let your hearts be light as these festive cocktails are bursting with flavours, getting you completely into the Christmas spirit. Complete the spirit by joining us every Tuesday and Wednesday for live music. We'll drink to that!
Follow the link for more details and to reserve your place at Blind Spot during the festive season.
Christmas at Sanderson
If it's a decadent Christmas you're after, it's a decadent Christmas you'll get. At Sanderson even the surliest of scrooges will find themselves in the festive spirit.
Enjoy a meal with all the trimmings and trappings at The Restaurant at Sanderson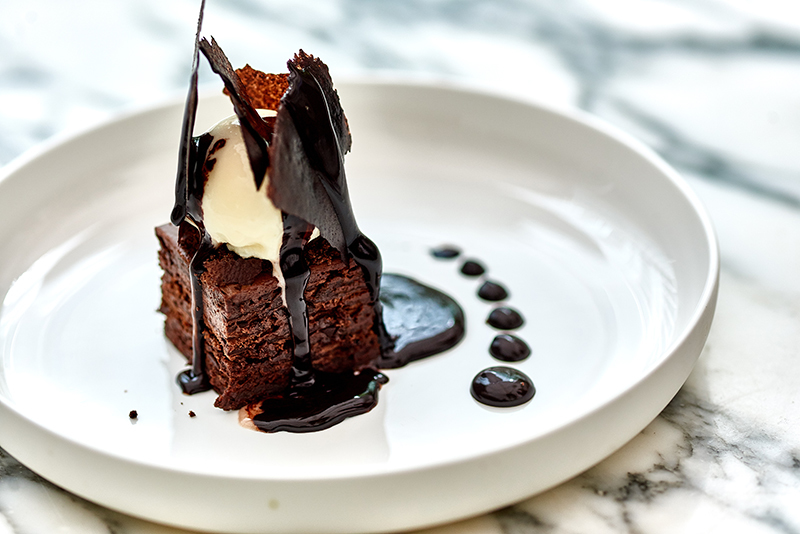 Head to The Restaurant at Sanderson for a fancy festive affair, with Christmas cracker crowns in sight. Feast on incredible entrees, mains and desserts, sip on beer, wine and cocktails and take in the surrounds of the Courtyard Garden, still spectacular even in the depths of winter.
Festive Party Menu (available 27 November - 24 December)
Whether it's lunch or dinner, be greeted with a festive cocktail on arrival before tucking into a 3 course meal with us. Priced at £65 per person.
Christmas Day Menu (available 25 December)
Celebrate Christmas Day in style, with us. Enjoy all of the trimmings with a 5 course meal whilst sipping on a glass of Laurent-Perrier Champagne included on arrival. Lunch is available from 12 - 4. Priced at £95 per person for adults and £55 for children.
Spread the joy with a tipple or two at Long Bar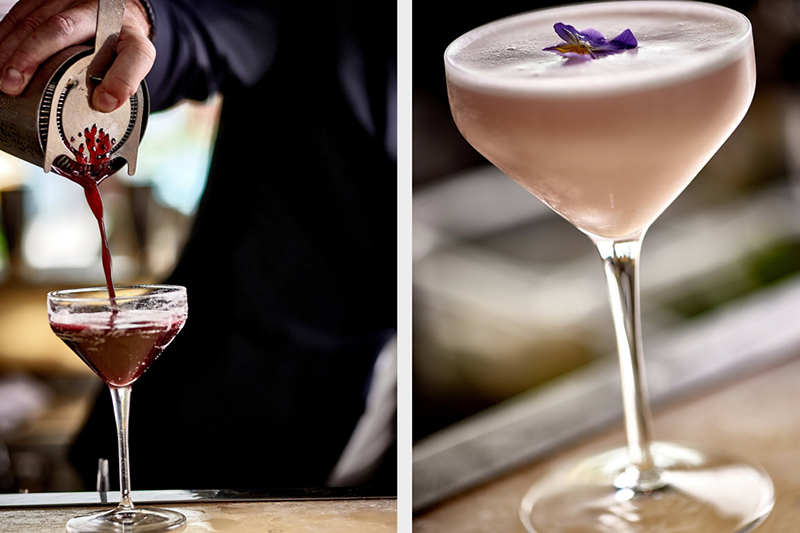 There's no doubt about it, the Long Bar team know their cocktails, and the holiday season will see the team raise the bar even higher. Throughout the festive season, the bartenders will be serving a range of delightful drinks for you to enjoy. More details on Christmas at Long Bar will be available soon.
Delight your senses with a Christmas themed Mad Hatters Afternoon Tea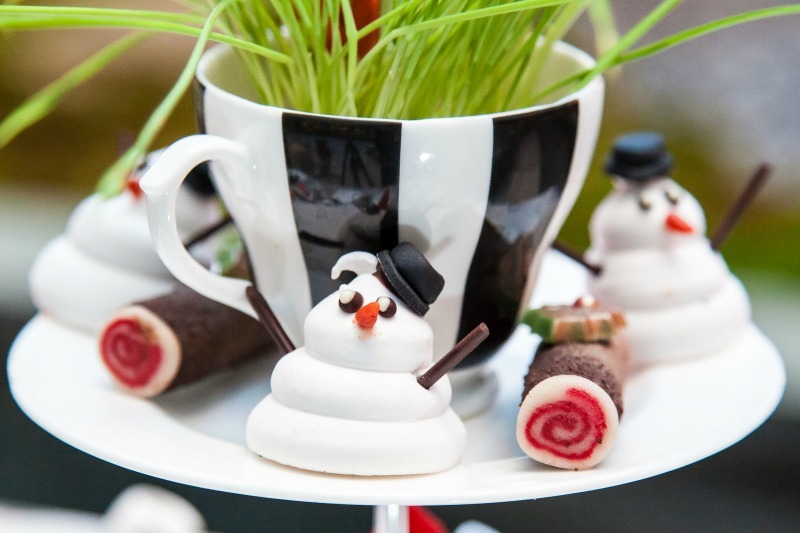 Sanderson is known for its delicious and exciting Mad Hatters Afternoon Tea, so it's only right to to bring the festivities to the table. Available on Christmas Day, Boxing Day and New Years Day tuck into our sweet and savoury delights and truly embrace Christmas with a Marshmallow Snowman and tasty Chocolate Yule Log. Wash it all down with a glass of Laurent-Perrier Champagne. Priced at £58pp.
Whether you've been naughty or nice this year, spend the season with us at Mondrian London, St Martins Lane and Sanderson and you'll receive far more than a lump of coal this Christmas. It's the most wonderful time of the year, after all.
Upcycling Design At It's Most Festive
11.27.19November 27 2019 / Local Guides
Seven Days, Seven Films, One Hotel
11.18.19November 18 2019 / Local Guides
Bounce your way into 2020
11.04.19November 4 2019 / Local Guides