May 30, 2019
From Monday 3 June through to September, Berners Terrace will become a countryside sanctuary for Londoners to unwind and momentarily escape the hustle and bustle of Oxford Street.
In partnership with Bombay Sapphire English Estate, a limited edition gin inspired by the British countryside, we've adorned Berners Terrace with ivy arches and red, white & blue seasonal flowers.
Sounds like the perfect place to enjoy a drink, right? Well luckily for you, we've created four new cocktails to celebrate all things gin! Priced at £12 each, they're the perfect tipple to have in hand as you enjoy all that English summer has to offer.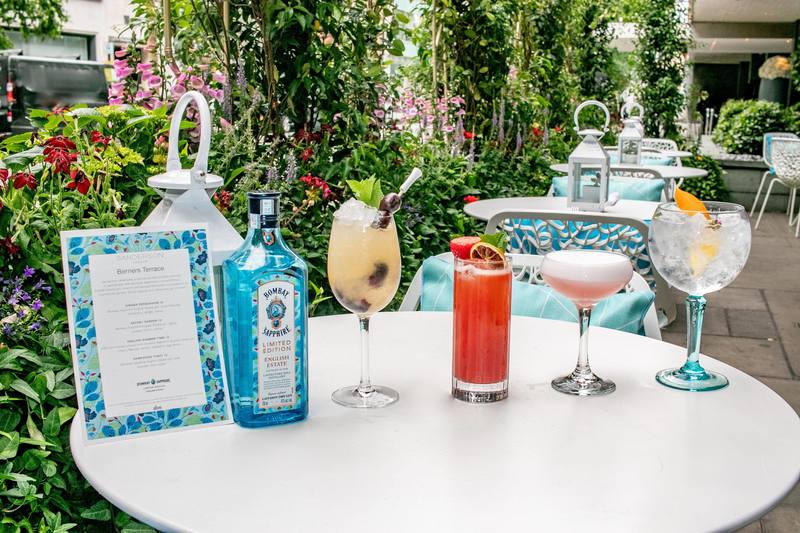 GINGER PERSUASION Bombay Sapphire English Estate gin | Grand Marnier | strawberry | ginger | citrus
SECRET GARDEN Bombay Sapphire English Estate gin | apple | grapes | lemon | vanilla
ENGLISH SUMMER TIME Kaffir lime leaves infused with Bombay Sapphire English Estate gin | Cherry Marnier| egg white | lemon | cranberry
HAMPSHIRE TONIC Bombay Sapphire English Estate gin | rose | lavender | tonic water
A slice of LA, right in the heart of Central London
11.08.19November 8 2019 /
From dinner, to party, to recovery, we've got you covered from the end of this year to the beginning of next year
11.07.19November 7 2019 /
Join us for a memorable Thanksgiving
11.04.19November 4 2019 /