April 06, 2017
At The Wellscene, they do things a little differently. They turn off the light, crank up the music and team up with some of London's favourite teachers for these ever so popular events.
Set in the (near) dark, with only black lights to illuminate the room, you can expect a spectacle for your eyes with UV face paint, glow sticks and lots of neon. From the Black Light Burpees being a signature pop-up event to the Flow In The Dark Yoga classes that are uplifting and fun, they really will leave you feeling rejuvenated and with those feel-good vibes!
So don your brightest workout gear, put on your neon face paint and head to one of the classes for some fluorescent fun!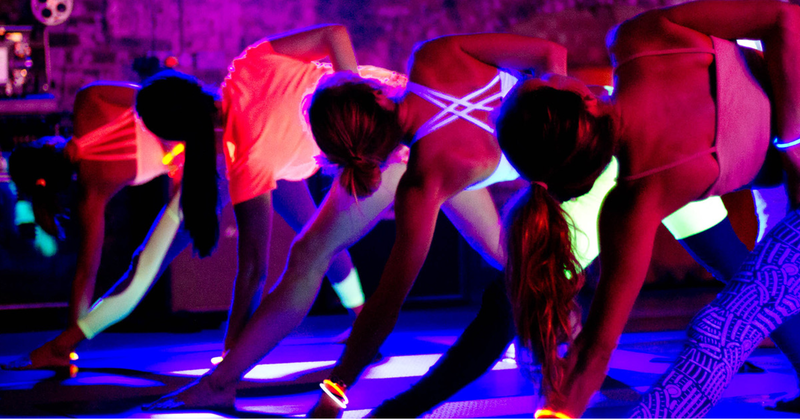 FLOW IN THE DARK YOGA
1st June - We welcome Charlie Morgan, who's infectious positive energy will make this a fun and lighthearted class. Charlie teaches a unique style of Vinyasa flow, with an emphasis on correct body alignment, breathing and toning.
13th July - Kelly Brooks will lead you to her signature music-led flow. Expect soft house tunes and well though through sequences that will have you bend to the beat. Her classes are energetic, but accessible to all levels.
BLACK LIGHT BURPEES
25th May - We welcome Shona Vertue, who will be teaching The Vertue Method: a fusion of yoga, gymnastics, circuit training and meditation, designed to uplift both your soul and your butt. The session includes yoga sequences and ends with a soothing savasana meditation to further stimulate the parasympathetic nervous system, aiding in recovery.
29th June - Nike NTC Trainer Tameka Small will be sure to put you through your paces. She will incorporate aspects of her background in martial arts to deliver an intense, straight to the point effective HIIT session. A banging base line will be key in this workout, with music there to help motivate and challenge you physically and mentally.
Sounds good? We thought so. We'll see you on the mat soon.
Stand together
03.20.18March 20 2018 / Local Guides
Home suite home
03.13.18March 13 2018 / Local Guides
Discover all of the events and offers we have in Mondrian Doha throughout March!
03.06.18March 6 2018 / Local Guides