About This Creator
Wandering between Vancouver, Beijing, and New York, Vanessa Hong has made a name for herself with blogging about her personal style on The Haute Pursuit. Her minimalistic yet edgy approach to online personal fashion and travel has caught the eye of the international crowd. We sat down with this creator as she landed in New York to kick off Fashion Week.
What are your top 3 travel essentials and why?
1. A neck donut - Because these make long flights much easier to bear.
2. A facial spray - To keep hydrated at all times.
3. Music - I cannot live without my music, period.
What's your favorite travel destination, and why?
Anywhere new and unexplored. I love going to new places that people don't traditionally travel to. Living among locals is the only way to travel.
What or who has inspired you?
I've been researching a lot of stuff recently, old Hype Williams music videos (because I love nostalgia), the Purist Architecture movement (because I'm fascinated by that era), Chinese Contemporary Art.
Where do you get your creativity behind The Haute Pursuit?
I'm an information junkie. I get inspiration from everywhere: books, podcasts, my friends, people on the streets, strangers who I talk to. I started THP in a cubicle out of boredom at a job that had nothing to do with Fashion. A blog to me was a great creative outlet where I could call all the shots.
You travel all around the world, what is your favorite city for fashion inspiration and why?
Asian cities (Beijing, Tokyo, Hong Kong) hands down are the most inspiring. There is so much diversity and sub-sub cultures that are just focused on clothes. Girls and guys really go full out and it's awesome to watch.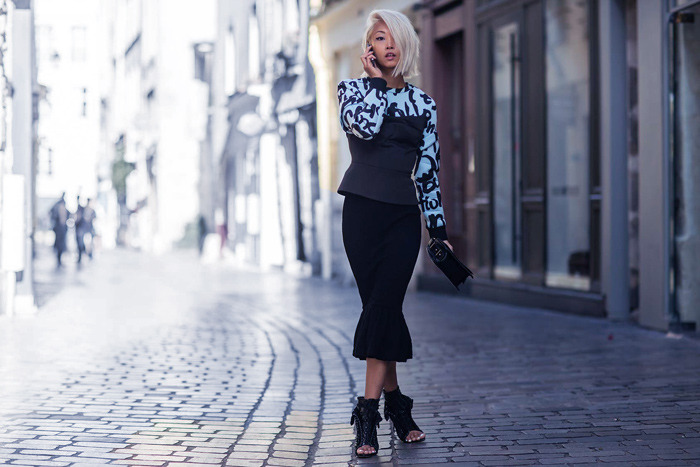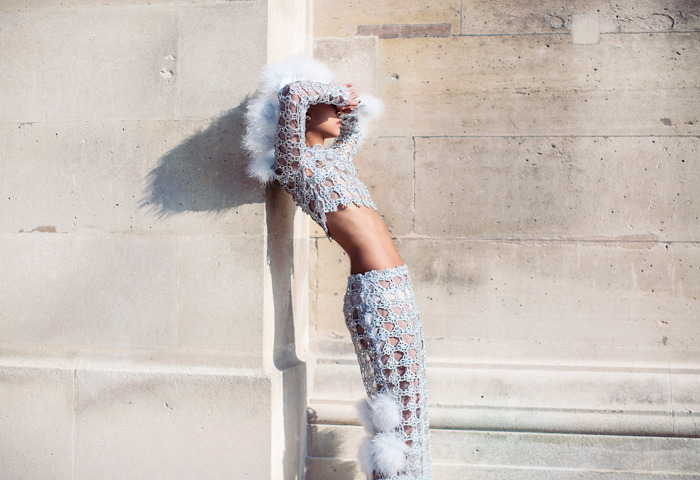 You're in town for New York Fashion Week, what advice do you have for young creative bloggers?
Go to shows that matter to you, that's what fashion week is all about: highlighting talent and showcasing work of some really creative people. Plus always make sure to have fun!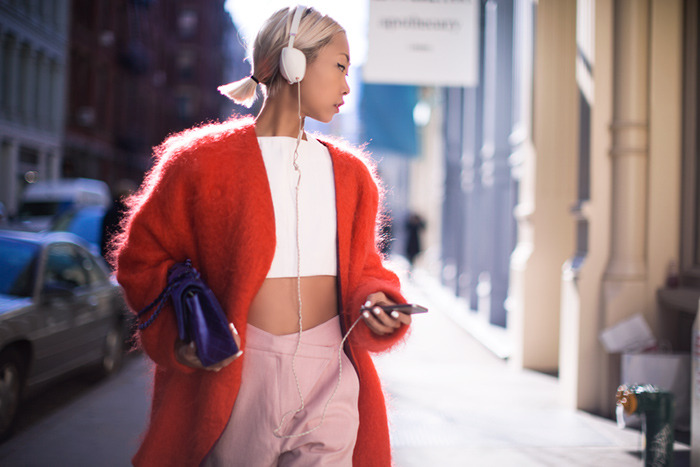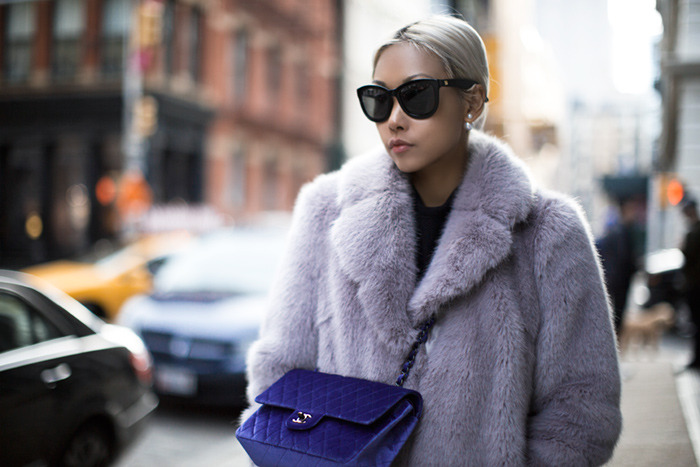 Any designer we should take a closer look at during this New York Fashion Week?
I think there are a lot of established NYC-based brands that get tons of attention - I'm increasingly more interested in young talent, like Claudia Li. I'm excited to see her collection tomorrow night.
You have some of the best editorials on the Haute Pursuit, what's your creative secret?
I do a lot of research constantly - again, an information junkie! I also work with my Creative partner Quan Mai on almost all my editorials- we have an unspoken connection which makes the creative process so effortless and fun.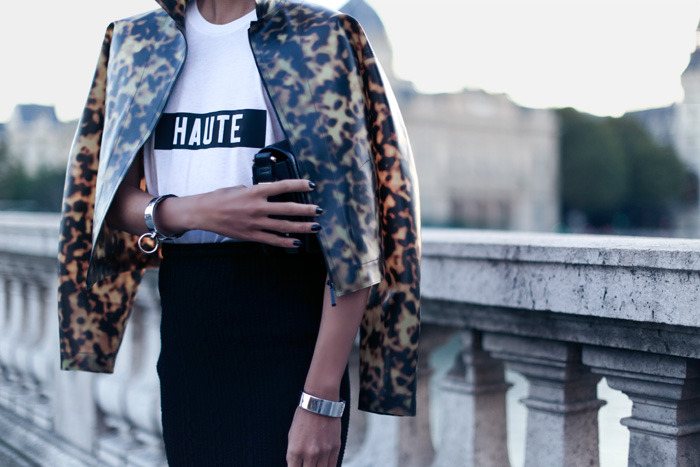 If you wanted people to walk away with one thing from The Haute Pursuit, what would it be?
That 'hey, she's doing something different, and it's cool.'
I see that you are working on some creative projects during New York Fashion Week, care to tell us more?
I'll be doing a lot of fun Press on TV, Instagram partnerships, etc - can't tell you everything just yet! I'm also here this season as a designer. We have this incredible faux fur line being released in AW15 that will be exclusively worn by good friends of mine (mostly industry girls) all through out the week. You can find us online at www.thpshop.co!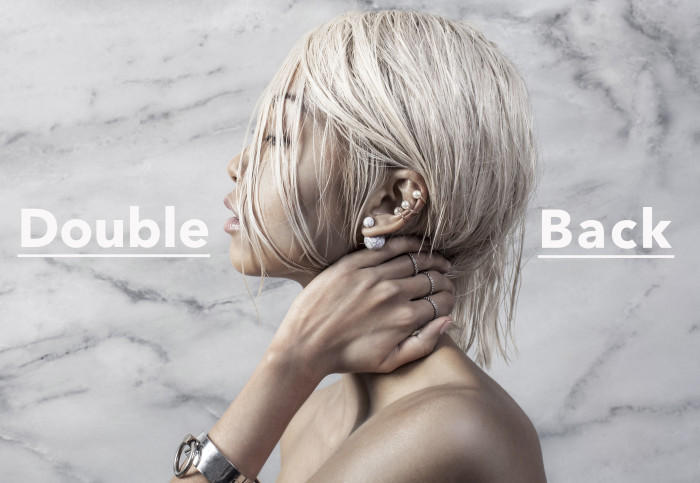 What's your favorite thing to do in NYC during NYFW?
To catch up with my friends. New York is the beginning of fashion season so everyone congregates here first. So it's a total reunion city for me.
Around Town:
If you could choose one person to show you "their New York," who would it be and why? Woody Allen because he is the quintessential New Yorker and I love his movies especially the ones he shoots in this city.
What are your favorite NYC restaurants, and what do you order there?
Tomoe Sushi - Seared Hamachi
Hummus Kitchen - The mezzi set
Souen - The Macro plate
What are some of your favorite NYC dinner spots, and what do you order when you go?
Fat Radish - Kale Salad
Kunjip - Vegetarian Bibimbap
Thai Son - Papaya Salad
Where do you get your fashion fix in NYC? I love Opening Ceremony on Howard; it's always full of fun things. The Nike store on mercer is always full of cool stuff and people.
What are some of your under the radar must-do recommendations for NYC visitors? Chinese massages - so good and so cheap! Totally necessary. Dumpling road (Prosperity Dumplings, Vanessa's Dumplings etc) - super cheap and super good.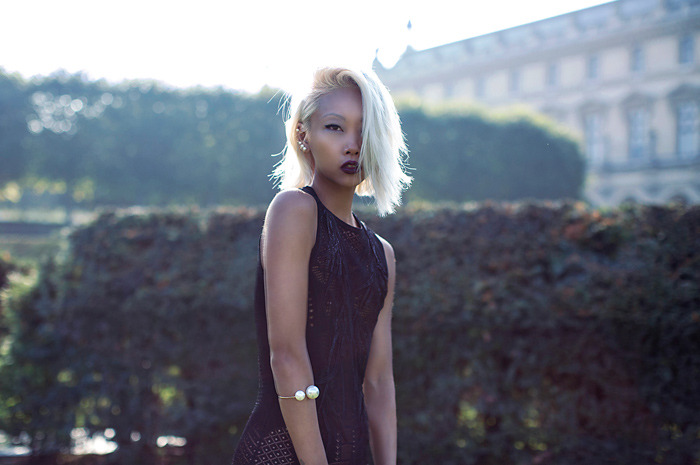 Find this creator:
Website: http://thehautepursuit.com/
Instagram: http://instagram.com/thehautepursuit
Shop: http://thpshop.co/
Twitter: https://twitter.com/thehautepursuit
Facebook: https://www.facebook.com/thehautepursuit

Follow The Haute Pursuit on her stay at Hudson:


Other Locals