About This Creator
Maryanne Bilham and Robert Knight are a married couple whose careers as rock & roll photographers are second to none. Both voting members of the Grammys. Their portfolios are impressive having shot famous legends such as Jimmy Hendrix, Slash, Billy Idol, Carlos Santana, Jeff Beck, Led Zeppelin, Def Leppard, The GoGo's and more. Earlier this year, they curated an exhibit of their photographs at Delano Las Vegas and are bringing the Defiantly Inspired exhibit to Mondrian Los Angeles to be on display in the lobby from December 15, 2015 through February 15, 2016. A selection of limited edition prints will be avilable at BASE gift shop at Mondrian. During the exhibit's stay, emerging artists will be featured in a music series in Skybar. More information at Back Of House.
Where are you both from and where do you live now?
Maryanne Bilham: I'm originally from Auckland, New Zealand. I lived for 10 years in Hong Kong. I had a photography studio there in the 80's, which is actually where I first met Robert as he would travel through Asia regularly. We both lived in LA for over 10 years. We currently live in Las Vegas.
Robert Knight: I was born in Los Angeles but I was raised in Hawaii. I lived there until I was 31 and now I live in Las Vegas.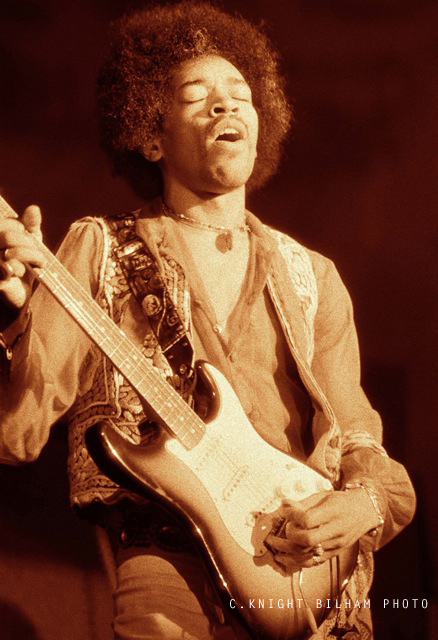 How did you both get into photography?
MB: I trained with one of the top advertising photographers in New Zealand in the 80s Philip Peacocke. In that period of time, we published a magazine to the graphic arts community. We also produced and directed short films and TV commercials. I basically trained as an assistant, apprenticing to him then I went to Hong Kong and did a short stint at an established photo agency there KOA and then started my own photography business.
RK: When I grew up in Hawaii, I was interested in British rock & roll but since I wasn't a guitar player, I couldn't figure out a way to be part of what was happening in the emerging music scene. I happened to be in London when they were making the movie "Blow-Up" and I was inspired by the story line of the photographer who took pictures of the rock bands. That was my inspiration for going into the business.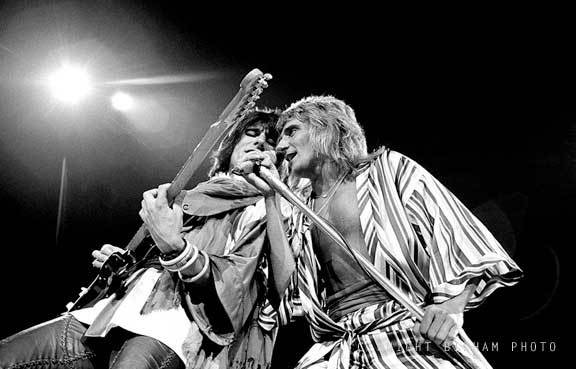 What did you first start taking photos of when you started?
MB: It was actually surf photography because I grew up in New Zealand close to the beaches. From there I got pulled into fashion, music, and other areas.
RK: I was doing both rock & roll and travel photography, since there was no other business in Hawaii. Until I could make money shooting rock & roll, I was a travel photographer traveling all over the world for hotel companies, etc.
Maryanne: How long were you in Hong Kong for? How did your time in Hong Kong influence where you wanted to go with photography?
MB: 10 years -- I was there through the 80's. I was there when INXS was based in Hong Kong! Through my ex-husband, I was actually involved with a large music production house Schtung Music, which was the main music company in Asia. So I was connected with a lot of people in the music industry throughout Asia and Europe as well during that period of time.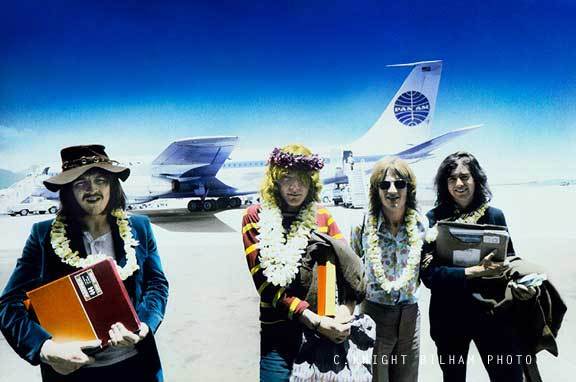 Robert: What was it like shooting in San Francisco during that time?
RK: Well my first gig was Jeff Beck at The Fillmore and a week later, it was with Jimi Hendrix at The Avalon. That was a pretty good week. I was at the San Francisco Art Institute to avoid going to the Vietnam War. I figured I'd go to college and not get shot. I didn't realize that all my favorite British bands were playing that summer for Bill Graham so I found a photography school there and attended. I can tell you the beautiful thing about being a photographer back then was that not very many people were photographers and even fewer shot music. So there were many nights, like the night where I shot Jimi Hendrix, where I was the only guy there. There maybe was one other. You didn't have three song limits. There weren't backstage passes. There weren't publicists! You just showed up and people let you do what you wanted to do because they were in dire need of publicity. They were glad we were there. Now, they don't want you to be there.
Do you think technology has changed the importance of music photography?
RK: Well I think that everybody in the audience (plus all the photographers) having an iPhone dilutes music photography down to virtually very little. I think now the only work that looks good, no matter what format you're shooting in, is if you can get exclusive access with a band (backstage or offstage) or anywhere but the live environment (unless you're the only photographer). That's the challenge. I feel bad for any young artist who wants to be a music photographer now because they're up against daunting odds. Plus you have 500 people with selfie sticks in the air!!
MB: I do feel the same way. Unfortunately in general, photography used to be a craft. Obviously the digital medium has changed that to some degree. There's still a lot of craft involved to be commercially or artistically viable, but it's an area that a lot of people can access more easily than they used to. To some degree the market is flooded by imagery, not all of which is high quality to be honest.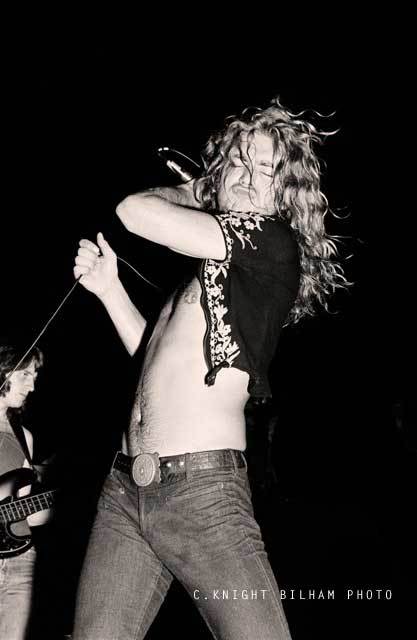 Other than having that exclusive access, what to you makes a compelling photo?
RM: The bands who hire us now give us an exclusive to where they may limit the other photographers to shooting across the room (not down front) then after three songs, the whole show belongs to us. It all comes down now to relationships. MB: I think it's relationships because obviously always there has to be that connection with the subject. The relationship is crucial, Concept, Lighting and composition too -- any good photographer should have that in the beginning.
What are the proudest moment in your careers?
MB: Probably working with Carlos Santana because he's always been someone I've respected as a musician and a legacy artist in the industry. He's hired me personally, twice now do all his ad campaigns for his residencies here in Las Vegas. It's a unique one on one relationship, where I'm concepting and executing his imagery to sell his shows. To me, working with him would be it.
RK: The one person I wanted to photograph was the very first person I photographed: Jeff Beck. So my proudest moment was probably 45-50 years later. I've done three album covers, his tour books for Japan, his t-shirts, and now I'm part of a very big thousand dollar book coming out in March and they're using my photographs to promote the book. The second thing, which turned out to be a sad but proud thing, was Stevie Ray Vaughan had me come shoot when he played with Eric Clapton at Alpine Valley. I was given two days of access but at the end of it he died. That was not a proud moment but it was amazing.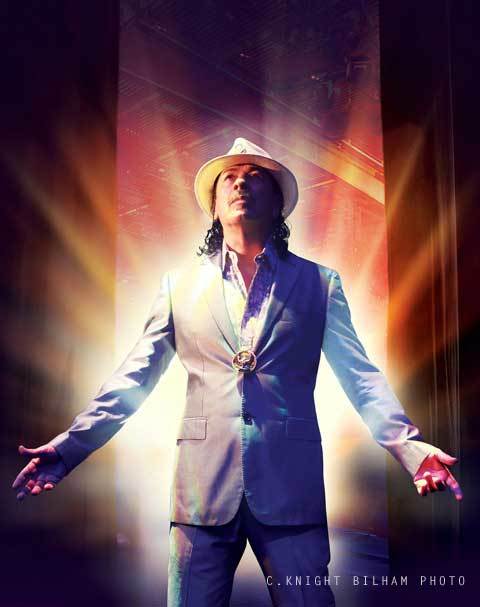 Tell us about the Defiantly Inspired exhibit. How did you choose these particular photos?
MB: Defiantly Inspired is a combination of legacy rock artists, who are iconic in the industry and who also had a certain swagger, reflecting the rebellious and bold nature of rocknroll, along with emerging artists of the future.
The exhibit features LAYAR app an interactive platform allowing you to scan each image and get a narrated audio tour of each image. Four emerging artists obviously fit into the story of Morgans Hotel Group and they are all artists who we currently have a relationship with because we have a management company as well. We don't manage all four artists but we have been involved in the early aspects of their career. Because of the movie Rock Prophecies which is about Roberts career in the music industry we have a large number of younger artists that contact us all the time for help in the industry.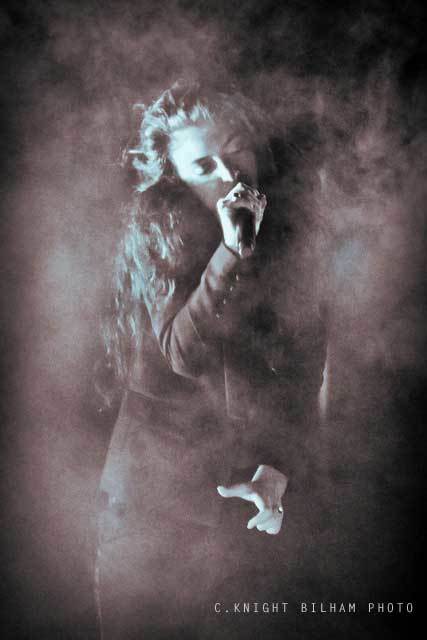 Any favorites in this collection?
MB: I would say Lorde because I respect her as a performer. To be honest, also because she's from New Zealand, very close to where I'm from. I respect her because I know how difficult it is from that end of the world to actually get recognized internationally. I think for any younger artist, she's an inspiration because she managed to defy the odds, break through, and become very successful from a very remote place. I also really like her music. So that image is one of my favorites in the show.
RK: Probably the Jeff Beck photo because that represented the turning point in my relationship with Jeff. I always had shot live shots of him. I met him a few times. Then the manager thought they'd fly him over for a couple of days and see what could I do with him in California. We went all over the place: the desert, Malibu, up and down the coast. We did these amazing pictures and that's one from that first series where I started to be able to shoot him offstage in a very intimate situation that I could control. That one has a lot of poignancy to me.
Follow these Creators:
Website: www.knightbilhamphoto.com
Instagram: @knightbilhamphoto
Other Locals