About This Creator
Maria Korovilas is a Los Angeles based fashion designer whose creations are romantic and whimsical yet modern and relevant. GenArt featured Korovilas in their Fresh Faces in Fashion presentation a couple of years ago and the brand has been growing ever since, being carried in popular e-commerce sites such as Anthropology, Neiman Marcus, Polyvore, Planet Blue, and more. To celebrate Los Angeles Fashion Week, Skybar is teaming up with Ivy to present the Spring/Summer 2016 collection on October 7.
How did you get involved with this event?
I was approached by Ian Gerard of original Gen-Art, as he was working with Ivy… He brought us together, but we thought it sounded like a great organization and we believed in the mission, so it made for a great partnership.
Where did you grow up? Where do you live now?
I grew up all over… I was born in Maryland, but lived in Greece, Michigan, and California. While I spent my later teen years in the Central Valley, I moved to Los Angeles at 18 to attend University of Sourthern California, and it has remained my home as an adult.
What did you study at USC and how did you end up in design?
I studied Communication with an Entertainment Industry emphasis and a minor in Theatre at USC. I could never decide between fashion, film, or music… but ultimately decided to marry them all through fashion design. I realized that was the one field that allowed me to dabble in whatever I was feeling at any given moment through inspirational concepts to build collections. I had always sewn, reconstructed garments, and was overall a very creatively rooted/hands-on person, so it made a lot of sense for me to explore that further. At that point, I decided to really focus and learn the craft in depth, so I got my MFA in Fashion and Textile Design at the Academy of Art after completing my undergrad at USC.
Can you describe the type of person who wears Korovilas?
She's a woman who understands the concept of "casual luxe." She's not afraid to mix high and low and understands the value of a beaded dress without seeing it as a "gown." Korovilas expresses the life of this woman through all of the pieces, meant to mix. She's a woman who throws on beaded chiffon with her man's blazer. She knows the value of design, of craftsmanship, and appreciates a finely crafted garment. She collects garments because they're special and meaningful. She's soulful.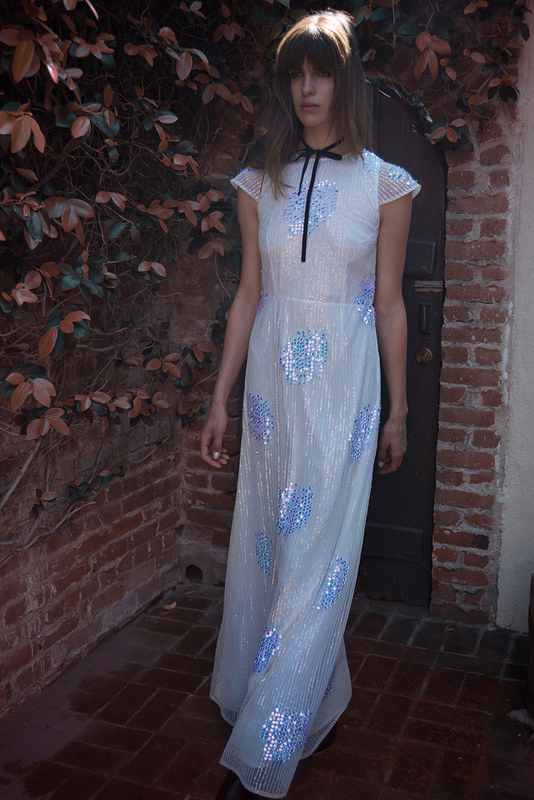 How has your brand evolved from when it started?
The line started as a dress focused collection. At the time, we had very low resources and wanted to focus those resources on the key take-away, which for me has always been the dress. In the last year, due to our expansion of resources, we've gone full ready-to-wear, and have also begun offering a spectrum of novelty fabrication from origami pleated chambray to fully hand-beaded garments and hand-painted fabrics based on original prints that I create. Korovilas is all about the craft of textile design, so offering interesting and original fabrications in classic silhouettes is key to the longevity of our pieces. We've also started adding in capsule bridal pieces and will launch our official bridal collection in 2016.
Where can we find Korovilas in LA?
At one of our favorite places, Satine, on Abbott Kinney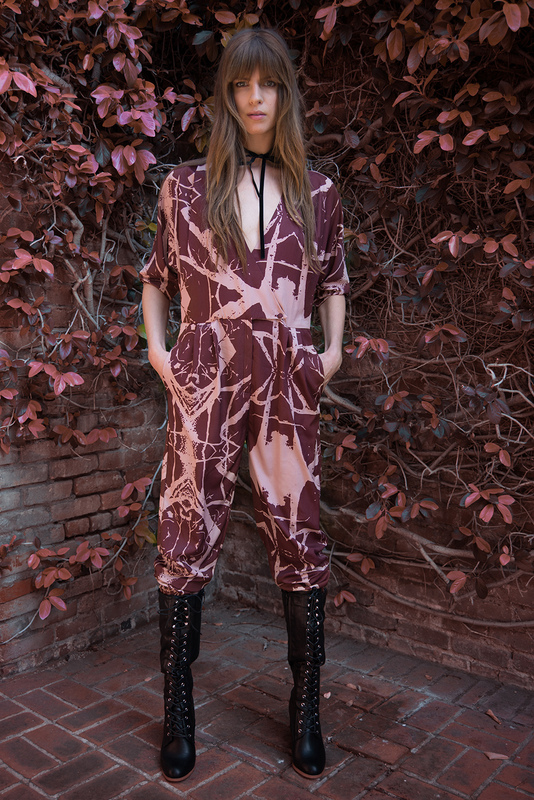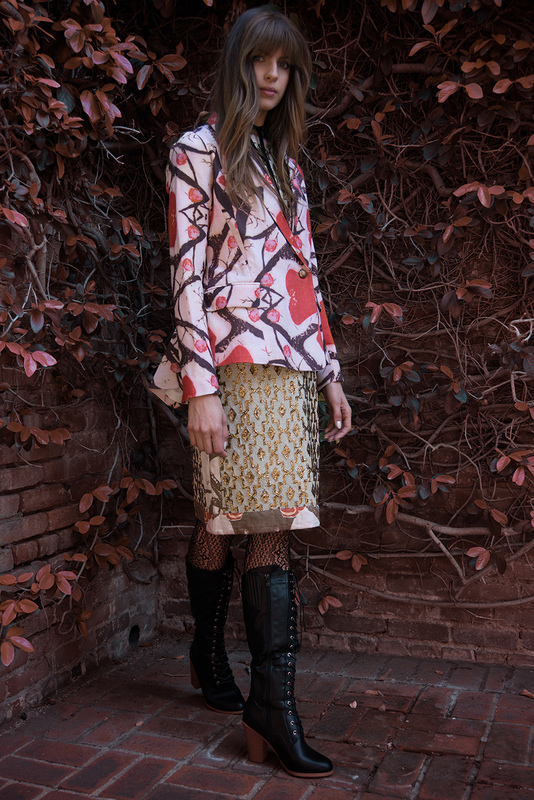 Can you tell us about the collection you'll be presenting at Skybar this month? What was the inspiration for it?
The inspiration behind the SS2106 collection was the minimalist meets dilapidated grandeur of Jean Luc Godard's new wave classic, "Pierrot Le Fou." Different scenes from the film were the catalyst for the (5) core prints that were drawn by myself, and both screen-printed and hand-painted by Mouth and Foot Painting Artists (a group of individuals who've lost their limbs and paint to sustain). The hand painted garments will be limited, numbered, and signed. Silhouette-wise, my head space was in the early 1900s for inspiration… I'm a romantic at heart and the prevailing minimalism needed a shock of whimsy.
What's next?
We are launching an official bridal collection in 2016, and continue to hone and expand k o r o v i l a s ready to wear offerings.
Favorites in Los Angeles:
Restaurant and what do you get?
I never miss a chance to go to Katsu-Ya Sushi in The Valley on Ventura Blvd. It's the original home of Katsuya and it's just soooo good. We never leave with a bill under $100, but we eat like fiends. The sushi is so good. Anything with dynamite sauce.
Place to grab a drink and what do you get?
I love walking to the local spots with my fiance for brunch or sunset dinners. Barbrix, Café Stella, and The Edendale all in Silverlake are our faves. Lately, I've only been able to drink bloody marys. Weird, I know.
Place to find inspiration?
Traveling always inspires me, especially Europe. And flea markets are my favorite for inspiration hunting. So many good ones, and so many secret ones off the beaten path.
Places to shop?
I love furniture shopping, that's my jam lately… There's a great spot in Silverlake called Casa Victoria that I love to frequent and see what they've curated/get sucked into buying because I know I'll never see it again if I don't.
Places to find new textiles?
I create all of my own textiles, so really for me it's about the inspiration hunt to get the ideas for unique prints and fabric manipulations. I love watching old films for vibe and landscape of that one element that can become a focal point, again travel, museums, flea markets, books… you name it, I am constantly hunting!
Dream place to present a collection?
Paris, of course. It's my happy place.
Follow This Creator:
Website: korovilas.com
Facebook: @korovilaslosangeles
Twitter: @korovilas
Instagram: @korovilas
Other Locals