About This Creator
This week Hudson and Morgans Hotel Gorup is kicking off a month long special activations that will bring a mini golf adventure on its terrace. We had a chance to sit down with Khairi Mdnor the creator behind Putt Putt Park and talk about what inspires his creative sports projects.
Where did you grow up?
I was born and raised in Singapore. Completed 2 years of compulsory military service when I turned 18 and left right after to the US for tertiary education. Lived out West in San Francisco for about 3 years before making the big move to the New York in 2000.
Where do you currently call home?
Chinatown, New York City. 15 years and counting.
What can't you travel without and why?
If I had to pick 2 things that would be my flip-flops and iphone. Something about being in the flops that puts me in the right mindset makes me feel like I'm on vacation, even if I'm not. And since I love taking pix of things that inspire me when I travel, the iphone allows me to be spontaneous in terms of capturing the moment, whatever that may be.
You're a bit of a renaissance man, tell us about the many things you do and how you got there?
Growing up, music and recreational sports have always been a passion of mine. Having spent my formative years at independent labels such as Ubiquity Recordings, Studio K7 and Giant Step, I was fortunate to be surrounded by driven and passionate folks that inspired me. You get to be very hands on when you work for lean organizations and the exposure to sales, marketing and promotions was priceless. Post Sept 11th, I made a decision to have more control of my destiny and when the opportunity came to consult and produce independently for PUMA, I set up my own company where I was fortunate to hone my craft and passion for sport lifestyle and culture marketing with the brand, which led to projects for other clients. RECESS is a culmination of all of that. My wife Nathalie Coppens and I have gone on some wonderful adventures together ever since we met, and what transpired from our travels is our brand SUPERFUSSY, a site where we get to share our love of photography and culture as well as "happy findings" with our daughter Milla Rose in tow. It's a pact we made together as a family (and a damn good excuse) to remind us how important it is to continue seeing and experiencing the world and cultures beyond ourselves. It's our expression of balancing work and play.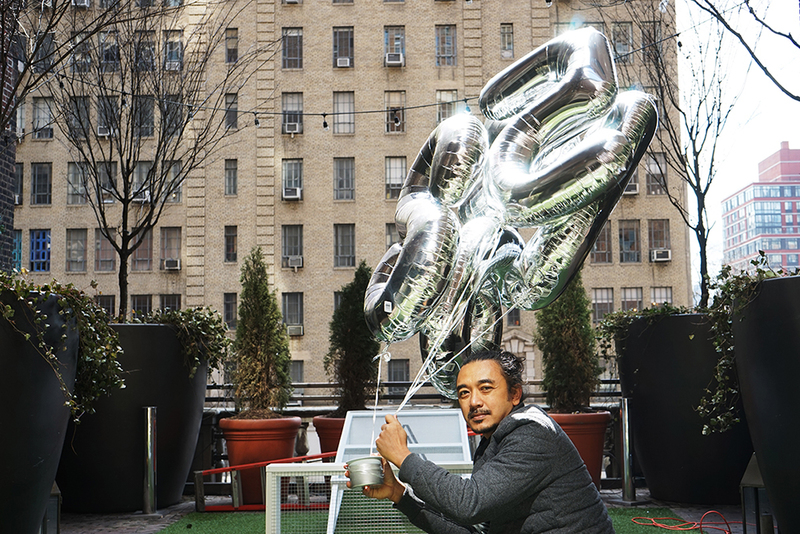 You describe RECESS as an ongoing series of sporting challenges with a mix tape club vibe for creatives. What inspired you to start this?
After the success of PT3, a table tennis tournament for creatives I co-founded back in 2006 for PUMA that resulted in award winning product collaborations, I wanted to continue building on the sense of community that the events brought together as well as my passion for music and recreational sports. I presented the idea of a lawn badminton and bocce tournament for creatives to Governors Island and the rest is history, we are now in our 6th season on Colonels Row, among other seasonal challenges throughout the year. Every first Tuesday of the month, I publish 4 INTERMISSION mix tapes on RECESS to enable creatives people to express themselves through another art form that binds us; music. Every contributor gets to geek out, "design" their mix tape cover and write a short brief on what RECESS means to them. It's food for my soul, and I hope for everyone else listening too.
Tell us about the Putt Putt Park project at Hudson. What can guests expect?
We designed the mini golf course at Hudson with both casual putt putters and serious golfers in mind, making sure we kept the fun elements like the windmill, paddle wheel and anthill that we all love growing up as a kid but also adding a few pro courses for guests to practice their putting skills. No matter your age or skill level, you're going to feel nostalgic playing in the whimsical Tequila Park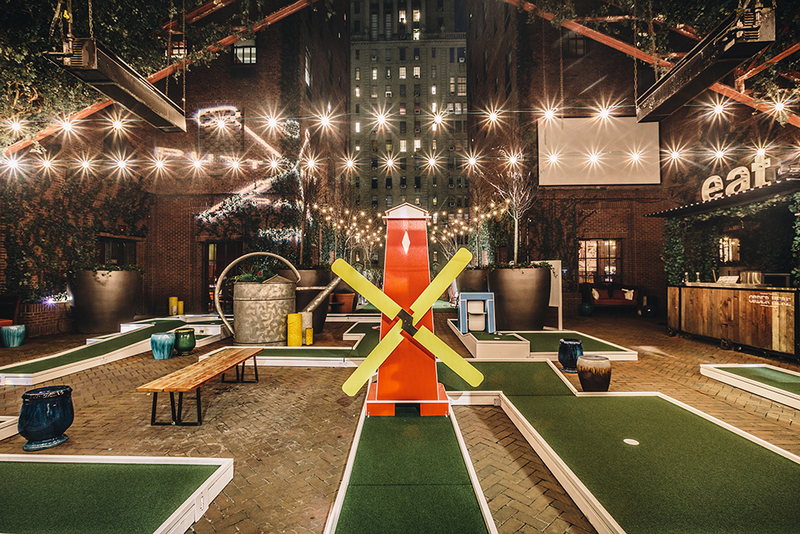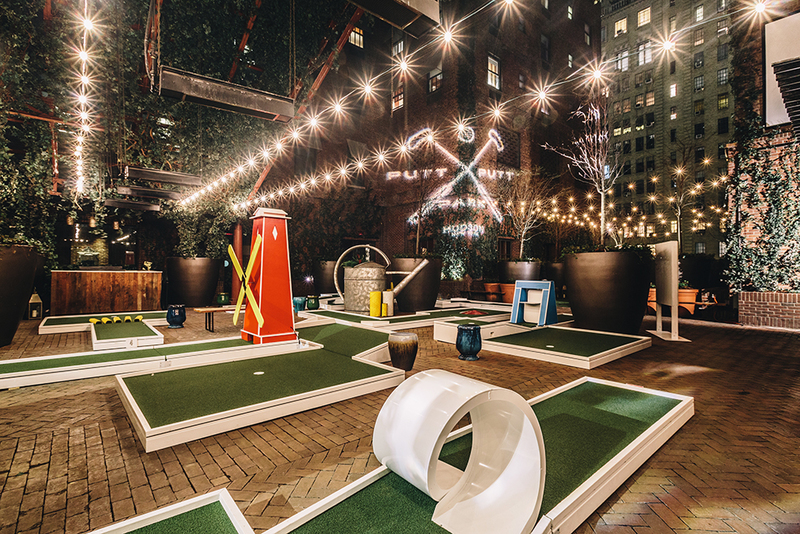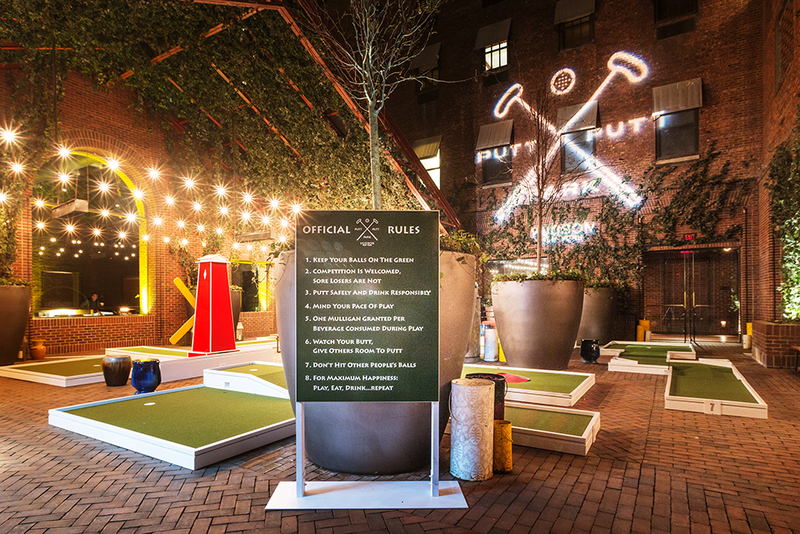 How did you conceptualize such an interesting project?
I've been working with the Hudson on their annual ping-pong tournament at the newly renovated Hudson Common and when the idea of producing an event around the Masters Open came around, I brought on product designer Olivier Gregoire to work with me to conceptualize the look and feel of the mini golf course. Our research led us to a builder in Pennsylvania, whom we worked closely with on a layout and direction that works within the stylistic elements of the hotel and budget of course! Can't wait for the Putt Putt Park to come to life.
What do you love most about watching your pop-ups and events come to life?
EVERYTHING. The hustle of getting it off the ground, the challenges that come with every project that brings the best out of the teams you work with, the people you meet along the way, the natural high of seeing everything coming together, but also the post event blues, it's addictive!
RECESS is more than just sports you bring creative people together. How do you pick the creators?
From a multitude of places that include personal relationships, recommendations of friends and peers, direct inquiries, etc.
What are some of the most memorable experiences that you've curated?
These will include PT3 that inspired a global lifestyle campaign for PUMA, Design Ride Manhattan for PUBLIC Bikes, Lower East Side Cup with Grand Opening Public Projects, Evian Wooden Racquet Cup with MKG and a hedge garden pop up picnic for Tretorn. And now Put Putt Park at the Hudson of course!
What is the driving force that inspires your creativity?
New York City naturally oozes creativity and passion. Couple that with little things like bike rides around the city, meaningful interactions with the people you meet, have an open mind and travel, and don't be afraid to try new things. If you don't know how to do something, ask and learn. If things don't work out, try something else.
What would you want people to walk away from RECESS with?
What has always motivated me about RECESS is seeing the joy, camaraderie and competitive spirit amongst friends and colleagues when they participate in an organized challenge; it always brings people together when you create a fun and safe environment. If a creative connection is made while you let your hair down, that would be a bonus.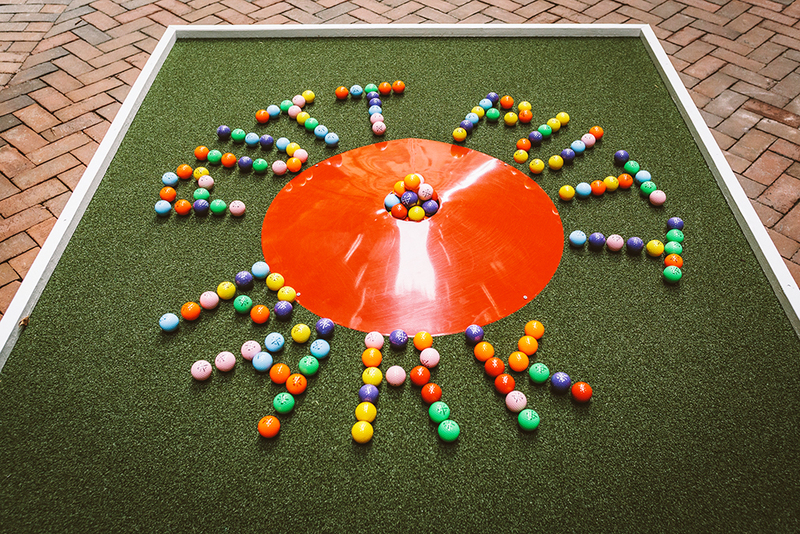 Around Town:
If you could choose one person to show you "their New York," who would it be? David Bowie.
When in NYC, what are your favorite restaurants? What should we order there? I'll stick to my go tos in Chinatown. They include Pho Bang on Mott for their pho with meatballs, New Malaysian on Bowery for their beef rendang, Lamb Burger from Xian Famous Foods and roast duck from Yee Li.
What's your go-to spot in New York for drinks? The Leadbelly on Orchard Street.
When you have visitors coming to NYC what are your must-do recommendations?
Renting a bike will always be my number one recommendation, it's the best way to see and experience NYC. Brooklyn Flea and BK Night Bazaar markets are always on that list, a slow walk on one of the bridges as well as a trip out to Governors Island in the summer.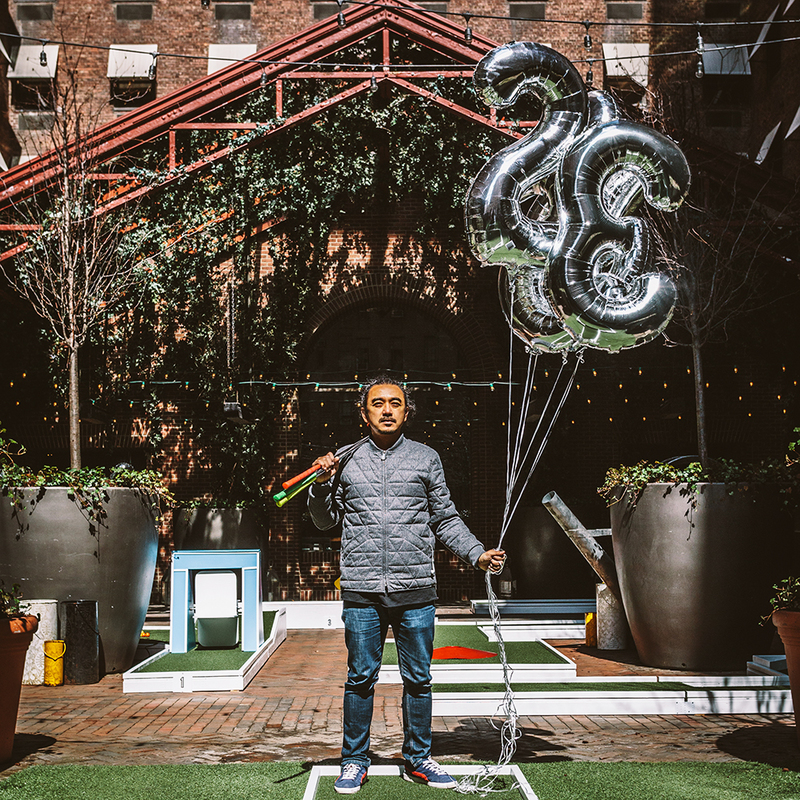 Find this creator:
Site: www.recessnewyork.com, www.superfussy.com
Facebook: www.facebook.com/recessnewyork, www.facebook.com/superfussy
Instagram: @khairimdnor @superfussy
Other Locals