About This Creator
Miami's born & bred artist Jenny Perez has been here in Miami as the city began to shift from random to a full-blown citywide commodity. With exhibits in Dubai, a wall in Bushwick, and art right here in Miami, Jenny is the perfect example of how hard work pays off. We headed over to Wynwood to meet with Jenny at Panther Coffee (where her art is currently hanging) to discuss how she broke into the art world and what is next. Note: if anyone is looking to have a wall painted in Barcelona or Los Angeles, we've got your girl. One of our favorite gems of wisdom from Jenny? "Fall in love with moments throughout your day."
Where are you from?
Miami, born and raised. But, if I could move anywhere it would be California. LA specifically. Or Barcelona. I'd like to live in Barcelona for a few months next year and paint a wall or do a show.
Did you always know you would be an artist, or did you have a different vision growing up?
I actually wanted to be a nutritionist--I was studying biology. I went to my counselor and halfway in changed my major to visual arts. No credits were going to transfer, so I dropped out. I didn't like class. I admire people with fine art degrees, but for me I'm more unorthodox. I'm abstract expressional so it works for me.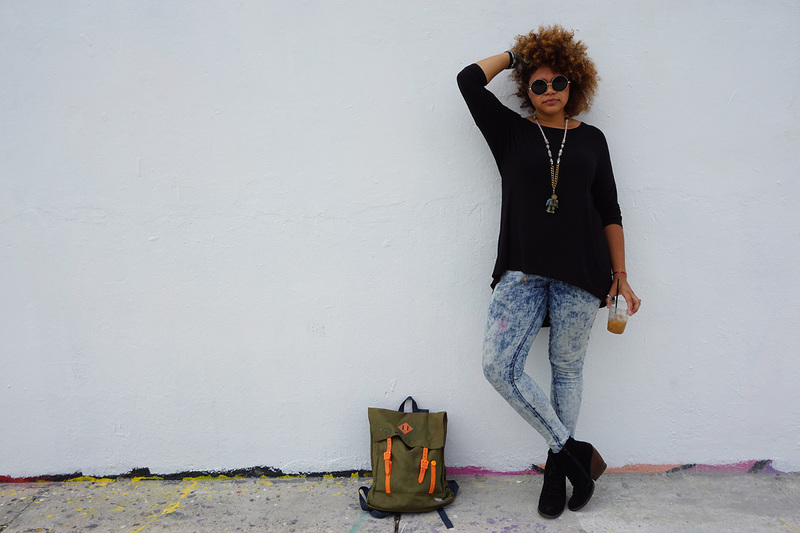 Describe your start in the art world.
The best way to describe it is I didn't say no to any opportunity. It was around 2008 that I decided I wanted to do it full time. It was ridiculous things--putting my art up at a sex shop, I wanted to expose my work to anyone. I did an art show in a Whole Foods parking lot! I did a lot of that. You have to believe in yourself and trust your work, if you pursue something from the heart you have to trust that it will work out.
So you have a day job. Tell us about balancing that.
I manage a gallery, Evl World Gallery, and they allow me to be me and do my work, and they facilitate it in a lot of ways. It's right in Wynwood and it's such a great area to meet people. I keep my art very separate from my work. I don't usually tell people I even have a full time job--I have my own identity and I am not trying to leech of anyone or use another name to get ahead. I work and clock out, and then I create. I have a studio, it's my oasis. Its the one place where I can go and be messy, and be an artist, and it's secluded so when I leave work I can just go and paint and create. Neither one feels like work--its fun for me. I'm always working. I had a Blackberry and a 9 to 5 before this, working for a famous pop artist as his apprentice and traveled with him, it was very stressful. After I left the company I decided I didn't want a "real" job again, in the typical sense. Evl World, it doesn't feel like he's my boss--I get to meet people and it adds to me as a person rather than taking away.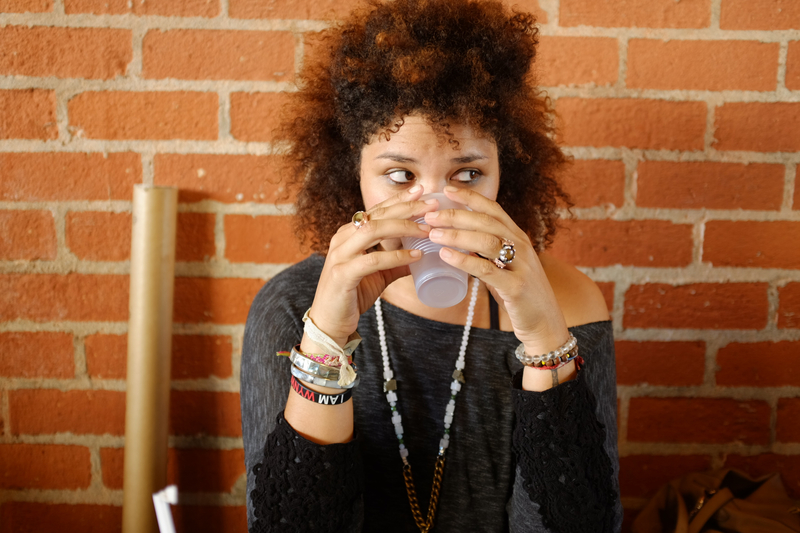 Photo via Bohemian Riot, @bohemianriot
What inspires you?
Inspiration comes from everywhere, but the best way to find it is connecting to things like love. Fall in love with moments throughout your day. Music is great too, and I watch a lot of documentaries on other artists and see what inspired them. Relationships too, and tons of people. I gravitate towards the same three artists. Basquiat, Warhol, and Keith Haring. I like them all for different reasons. Warhol was a pioneer, he started a movement. Haring was commercial but also kept his integrity. It was nice to see. I'd like to be a blend of all three of them. ​
Describe the art scene in Miami versus other cities.
It's really young. The art scene, especially with Wynwood its a different kind of art scene. Miami was known for pop art like Britto, and street art is now becoming a commodity. Business owners want a mural in their buildings, it's part of the culture.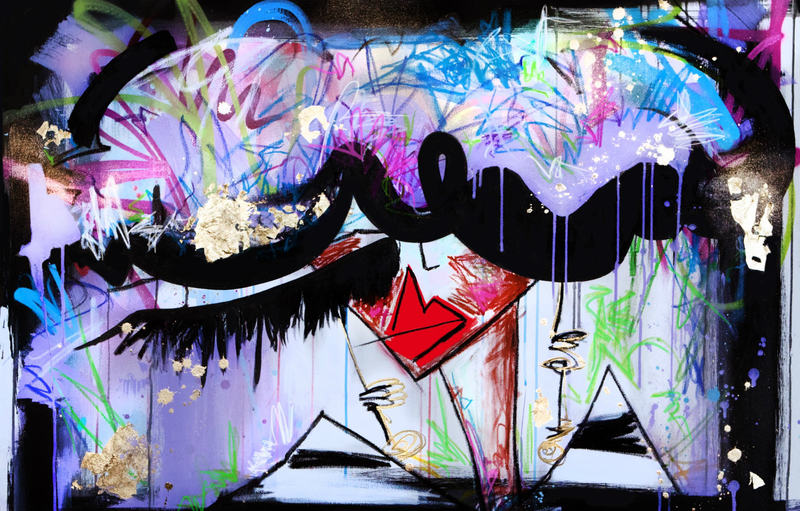 Tell us about the walls you did in Bushwick. Have you painted walls in other cities?
I've done murals in Dubai, Denver, two there, and in New York City--one in Bushwick and another part of Brooklyn. I was at the right place at the right time. I got lost on a train and got off the L train and I needed service on my phone to figure out where I was headed. I saw all of these artists painting walls, and one artist was my friend from Miami. He told me there was one wall left, and I should do it. The next day, I was there painting. The other time I was sponsored with two other artists from Miami flew up and painted.
Whats next for you?
Hopefully a solo show. I've been working a lot. I also want to collaborate with musicians. I have some awesome deals lined up, like designing someone's album cover. I want to travel some more and paint some walls. I'd really love to do something in LA, it's kinda hard to find a wall and to get permission.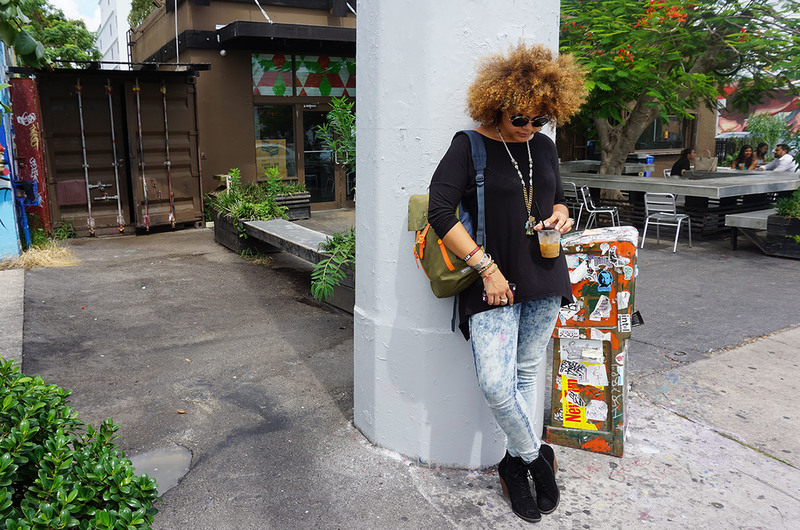 Your work is in Panther coffee and throughout Wynwood. Where else?
Currently in Panther, everything else is in Dubai. I had a solo show with 23 paintings and sent them all over. I'm under a contract there, so my work is still there. Every time I paint, someone seems to buy it, so I don't actually have a lot of work in my possession. I'd like to have a solo show in Miami--oddly enough I haven't done that. People are always requesting a show, because I've built a nice local fan base, and I want to show them what I do, I haven't had the time yet. I have a few spaces in mind. If anyone wants to give me a gallery space, I'd be happy to do it.
Around Miami:
Restaurant: Lately I've been hanging out at Soho House a lot, I enjoy it there. But I kind of gave up my love affair with the beach when I came to Wynwood. I love Lost & Found, their prices are good, the food is good, they have a lot of vegetarian options and some secret items that aren't on the menu. It's open late too. I like Suviche too, they have great food. Wynwood needs a breakfast place--there's a diner coming but they aren't supposed to be open for breakfast which is weird.
Bar: The Corner. But people smoke inside and it's kind of annoying.
Way to spend a Sunday: My friends and I were just talking about this! Drunk by 3pm after a long drawn out brunch, no rushing. Spending the afternoon on the beach or on a boat. On a bike ride, something outdoors. The city is great for that.
Authentic Miami experience: A good Cuban sandwich and the beach. Preferably together at the same time.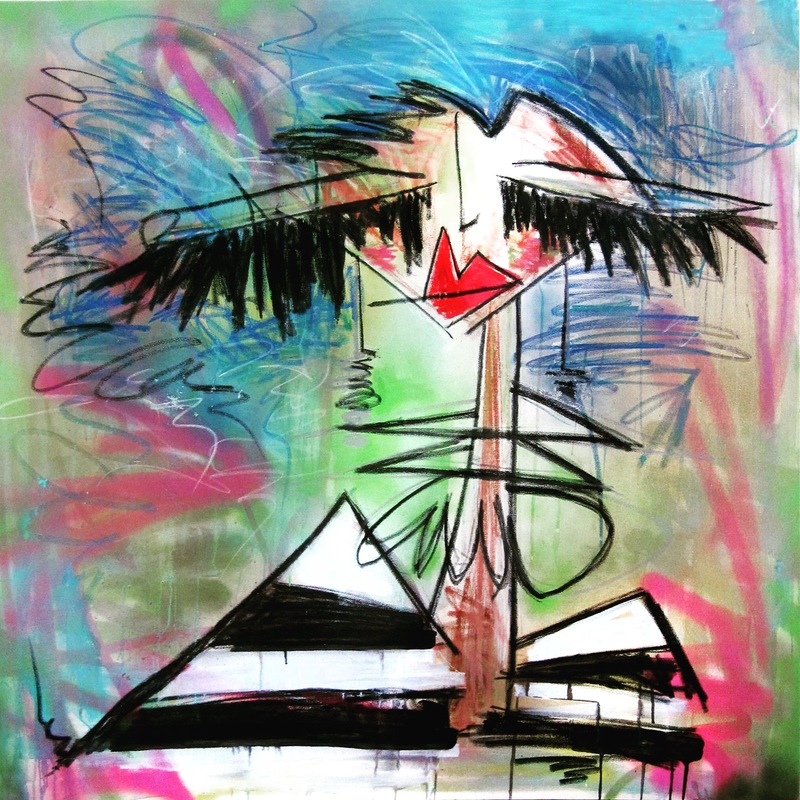 Find this Creator:
Instagram: Jenny Perez Art
Website: Jenny Perez
Facebook: Jenny Perez Art
Other Locals