About This Creator
Harputs is a unique brand that somehow fits and at the same time contrasts with the city it's from, San Francisco. The married couple behind Harputs, Gus and Robin, like so many others in the city were not born there but have grown and prospered there. Having started in the sneaker business then transforming into one of the best, high end luxury brands in the city, Gus has an interesting perspective on fashion that is unlike many, especially in a city that is currently so focused on food and technology. As Robin describes Harputs, "We make smart clothing you can wear throughout time in a variety of ways." Their designs are innovative and highly conceptual while still being very utilitarian and versatile. Shop their collection at their two current pop-ups in San Francisco, one of them based in our very own Clift on Geary Street.
Where are you both from? How did you both end up in SF?
Gus: I was made in Turkey but I grew up here in San Francisco. My father moved here in 1976 so... I'm not leaving.
Robin: I'm from Washington but I've been here for about a decade now. I just wanted to get away from my small town and live in the city and ended up coming to SF for school.
Gus, your father bartered his 1976 Volvo for 1000 sneakers. Is that true? Do you remember any of the standout sneakers from that collection?
Yes! I'm an expert in the sneaker business. We had a business for 37 years. We had the first Adidas shop in America. It was mostly Adidas sneakers with a little bit of Nike and some Converse knockoff shoes which were made in Japan (they were made in the 40's right after World War II).
Why Adidas?
It always sold! They make classics.Whether it's Stan Smiths from 1981 to now, it'll always sell. You could get a pair of shoes now like the Yeezy Boosts and they're hot right now (they're retailing for $300) and in a year you probably can't even find them. For that reason, my dad and uncle bought shoes that were classics and were always in demand. They're like wine. They bought lots of shoes then put them away and bring them out slowly and raise the prices on them every year.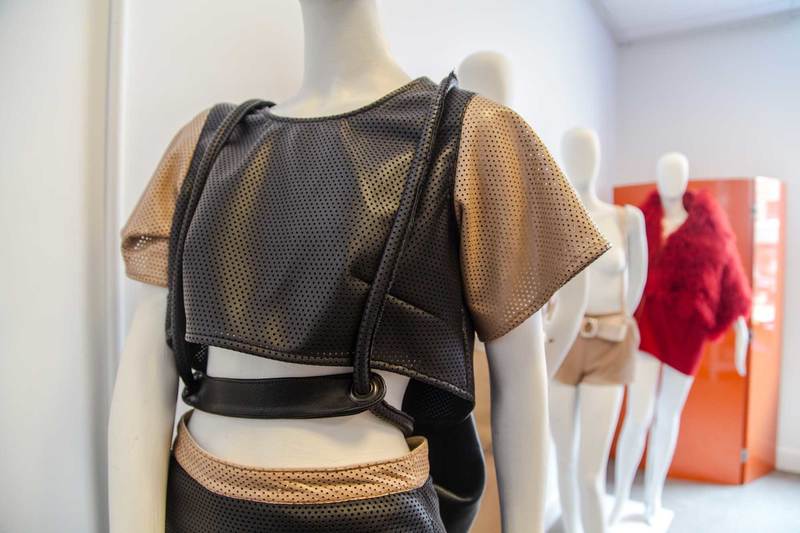 How did you make the jump from selling sneakers into what Harputs is today?
I ended up building an aesthetically beautiful store on Fillmore Street in our movie house. In 2006, Adidas came to us and asked if we wanted to do a pop up Y-3 store, which we did, and it was a wild success. Yohji Yamamoto, who was designing for Adidas, said "Hey, why don't you sell my Yohji line also." Next season, I was selling Y-3 and Yohji and then the next season, Comme des Garçons and Margiela came and said, "Nobody's selling our men's collections in the Bay Area. Would you also sell ours?" They all go together. If you sell Yohji, you'll sell Comme des Garçons and so on. The next thing you know, I'm now living someone's dream selling high fashion. Through that, I understood that the taste I liked leaned towards the Japanese and the Belgians to begin with. I started selling luxury high-end, conceptual clothes and when the economy completely crashed, I had a store full of amazing products. With that said, three things happened at the same time: I ran into an old Hong Kong tailor who was getting out of the business so I bought his beautiful vintage fabrics, machinery and factory; then I ran into a couple of interns who I hired because I had ideas on how to make things; and my learning started from this tailor and with a couple of interns, we started making clothes. That's 8 years ago now.
One of your most popular items from your collection is the swacket. How did that come about?
Gus: It was a sweater that I had developed and turned into a jacket. I like to make things that you can choose how you want it to look or how you want to wear it. We worked on it for 18 months. We have 9 pieces of that level of design, which transform themselves in that manner.
Robin: I think all of the pieces that you can wear in multiple ways; they kind of evolve every season. We don't always make the same thing but we do keep refining these particular pieces little by little. They're always evolving throughout every season.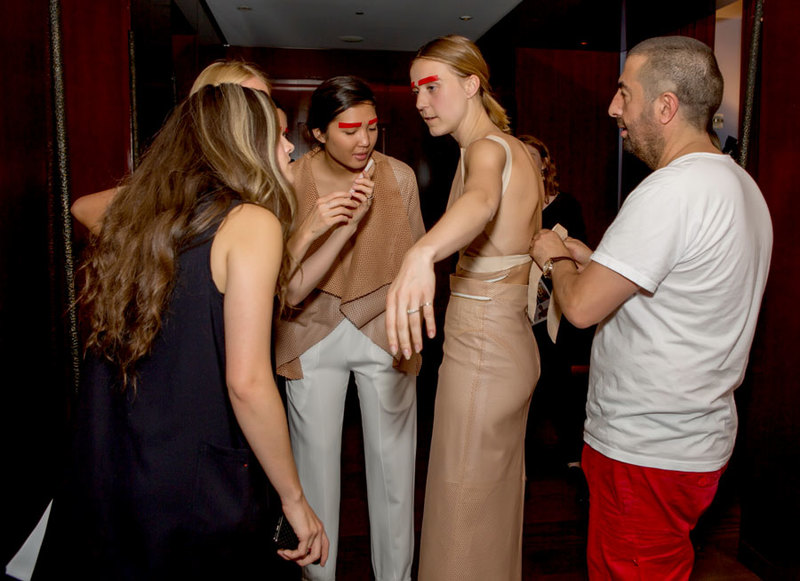 I've read in a previous interview that you don't like the word "fashion" or "design" – that what you like is "construction." What to you is the difference?<
Gus: The terms fashion and design are so loosely used. Everyone is a designer and is in fashion. Anyone who has an idea about the color of a pair of pants becomes a designer. We construct everything ourselves from idea to end product. Everything that we sell is all from us. Not to be a purist or snobby or anything, but I run into a lot of designers who don't know how to turn on a machine or use a needle. I have a hand in almost everything that's done from patternmaking, to sample making to end product. We're a five man team and each of us can do everything. I'm pretty good at everything!
Robin: We've tried outsourcing things throughout time whether it be factory runs of some of our collection or marketing or any element of what we do and we're just very particular. We do it better in-house because we can oversee everything at every point of production. And you can do it now. You can do whatever you want.
Gus: Just by having our hand in everything, it's always much better and faster and we get what we want. If I have an idea tonight, I can start making it tomorrow morning and have it done by tomorrow night.
Gus: A lot of designers in the business formulate a look or mood board, decide on products, find the sample maker, then the sample maker takes the idea and they come back and tweak it… it's such a long process. It just doesn't work for us and I don't know how people do it.

Photo credit: Liz Hafalia
You mentioned that the swacket was an 18 month process. What is it like to create each piece? Does it take the same amount of time?
Gus: Every piece has been different. There have been times where a customer comes in with an idea, which they want, and we develop a form, which can take two weeks or a month. Next thing you know, we may love it and then we develop it into something for us. Every piece has had a different story. Whether it's an idea that one of us visualized or one of our customers came in and told us they need a pair of pants which also turns into a jacket. We get the parameters and we start building.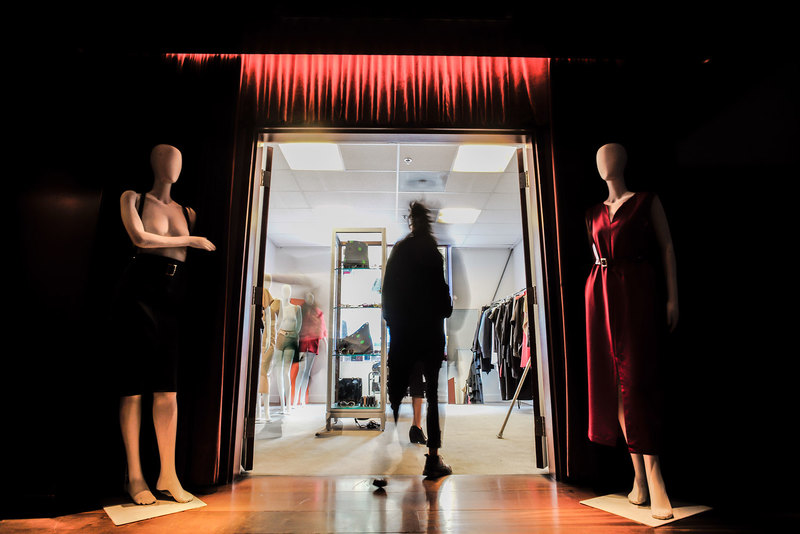 Photo credit: Travis Mocker
You've referred to your retail store as gypsy retail as you're prone to doing pop up shops around the city. Which has been your favorite location so far in San Francisco?
Gus: Our studio has been here but we've opened four to five pop up stores in 5 years. Clift's pop up is #6. I would say the Clift Hotel is our favorite right now in that it's added a whole new dimension to our business. Before when I had a store, I would either man the store of be in the workshop. Now, I'm in the workshop during the day and manning the pop-up store at night. I get to do both things. We're also dealing with an amazing international and national audience that is a well-edited group of people who come in. It's been a pleasant surprise. I didn't think I'd meet so many customers who were open-minded and worldly. Someone who stays at Clift is not someone who stays at a Hilton or some other brand and is not someone who is more old-fashioned or more conservative in their thinking. They're not someone who can only have a two-buttoned coat or their dresses have to be of certain length and way of fitting. Clift seems to have people who are open-minded about what they can wear. A more art and design focused audience I would say.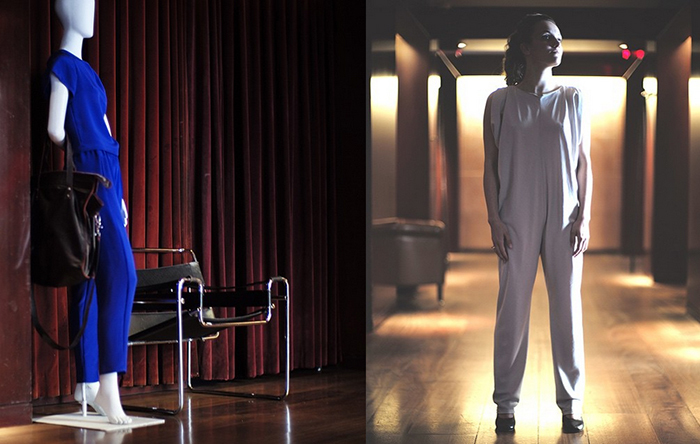 You currently are only found in San Francisco. Why is that?
Gus: I like this one term, "Slow and steady wins the race." We're just talking about doing things right now and our formula has been hands on. We're reaching out and talking about being carried in different stores. We're in a couple of test stores right now. We're looking for the right partners to do so now. I didn't think I was good enough before but now we're ready.
What in your mind makes San Francisco such a great city?
Gus: A lot of the bad things about San Francisco make it so good. Everybody is from somewhere else. It's not just the techies right now who are here but also all of the misfits of the world end up here. All the people who don't belong, they come here. We have a pretty open-minded population and to add on that, we are one of the most visited tourist locations in the world. So you have that audience. Lastly, you have all these people who travel for work whether it's for conventions or work events or to visit large companies who are headquartered here. You put it all into one city and we have a high visibility worldwide just being here. AND you can walk it, you don't need to drive.
Having said that, we love LA. We do love coming down to LA.
Robin: You have such a fashion audience there whereas we don't have a fashion audience or industry here. But that's ok and I think that's evolving. Sometimes you feel like you're falling on deaf ears and a lot of the people who were brave and added to the resources here end up elating and going to LA or New York. That's where they get even bigger even though those places are quite saturated with people in the industry, you go there and you have a better opportunity to break through.
Gus: There's basically nobody here of our caliber who is doing something that has a world taste.
Robin: I think a lot of people who are designing clothes here don't really aspire to reach beyond the city. They have an aesthetic that's very San Francisco. I feel that we're a little bit of outsiders in that sense. I don't think we're very San Francisco in our aesthetic but we're still here and we're still influenced by our city.
How does Harputs defy convention?
Robin: We don't really bow to the interests of too many people. We're unapologetically ourselves. We don't kiss people's asses. Gus has an honest way about him and he gets himself into trouble here and there and it's that quality that I love about him. We're not just nice and we don't go network just for the sake of networking. Politically, we're not very on top of our game. We're doing our own thing and proud of it.
Gus: If I think you stink, I'm going to say, "You're stinking right now." People have a hard time facing up if they're not doing well. I think the best you can do is tell people how things are and then in the end it helps them. A lot of people like to kiss people's asses and tell them they're great when they're not. To further answer your question, in analyzing the Clift… there's no other hotel like Clift here. About five years ago, I tried to move next door to Clift because I wanted the hotel's audience. There's a building next door and I tried to get my friend to buy it so I could put a store in it. Morgans Hotel Group does attract a certain type of guest. You walk in and it's a different experience – the hotel is defying the aesthetics of what a hotel is. You walk to a Hilton or a Hyatt or even a St. Regis and it's just a hotel. It's not challenging your senses or your environment. That's what Clift does and that's what we do with clothes. People wear a jacket like this but we think maybe you can make a blazer with an extra hole in it and you can swing it around to the left or the right or let it hang and YOU can decide what you do. That's how I think it's a great fit for us to be working with Clift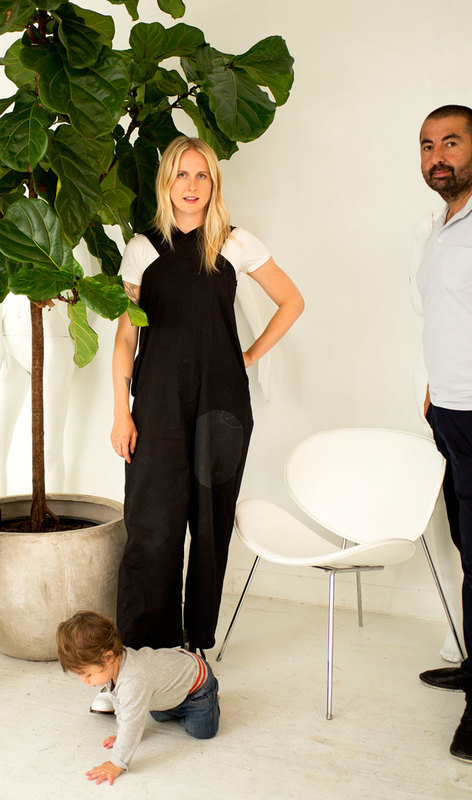 Favorite Restaurant:
Gus: A Greek restaurant called kokkari in Jackson Square. I haven't been there in 6 month. The Plant Café as a casual lunch – you can't beat it. Everything is organic. We have a one year old so we make him eat everything we eat. Café Zoetrope for pizza. The owner doesn't even advertise it. It got popular one time and he changed the name of it.
Place to grab a drink:
Gus: Clift Hotel! Also we go to the French Alley or Hog Lane.
Favorite place to find inspiration in SF:
Gus: It's not just one place. It's the people we run into. What influences us is our travels and who we run into. We do a lot of custom work – what we call private wardrobe management. We have a group of 8-10 people seasonally that we go to their homes and go through their wardrobes. We'll look at a jacket and ask why don't they wear it and the customer might say, "It doesn't have a pocket," so I put a pocket in it. Or if it's too long or short or too wide or too thing, we'll go in and fix everything for them. That is a very informative for us.
Robin: When we're directly looking for inspiration around the time we start a collection, we do a good amount of studying and digging around. We do watch a lot of the runways to stay in tuned with Fashion Week etc. We don't get out much, we work way too much.
If there were anyone you could design for, who would it be?
Robin: We're pretty into The Godfather. We bonded over that movie. We watch that movie everyday when we were in our last store. It's a pretty epic movie to be watching everyday. I don't know if there's a person but there's something about the aesthetic and the story of that movie that's really important to us. We always talk about how beautiful Diane Keaton is in that movie. She's playing a weak female role in this movie but she's a timeless, classic female role model that we love.
Follow This Creator:
Website: harputs.com
Facebook: @harputs
Instagram: @harputsown
Twitter: @harputs
Other Locals