About This Creator
This month, Mondrian London has teamed up with PRESS, the hottest cold-pressed juice company in town, to offer seven of their delicious juices in the hotel. PRESS were one of the first companies to really make juice that tastes "right", a juice that would be familiar to a discerning London resident who had tasted the best juices in LA and New York and wouldn't settle for just anything green in a bottle. Their phenomenal product has meant that since its humble beginnings in a bathtub in a tube station in 2014, PRESS is now available in over 11 prominent locations in London and counting. We sat down with co-founder Ed Foy to talk about what's next for the growing company and why cheeseburgers are definitely still on the menu.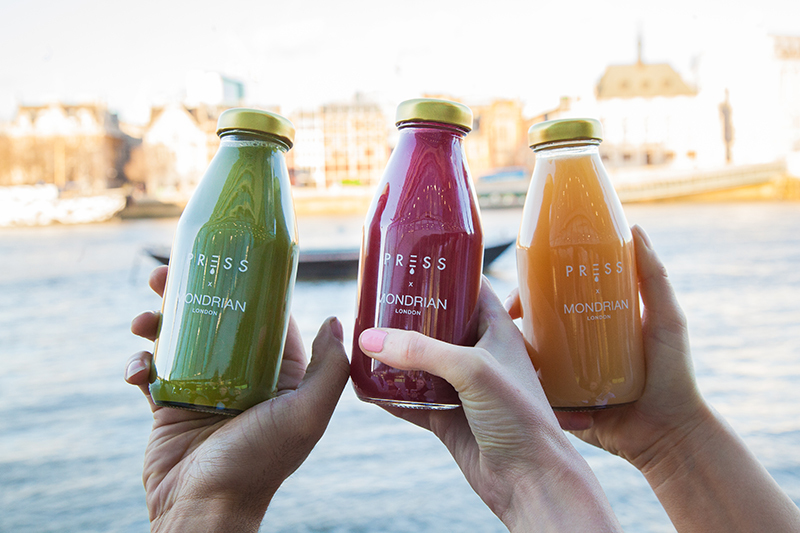 How did PRESS London begin?
I lived in the states for five years, on the East Coast primarily but also in Nashville and the South. Georgie, my business partner operates her other business, a high-end events company, out of LA and London. So, she had been living the LA dream of rolling up in your car, picking up your juices for the morning and that being a big part of LA lifestyle at its best. Then suddenly NY was filled with juice, too. We were both looking for something to do in London and wanted to bring something back from the US. Londoners were starting be to just as engaged in their health and their wellbeing. Fitness was the first thing to hit London. But then it was diet- everyone is now aware of their diet.
We both looked at it and we thought, we have to bring this back to London. So we bought two tiny juicers, we came back to London, we spent weeks in my parents kitchen, spraying juice all over their ceilings and walls. We first opened a pop-up at Old Street Tube Station. It was Easter of 2014. On the first day we thought it would be 8 hours and we would go and have Easter dinner with our families. Twenty four hours later, we were still juicing on these tiny machines. I had even sliced my thumb to the bone, went to hospital and came straight back.
Then, I called Georgie and I said, "Do you want the good news or the bad news? Good news is we're sold out of juice, bad news is get back to work, we've got a month of this." So that's how it started.
Tell us about the bathtub, it's become an icon of PRESS.
We liked how in America, even in gas stations, they always put everything on ice. Cans of Coke or Sprite look so inviting on ice. It looks amazing. Droplet-sprayed cans of Coke! So we were like, well, let's do this on ice. I just think it sells better.
So, we came up with the idea of the old vintage bathtub. I bought one on GumTree and painted in my garage.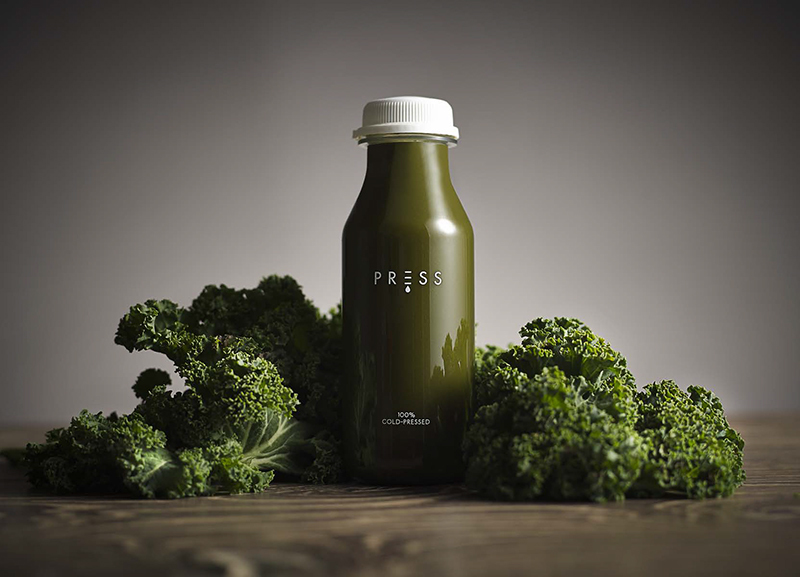 What is the main difference between cold-pressed juice and fresh juice?
So, there's probably about 1.2 kilos of fruit and veg in one bottle of our cold-pressed juice. When you do everything at a low temperature and bottle it at low temperature, preservation of that nutrient content is intact. When you spin something around in a blender and expose it all to air, you lose a lot of the nutrient value. We never liquidise anything; you just crush it and press it. It's a completely different process. If you really break it down, it's better tasting and it's better for you. Taste is such a huge part of it. If you take these same ingredients and blend them, you've got froth, pulp, mush etc. and it settles.
I was always driven by taste in this category. If it doesn't have that magic, where people love the taste, and say it tastes insanely good, they won't come back.
Were you surprised by how readily London took to the health food scene?
Yeah, we couldn't believe it. I remember we priced our first juices at £5. We knew we needed to be higher than that in price point to make the business work. No one even asked a question, and this was out of a bathtub in a tube station with just me grinning behind it. So we immediately said, well, let's just move it to £6 and still no one asked. We always thought, no one is going to spend £6 on a juice, that's going to be our biggest problem. And actually our biggest problem is distribution. I think the biggest thing is with pressed juice, with this kind of product, is if it was on someone's desk every morning and they just knew it would be there, they would pay the money. It's the convenience that's the issue.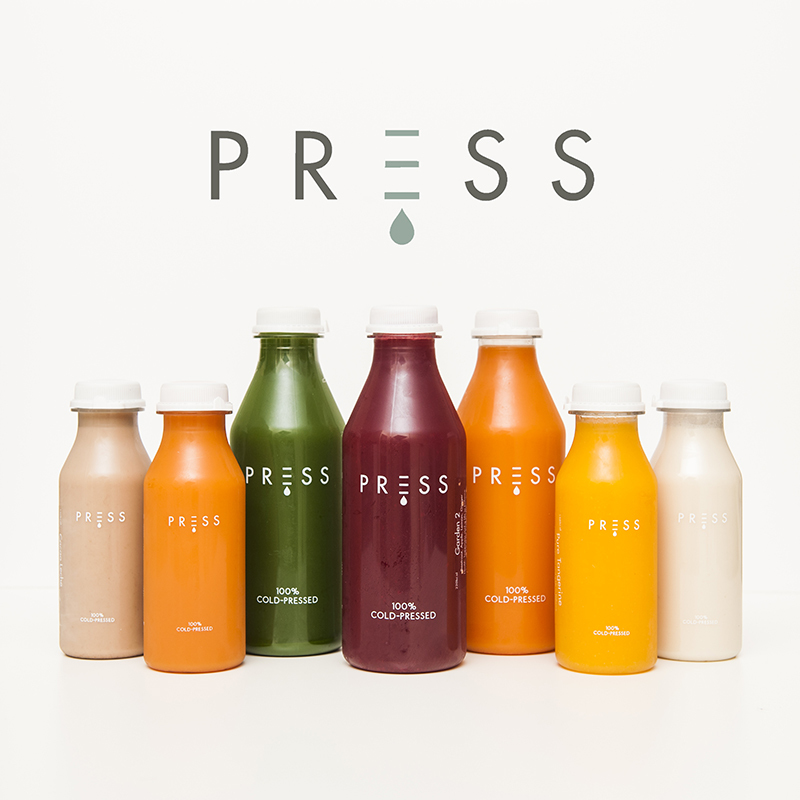 PRESS only started in 2014 and already it's had such amazing success in a market that's becoming more and more saturated as London gets healthier. What do you think is PRESS' unique selling proposition?
I'd start with the product actually to be honest. Firstly, when we started, we developed these recipes with the best in the world in California. David, the owner of Beverly Hills Juice Bar, is a friend of (co-founder) Georgie's. That's where she used to queue out the door in LA. When we built the product we never looked at the margins by the component parts. We always wanted our juice to taste addictively enjoyable. People won't drink something every day if they don't like it.
We talk about it needing to taste "right". So our Greenhouse Two, it's super green, no lemon, no apple, no nothing. For some people, that's way too green but even when they taste it it tastes right, the balance is there. It doesn't overwhelm you with one flavour or another. We spent a lot of time trying to get that right.
Apart from that, I think we try to have fun. We don't take it too seriously, no one likes to be preached to about health. We're all too busy and we've all got so much going on. Our philosophy is life is balance. You should go out and have the best burger in London on a Friday night, just be better when you're being good.
Apart from cold pressed juices, PRESS has some pretty awesome and unique food offerings. Can you tell us about those?
Definitely. We've got chia bowls, coyo pots, acai bowls. We're launching bone broth. It's healthy and it's warm and savoury, so it suits London. We're going to serve it like coffee. We have a really cool new miso company that we're working with. I think they're called "Miso Tasty". I said, that name is disgraceful but amusing, so let's go with them. We're doing the sorbets in the summer. Our 'synergy' porridge is gluten free/dairy free and I think it's the best tasting porridge I've ever had. I'm surprised at how tasty it can be.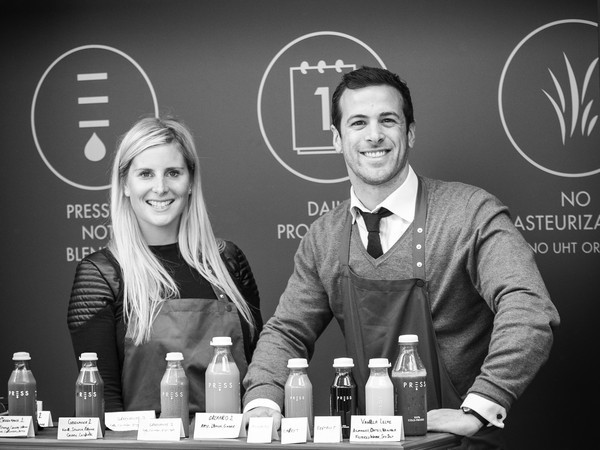 PRESS also has a pretty high-profile nutritionist and fitness expert on staff. Can you describe their roles?
You've got to have experts. One thing I'm not is a nutritionist or a fitness expert, although I am really interested. We try and steer away from 'voodoo' language. Even though I am aware of how good bone broth is for you, I couldn't tell you the detail. I don't want to start making it up! I need someone on my team who knows the answers.
Jess (our in-house nutritionist) also runs the retail side of the business and what's important is that our retail team understand the nutrition in our product. Lots of people walk in now and ask for prescriptive solutions to problems. "I feel really run down" etc.
One thing that I can say is that I haven't been sick and neither have any of our team for about two years. Not a sniffle.
You're the face of a very healthy and clean living company but you maintain that PRESS embraces balance. What are some of your vices?
My vices are Patty and Bun burgers. A good friend of mine Joe started it, they've done a great job. I will occasionally hit into a bag of Haribo. I am a sucker for that. They've got to be cold, though. You've got to put it in the fridge.
What are some of your goals for PRESS in 2016?
For me, kind of the third leg to the stool of diet and exercise - and something that PRESS is now looking at - is meditation, the cerebral side of things.
Last year, just through the normal stress of having your own business and not sleeping enough, I got pretty run down. If you consistently do 18-19 hour days for a year, that will happen. I took a break and went to, of all places, cliché Thailand. I ended up taking a meditation class. I went in as stressed as I've ever been in my life and I came out calmer than I've ever been in my life and I'm not a calm person. I haven't talked to a single person, all my friends, who has not said, "I feel like that. I feel stressed all the time." When people say I'm stressed what people actually really mean is "I'm afraid" which sounds kind of cheesy and jedi. If you say "I'm stressed" it means you are worried. What you do is build this monster that sits way down the line and you think it's all going to go wrong, etc. Someone told me I was running my life as if there was a tiger literally chasing me all the time, so you wake up with adrenaline in your body which is cortisol which lowers your serotonin which is what makes you happy. We've never been taught that happiness is chemical, not a set of circumstances.
I think there's so much more we can do. For the first time ever, busy, normal people are actually open to the concept of meditation. Unfortunately, what we've been left with is a legacy of old language that makes people put a barrier up straight away. When someone says "hey, have you ever heard about mindfulness?" It just sounds rubbish! It's just not language that people like. I think we need to break that apart and reframe it in a way that will be more compelling for people. So I'd love PRESS to maybe run a lecture series in offices.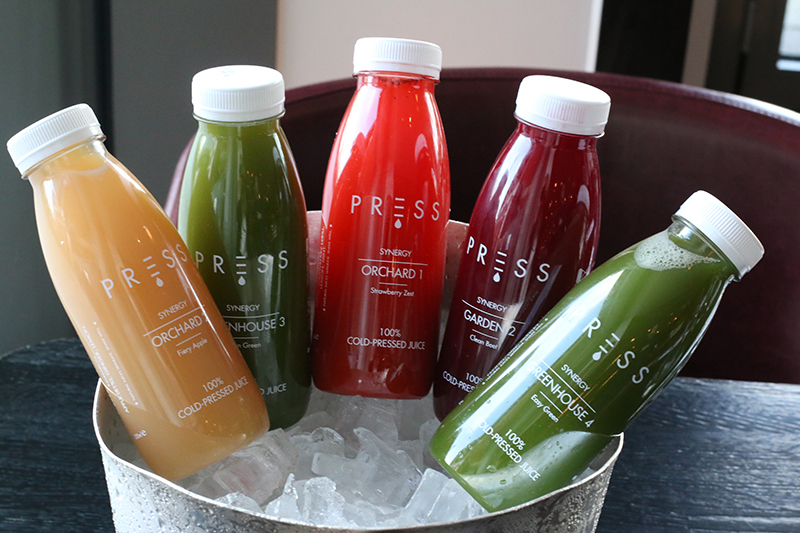 What are some of your favourite places for healthy eating in London?
Mildred's, it's a vegetarian café in Soho. City Caphe. It's down a back alley but they have a line out the door at lunchtime. I love places like that, it's not fancy it doesn't look cool but they have nailed the product offering.
Follow PRESS London:
Website: http://press-london.com
Instagram: https://www.instagram.com/press_london/
Twitter: https://twitter.com/press_london
Facebook: https://www.facebook.com/presslondon/
Other Locals