About This Creator
Some people discover their passion and talent early in life, and they spend years developing their skills to share with the world. For the past 19 years, Dustin Atoigue has been honing his culinary skills. After gigs in Los Angeles, Miami, and Las Vegas, Dustin headed back to South Florida to take up residence as the Executive Chef for Mondrian South Beach. After a revamping of the menus, Dustin is making his mark throughout the food and beverage outlets at Mondrian. We sat down to chat with Dustin about his early experiences in the kitchen, where he likes to go in Miami, and what his must haves are when he hits the grocery store--among other things.
Where are you from, and what brought you to Miami?
Guam, then I moved to LA. I actually came to Miami for the first time when I was sent here to work at Delano.
What was it like, growing up on an island?
That's how I fell in love with cooking. When I was younger, I used to have to help my grandmother a lot, I planted all the vegetables that we grew, cared for them, caught the fish and chicken that we cooked, and cleaned and plucked the live chickens. The basics. My grandmother was a big influence on me, and I was the one who always helped her do all of that stuff. We had a lot of fish too, we would catch fish, cut them, grab some soy sauce and have sashimi immediately. Its the same seafood as Japan, it's delicious and very fresh. I used to catch uni, blue lobsters, squid, all the different seafood. I miss those days.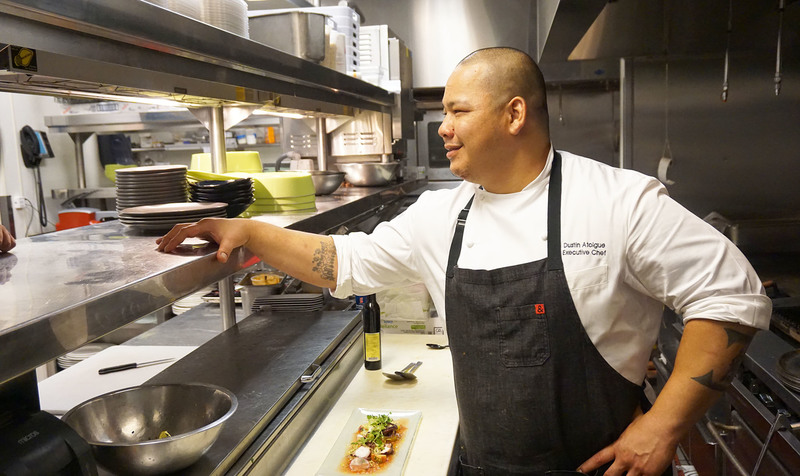 Was there a turning point when you decided you wanted to be a chef? How did you end up in this industry?
When I was a kid, I didn't know there was a 'chef' career, I just wanted to cook. I started at age 15 as a dishwasher in a busy coffee shop--then was a prep cook, line cook, everything. And 19 years later, here I am. I actually tried to join the Marines because I wanted to be a Special Ops sniper, but they said I was too young. So after that I stayed in food and made the move to LA to go to school, where I had my first chef position at age 22. I was working for the Patina Group, we did the Emmys every year among other things. It was great.
What is your personal food philosophy?
I always try to use the best quality ingredients that are offered locally. Seafood is a big thing here, and produce as well. We always want to support local fisherman and farmers. As for a tip: season perfectly--don't go crazy with salt and pepper.
You came to Mondrian South Beach and completely revamped the food and beverage menus. Tell us about this process.
I came and observed what food was created here, and I noticed the menus were kind of all over the place. I wanted to create a fun and well-presented offering, especially for the pool. My first projects were the banquet and pool menus. I got to be really creative. I took a lot of classic things that are usually popular and redid them to offer something different--like a Cuban quesadilla rather than a traditional sandwich. I also brought back the sushi, I have a lot of experience in Japanese food after some time at Katsuya. I redid the whole sushi program to be more creative and change things up.
Tell us about the Momo partnership.
So, the team from Momo is coming to collaborate with us to bring a popup here this summer. We are working hand in hand to create the best menu we can within the Sunset Lounge space. It's their name, in our venue, and we all want to bring the best experience to South Beach. I haven't eaten there, but I have heard a lot of good things--so I'm excited to see how it goes. I'm looking forward to a cool menu and after that ends, we'll still have our new sushi menu in the space.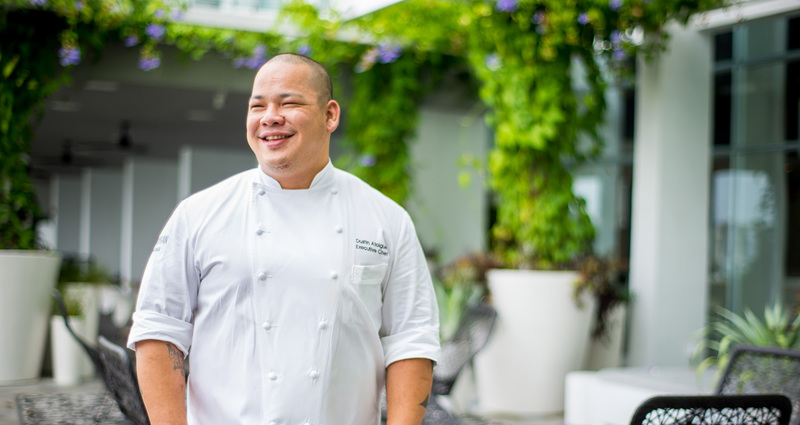 What's your favorite thing to cook?
Food from Guam, because it's what I grew up with. Chamorro food is an interesting cuisine because of all of the influences involved. You know, on an island the cuisine is very seafood heavy, but because we were at war with Spain for 25 years, there is a lot of Spanish influence in the cuisine as well. When Japan conquered us in WWII, there were influences as well--so there's a lot of rice, noodles, and Japanese cuisine too. And of course island style BBQ!
Where do you seek culinary inspiration?
Everywhere. Different restaurants, things in magazines, things on TV- one of the things I do when I create a menu is think of an ingredient like asparagus--how many different ways can I prepare this asparagus? Shave it, sauté it--there's so many things. Trying new things all the time is inspiring too, I try new recipes, new items, mix new things together and play around with it. I'm always in the kitchen so I have have the chance to be inspired and try something new.
What do you love about the food scene in Miami?
I love that I have the opportunity to excel here and bring new food to the area. I love the Latin flare that's out here--I lived in Puerto Rico for a few years and the Latin influence is great. And everyone has sushi for some reason--Italian places, Spanish places.
You're going to the grocery store and you can only buy 5 ingredients. What are your must haves?
Kosher salt, eggs--I love eggs, bacon, Bustelo Coffee, butter. I'm not gonna say SPAM, and I already have Sriracha. I use that like ketchup.
Favorites on the new menu?
I have a lot actually. The shrimp and date skewers, the grilled octopus with salad, the Grilled Cheezus Wagyu burger is awesome, it's a burger patty in between two grilled cheese sandwiches. The lollipop chicken wings too are also one of my favorites.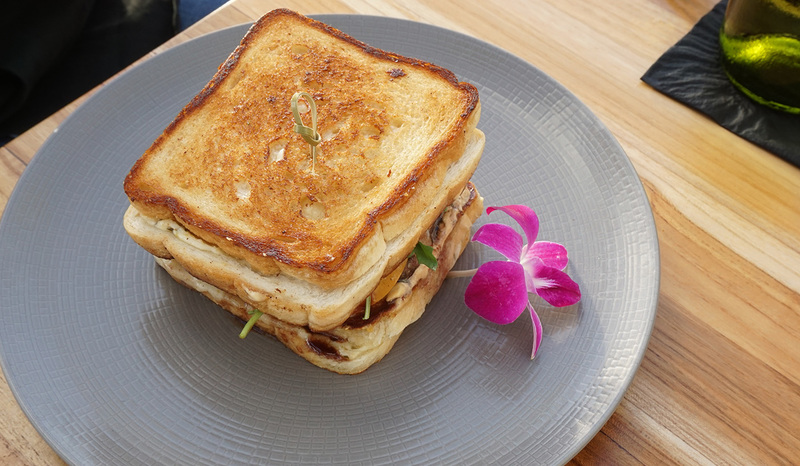 Speaking of the Grilled Cheezus Wagyu Burger, you recently won the Morgans Hotel Group Burger Battle with this culinary creation. What was your process for creating a burger sandwiched in between two grilled cheese sandwiches?
I wanted to create a burger that when you get it, you stop for a moment to think WOW. I also hate when you order a burger and the bread is soggy, so I made the grilled cheeses so that it will never be a soggy burger. And, of course, I just wanted to have the best burger in Miami.
In Miami:
Favorite place to hang out: Delano, I'm always at FDR. Probably every Monday, Friday, and Saturday. And the pool party there on Sundays. Lost Weekend, I like to go there. If I'm not at work, I'm at those places or on the beach.
Favorite places to grab a drink: FDR, Bodega is cool I've been there a couple of times. Taquiza on 15th & Collins, it's a Mexican place.
Favorite place to eat: Bianca, I've been there a few times. I like to go to Bazaar too, and Mandolin Beach at Soho House. Moshi Moshi, but I only go there when they have uni.
Favorite way to spend a Sunday: Beach or at the pool party at Delano
For first time visitors, what do you recommend they do for an authentic Miami experience: Hang out at the pool at Mondrian, walk the boardwalk on South Beach, peek at Mango's just for a second, go fishing or jet skiing.
Follow this Creator:
Facebook: Facebook.com/MondrianSouthBeach
Twitter: Twitter.com/MondrianSoBe
Instagram: Instagram.com/mondrianhotels
Other Locals