About This Creator
Head over to Miami's arts neighborhood, Wynwood, on any given day and it's likely you'll see a line out the door of the Mexican restaurant Coyo Taco. This fast-casual eatery serves up tacos, burritos, bowls, and more, with a secret tequila joint in the back that really isn't secret anymore at all--it earns its own seperate line around the block on some nights. Since one Coyo isn't enough, it was only a matter of time that the guys behind the brand expanded. Enter Coyo Taco beach edition, situated right here inside of Shore Club. We chatted with the guys to learn where the Coyo concept came from, and also to try some of their delicious South Beach-only menu offerings. It was all deliciously informative.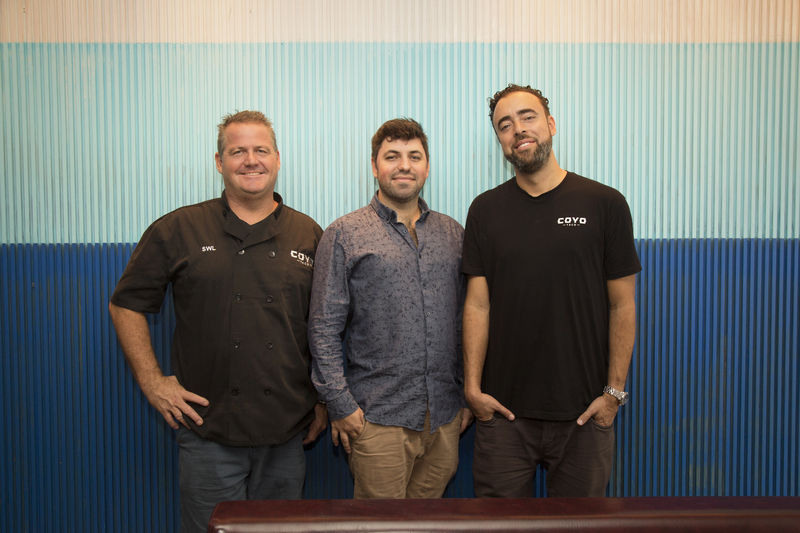 Where are you from?
Sven: I'm from South Florida, Alan is from Coyoacan, Mexico, and Scott is from LA.
How did the three of you get together?
Sven: Alan and I worked together in the Virgin Islands. Alan came to Miami on vacation and we discussed opening a place of our own. He wanted to get into a franchise, but I thought we should go out on our own. I was at Barton G at the time, and we needed the right chef partner, which is where Scott came in.
Scott: I was offered the culinary position at Barton G and Sven approached me and said, "I Googled you, and I saw you did Dos Caminos and have a background in modern Mexican cuisine, my partner and I have a concept and we have this idea." I was working on my own thing and really needed help with the menu. That was basically the start of it. It was going to start as a consulting thing, but I became involved in a full time basis after we realized the potential and also how much effort it was all going to take. So it's all evolved.
Where did the idea for Coyo come from?
Alan: The concept came together because we wanted a fast, casual, unpretentious place with quick service. We wanted to be in Wynwood, and really the pieces all fell together. We originally wanted to be on the beach, and we found this place in Wynwood with the liquor license, so we were able to divide restaurant and bar. The style of Chef Scott's cooking compliments the neighborhood. The food and vision for Coyo is to remain value and quality driven.
Scott: Alan is from Mexico, I've been cooking Mexican food for 20 years, so authenticity is important. I helped them understand a street food experience and how to have customers understand it. So we took the roots of the cuisine and evolved them into something more understandable for the population. Non-Mexicans don't really know about Mexican food. Everything came together so perfectly, it was the perfect storm. The concept, the bar, the food, the PR, the branding--everything went the best it could.
Alan: We tried to keep the elements of Coyoacan, which is basically like the Wynwood of Mexico City. So the color of the tiles, everything reflects that neighborhood. That's the part of town where Frida Kahlo is from, its known as the Bohemian part of town.
Sven: The buzz was so strong for our soft opening, we had 50 people waiting outside when no one was supposed to really be here yet. We ran out of food, we weren't expecting that, but we've built the infrastructure that we weren't planning on initially.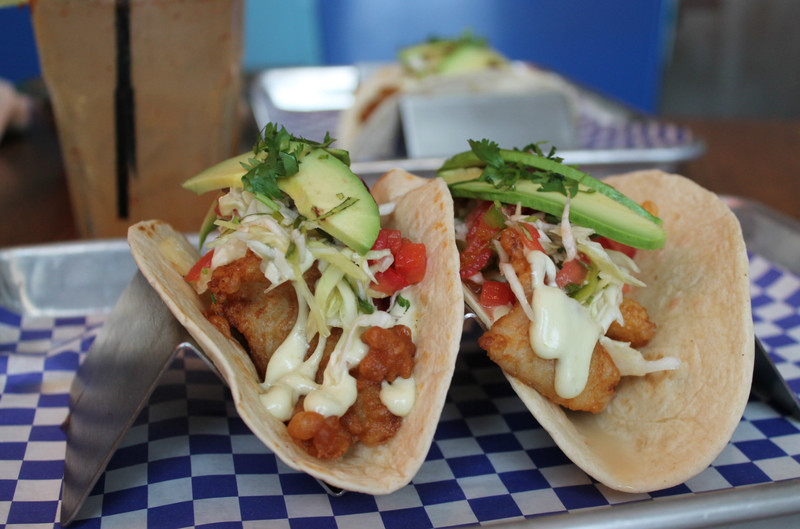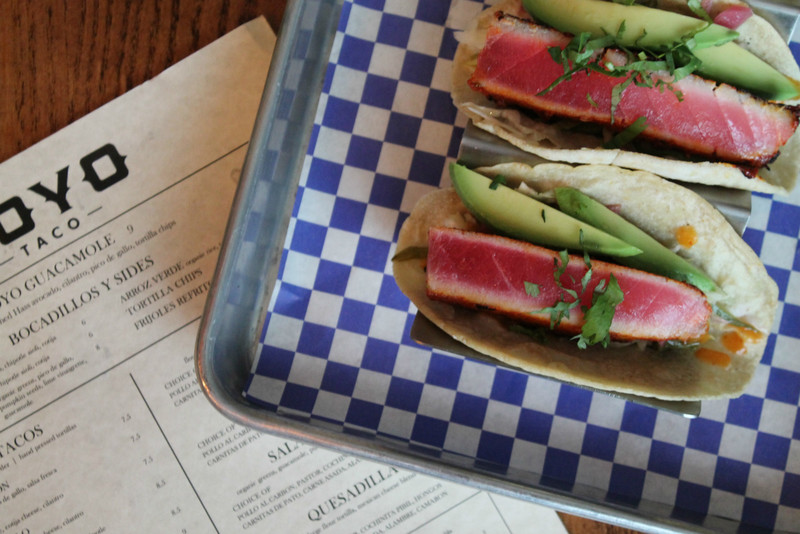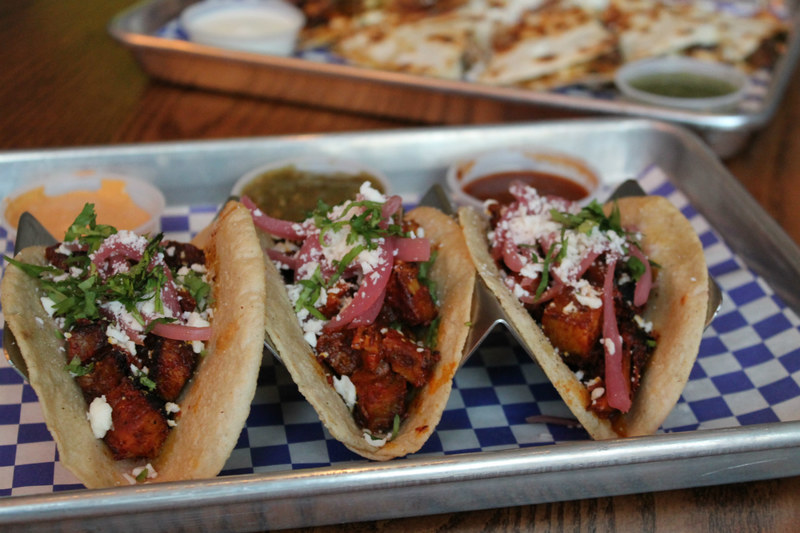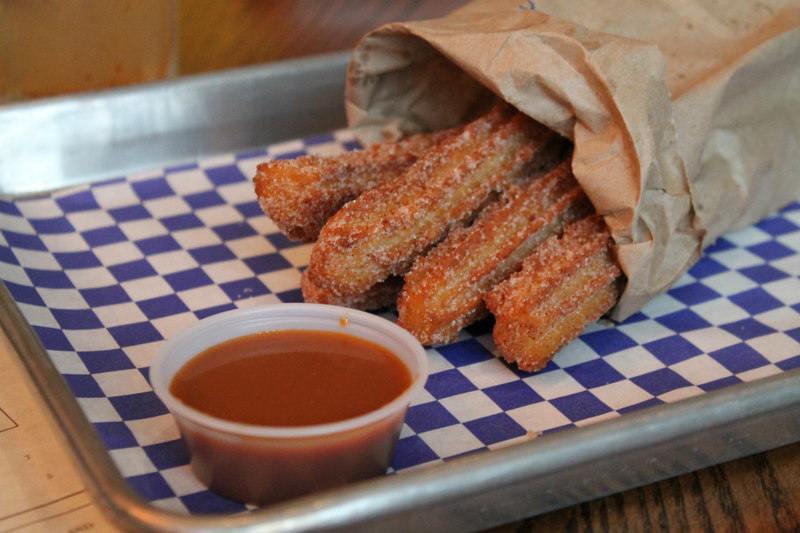 What are some of the popular menu items?
Scott: I think the foodies like the duck carnitas, because its a traditional style of carnitas but with duck instead of pork. The most original confit is with duck, so we did that rather than the pork version. The shrimp taco has been rated as the best in Miami by some people, and shrimp is more suited to everyone over duck. Burritos and bowls, they are easy and people can grab them on their lunch break. There's a focus on fresh, authentic food. The tortillas are hand pressed here with nixtamal from west Miami. It's a really interesting mineral flavor that you can't get with just cornflower.
What prompted the beach location inside of Shore Club?
Sven: Morgans Hotel Group approached us and asked if we had interest in moving out to the beach. The Nobu space has been there forever, they came to our Wynwood location a few times and loved it--and they wanted the same vibe there, not any changes to our brand. We get to test the waters on the beach, and we're hoping its a long term thing.
Scott: The menu isn't quite the same. We'll be serving breakfast and brunch, which didn't work in Wynwood because everyone seems to be up and moving around 11. Traditional Mexican brunch seven days a week, and the lunch menu will be offered throughout the day and into the evening. We've added some more fish and seafood since it's the beach, like a seared tuna taco, lobster and grouper battered tacos, We're going to try and have healthier options, maybe some vegetarian options. Beach cuisine is a little different. We want to offer something different, since people are on the beach and in vacation mode, so we'll have some upscale offerings that make sense from a culinary perspective. We want to offer some interesting things, and maybe try some tastings and themed dinners. I love making tacos, but I want to offer Mexican food that people might not have had the chance to try before. Also into sushi bar style ceviche pop-ups, and some under the radar things that I want to materialize.
How important has social media been for propelling the Coyo brand?
Alan: The presentation of the food, the trays, the checkered paper, it was all spontaneous, but people started taking photos of it and were posting on Instagram. It photographs so nicely that it was this coincidental perfect storm and it's worked out so nicely.
How do you source who comes in as DJs?
Alan: The nightlife energy came from Sven, that's his expertise.
Sven: People I like and admire as DJs, people that I think other people will like--and its resonated well so its worked out. The laid back energy of Coyo translates into the lounge as well, even if its a big DJ, you can relax and hang out and enjoy that atmosphere. As far as the beach, we haven't decided what kind of nightlife aspect we will have. RIght now, night to night, we haven't really determined anything.

Follow These Creators:
Website: Coyo Taco
Instagram: Coyo Taco
Twitter: Coyo Taco
Facebook: Coyo Taco
Other Locals