About This Creator
Where are you from?
I currently live in Marylebone.
What inspired you to be an artist?
For as long as I can remember I have always loved art and been a creative. At school, Art was my favourite subject as well as my strongest. In my school days I used to go to Camden and buy old Levi jeans, cut them up and make them into skirts. I would buy crystals, stick them on shoes to sell in shoe shops. I'd also paint wall murals in shops finding a way to use my artists skills to make some pocket money. After school I was accepted into Chelsea College of Art and Design and Emily Carr in Vancouver where I studied for 4 years. I then found my studio in East London where I have been ever since.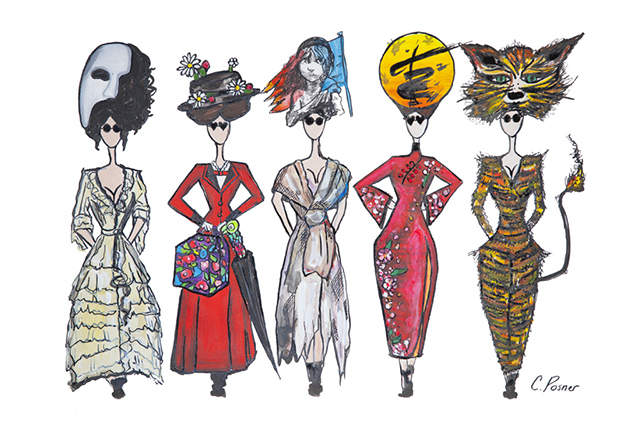 How important were those academic years?
Very important. Chelsea College of Art and Design gives you the freedom to express yourself, experiment with ideas and explore the subjects you are interested in. It allowed me to find my own voice, although it took a while to get used to, because it was such a change from being told what to do at school. I learnt so much - it helps to prepare you for the real world, where you have to take charge of yourself.
Were you always certain you wanted to be an artist?
Yes. I was talking with a old friend recently (Hanna-jade Brown), she found a diary which we both wrote in at the age of 11. I had drawn a little picture of me as an artist, her as a singer! Both have happened. I am a strong believer in visualisation. I believe if you visualise something and want it enough, with small steps, and work you can become. I would advise anyone who has a dream, to visualise.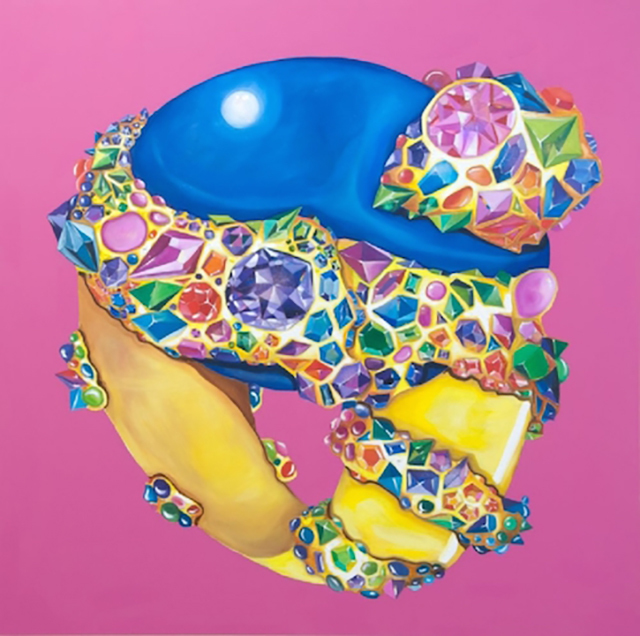 What has inspired your art?
Other artists, film makers, writers; dead and alive have inspired me. I go through fazes of researching into periods of art. London is incredible for galleries and when I visit a show I am always inspired. I believe you are what you surround yourself with. So I try to fill my spare time by going to see art exhibitions and beautiful spaces in London. I also get inspiration from books, history, as well as people around me.
How important has social media been for you as an artist?
Technology has helped me tremendously, it connects you directly to an audience. It allows you to share your work with people who are interested. Social media has played a big part for me, selling lots of work though online channels. Instagram being one of the strongest.
What would you be doing if you were not an artist?
I'd probably be a landscape gardener. Something that is physical and that I can move around and be really creative.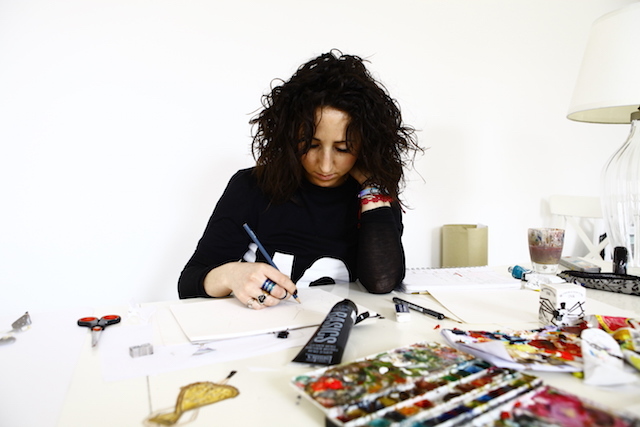 What do you want people to get from your work?
There is work which I do for myself, it's like writing a diary out loud. And work, which I like creating, driven by myself and the audience have an influence. It's great when other people have connected with my work, I can still make work that I wake up and enjoy making.
Do you think art brings people together?
Yes, art connects people visually, making it global. People, wherever they come from, whatever they do or whoever they are, can have a feeling or opinion on art. It's subjective. Art has always and will always be a talking point socially and culturally.
Who is Charlotte Posner?
I'm a 28yr old woman making my way in the world, being creative and expressing myself in a visual way. I'm a doer.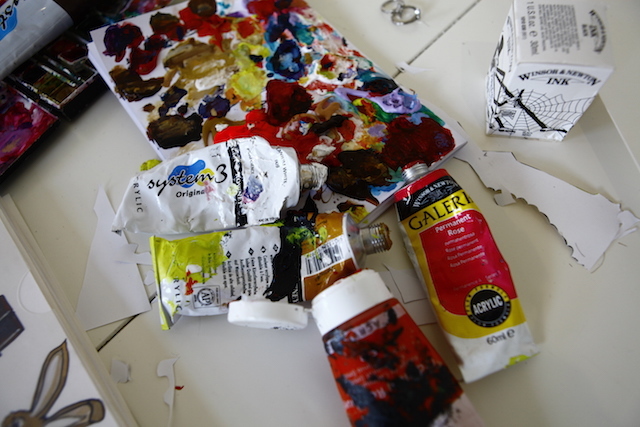 If you could collaborate with any creative person dead or alive, who would it be?
It would have to be Lawrence Alma-Tadema, his work is exquisite. I would want him to be my teacher.
If budget was limitless what art project would you take on?
I would love to design an opera house in central London.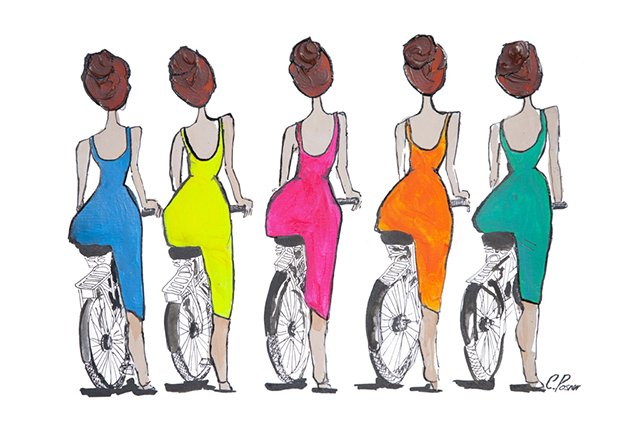 You were on the BBC's Culture Show, can you talk about that experience?
I entered the Royal Academy Summer Exhibition a few years ago and I got through. I sold my work on buyers' day. And whilst I was there, I went up to the BBC while they were filming and I tapped the cameraman on the shoulder and I said, "Excuse me, can you film me for TV?" and he said, "Sorry, no." Anyway, a year later, I re-applied for the Royal Academy and I ticked a sheet saying I wouldn't mind being filmed for TV and I got a phone call from the BBC saying, "Would you mind being on the Culture Show?" And I was like, "Of course! Let's definitely do this!" So I was on the BBC Culture Show and they filmed me through the process of getting into the Royal Academy again and that really helped my career. So I think when you put something out to the universe, and you try, and you keep following the direction you want to go, you get what you want. You have to have a vision of what you want but remember life can take you in many different directions.
Favourite place to escape?
Definitely my studio.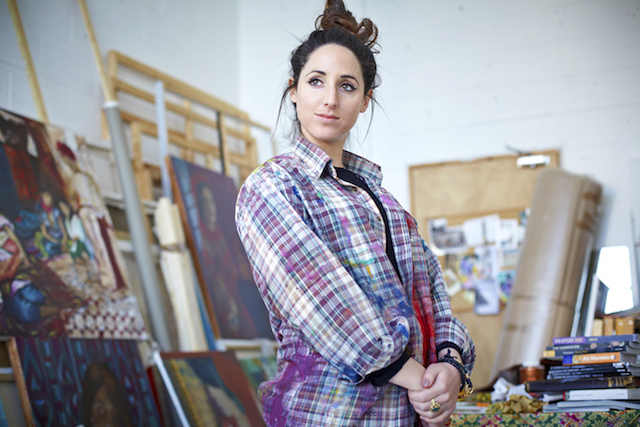 Around town:
3 places people must see when visiting London:
1. V&A
2. Tate Modern
3. Regent's Park in the evening.
What about London Inspires you?
So much! London is the hub filled with so many different areas. London has always been a moving city and it's always changing, The richness of the history and growing cultures goes without saying. The energy in itself is inspiring. I meet people everywhere from a conversation with a London taxi driver to a stranger in a coffee shop. Everyone has an interesting story to tell, if only you listen carefully.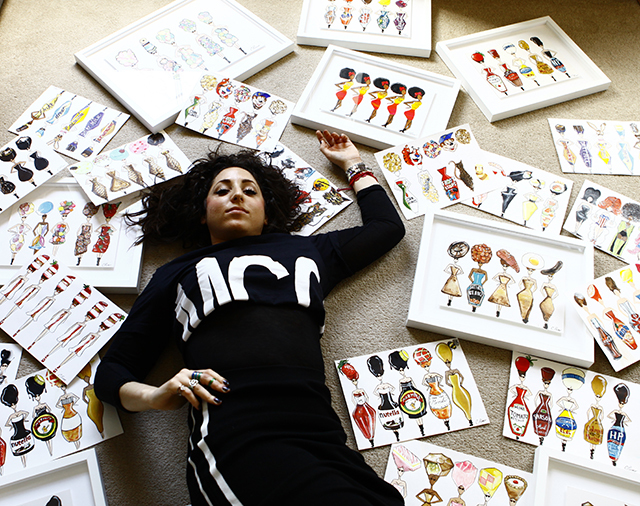 Favourite place to eat in London?
Dinner party at home with good friends, good wine and laughter.
If you could have one person show you their London who would it be and why?
Definitely the Queen. I'd want to visit the palace, have a banquet , try all her jewellery on and have all the guards parade around me.
What are your top 3 travel essentials?
1. Sunglasses
2. Some rings from my new jewellery collection
3. Trainers.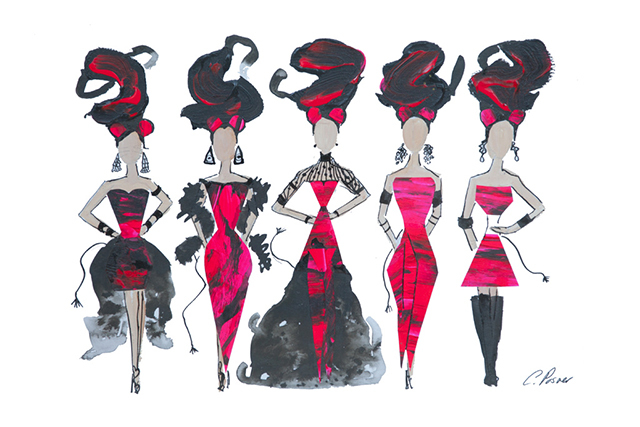 About this creator:
Website: http://charlotteposner.com
Instagram: https://instagram.com/posnerart​
Twitter: https://twitter.com/charlotteposner​
Photographs by Christian Longhi
Other Locals