About This Creator
Charlotte Beecham is the creator of the cult accessories brand Charlotte Simone. Chances are you've seen her A-list fans pictured in her colourful creations: Sienna Miller, Rita Ora and Alexa Chung are loyal admirers. With the rapid growth of the brand, Charlotte is proving that behind the fluffy bubblegum exterior lies a razor sharp business sense. Ahead of London Fashion Week, where you can expect to see Charlotte Simone accessories on everyone from actresses to editors, the designer speaks to us about Bon Bons, Bali and why London is her constant source of inspiration.

Where did you grow up?
I grew up in London but went to college in Manhattan at NYU. Having five years away from my hometown gave me a new love and respect for London town.
Where do you live currently?
I live in Primrose Hill on the cusp of Camden Town.
Where does the name Charlotte Simone come from?
Simone is my middle name!
How would you describe your personal style?
You will often find me in shades of black, blue, grey and leather with a fluffy Charlotte Simone number over my shoulder, of course.
What's your dream travel destination?
At the moment it's Bali.
What are the three items of clothing you can't live without?
My Charlotte Simone Popsicle, my leather trousers and my black Mongolian bomber jacket.
If you had to pick three words to describe the Charlotte Simone line, what would they be?
Fun, fluffy and very snug.
Your line has a youthful sensibility, but it's also sophisticated and can suit women of all ages. Who would you love to see wearing Charlotte Simone?
My girl crush is Lena Dunham; I would love to see her in Charlotte Simone. That aside, I do love that I can see ladies of all sizes and ages in Charlotte Simone.
There seems to be a swing recently towards making fashion less serious. Take Jeremy Scott at Moschino, for instance. The Bon Bon bag seems to be part of this move to make fashion lighten up. Do you think that's part of the success of Charlotte Simone?
I really saw a gap in the market for fun and fluffy accessories and I think that has been the key to my success - Scarves that can be more than just items of practicality but statements of style.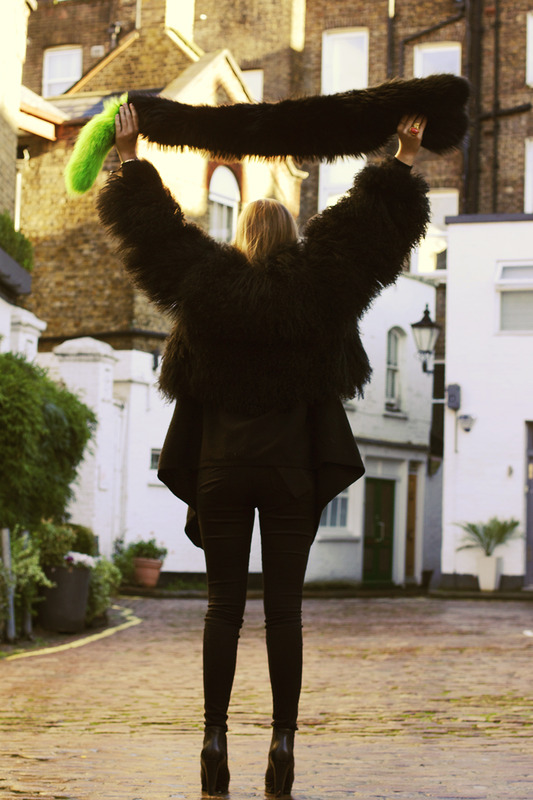 Do you think of yourself as a "British" designer? What do you think about London style?
I definitely consider myself British and I'm inspired by my beautiful hometown constantly. I'm actually most inspired by ladies on street corners. I'm a real people watcher and London style is pretty damn inspiring.
Instagram has had a huge impact on your sales and worldwide recognition. Who are your favourite people to follow?
Instagram hugely impacts my sales; my online analytics showed that 41% of last year's sales were driven by Social Media. I think my honest portrayal of day-to-day life as a young entrepreneur is appealing. My favourite Ig accounts at the minute are @SophiaWebster and my sausage dog @Harold_Simone.
Who or what is inspiring you recently- art, movies, music, anything!
I'm always inspired by the ladies of London; I love street style and its unique ability to stir creativity. I'm also really looking forward to LFW.
You've already expanded into bags. What's next for Charlotte Simone?
That would be telling! Sit tight for a fun, fluffy and ever expanding line of accessories. I'm very excited for next season's release.
If you weren't doing this, what would your alternate career be?
Wishing I was doing this or trying to find a way TO do this.
London:
What are your favourite places to shop in London? Portobello, hands down
Which collections are you most excited to see this LFW? Sophia Webster, Mary Katranzou, Erdem - and a lot more!
Describe your ideal Sunday A walk through the park with my sausage dog Harold, a pub lunch with friends and a movie in bed!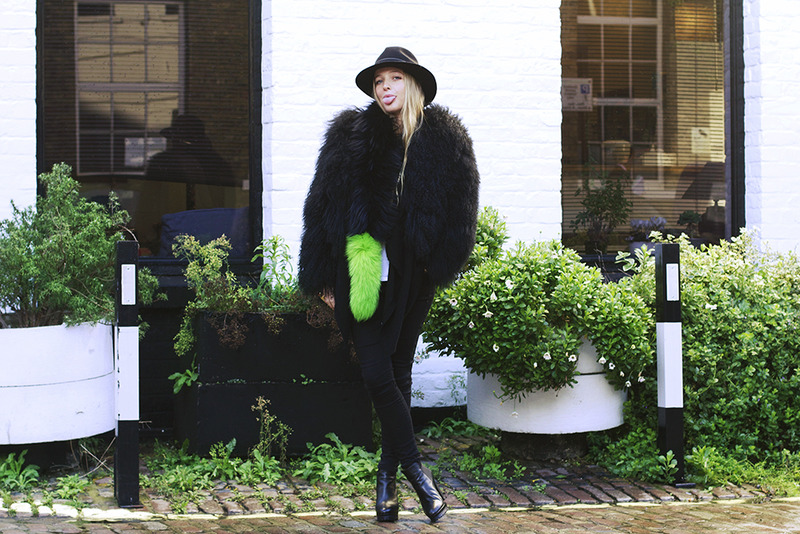 Find this creator:
Website: www.charlottesimone.com
Instagram: http://instagram.com/charlottesimone_
Twitter: https://twitter.com/csimone_
Blog: http://clothesovercarbs.blogspot.co.uk/
Other Locals