About This Creator
Back of House sat down with bartender extraordinaire, Andy Loudon, ahead of the launch for the new bar at St Martins Lane, Blind Spot. We touched on everything from the history of bartenders to winning the Havana Club International Cocktail Grand Prix.
Where did you grow up?
Scunthorpe, a small town not far from Leeds in Yorkshire.
Is that where you first found a passion for cocktails?
No. My first experience of wanting to work in a hospitality environment would be being on holiday in the South of France with my parents and I remember being sat outside a bar and it was lovely warm weather, not great drinks it was just a pub, pints and wine. I looked around and thought it's amazing when you're sat outside like this and I was probabaly about 12/13 years old. After that I moved over to Manchester to go to University, at 18 years old, discovered that I didn't really like university that much and walked into a bar very similar to how it happened in the South of France but this time it was in Didsbury, South Manchester and I fell in love with the bar. It was completely different to anything I had ever seen before, it was plush leather sofas, nice wine, good beers and great ambience. I thought I want to work here, the next day I walked in and gave my CV in at the bar and they said they didn't have any jobs. I came back again the next day and the lady that worked there said they had a vacancy. The guy who told me they had no vacancies is now my best mate, he told me they didn't have vacancies because I wasn't a girl.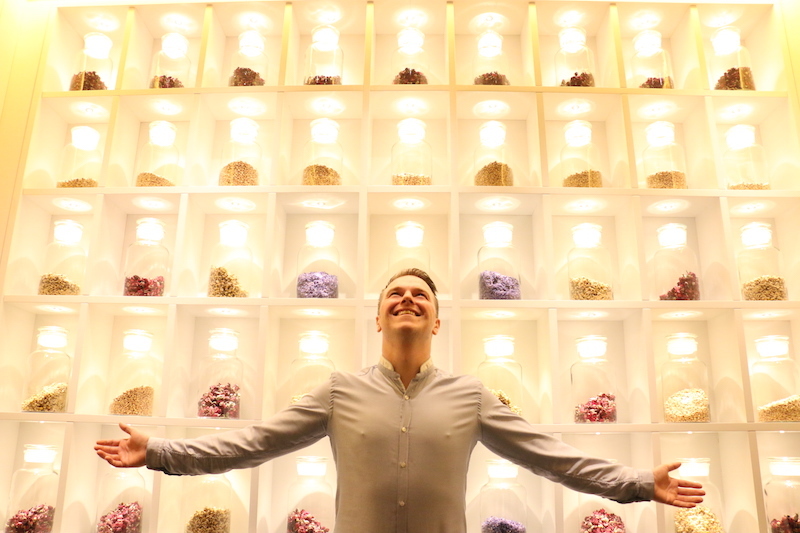 At what point did you begin to delve into the science of making cocktails?
The first instance of me really getting into cocktail making was the bar I spoke about before in Didsbury. When I first started they didn't have a cocktail menu at all. They actually outsourced the company to do consultancy for them where there were 27 bars in the company and one person from each bar would come down to London and did a 2 day course with a company called Soulshakers, which is run by the people I work with at a bar called Satans Whiskers. That was the first time anyone ever taught me about the construct of a cocktail; Sour ingredients, sweeteners and stuff like that.
How has social media changed the role of the bartender?
That is quite an interesting question, it is obviously very important it heightens the profile of everybody in the industry.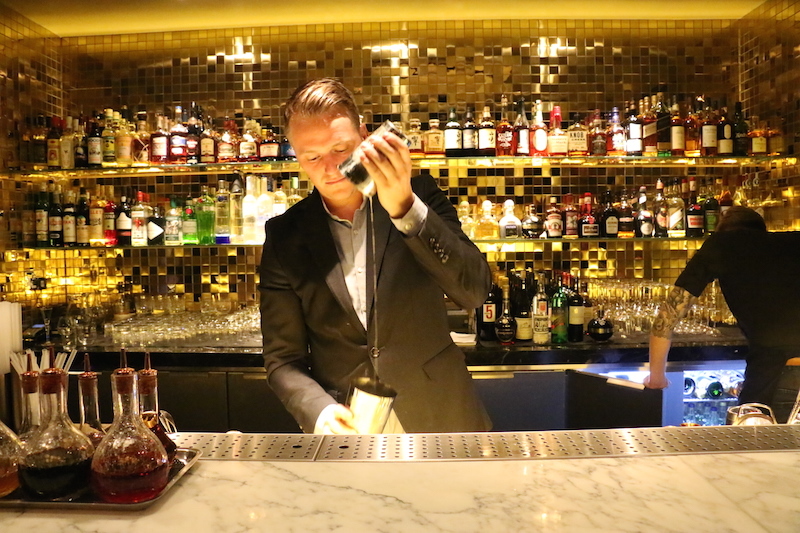 Do you think modern bartenders are more interested in the look of the cocktails instead of the actual taste?
Ultimately it will always come down to the taste. It is just like food if your dish looks great but tastes disgusting then no one will ever go back to that restaurant. I have always been of the mindset that service at a bar is at the very top before anything. Service is number 1, ambience and atmosphere is number 2 and the cocktail will ultimately be number 3.
What inspired the cocktail list for Blindspot?
When I first met with the F&B people here they had this idea of it being a tea inspired bar, with the whole English and Chinese themes running though out it and they wanted 12 drinks on the menu straight away and my input into that conversation was that if you had just tea inspired drinks then you are bracketing yourself and it could become gimmicky. It is always about being versatile in your approach not just with drinks but anything in life. So my input was that there should be 4 drinks that are heavily inspired by tea, then 4 drinks that use fresh locally sourced ingredients that you could find anywhere in the world, so the drinks could be replicated anywhere in the world and then finally to make 12 drinks in total, there should be 4 drinks that use homemade ingredients. Drinks like the "Butter Cinnamon Daiquiri", we make a buttered rum with grated cinnamon put into it, we freeze that over night and the rum takes in all the flavour of the butter and the cinnamon.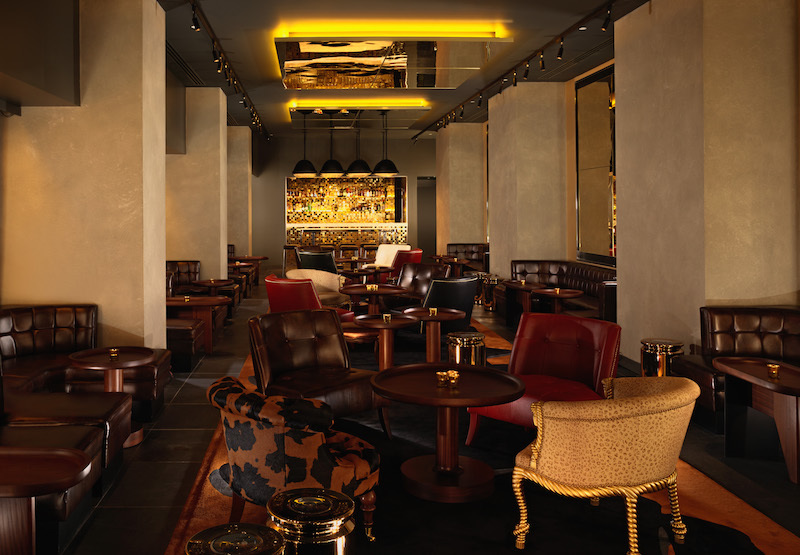 How do you decide what cocktails work and how do you make that decision?
To go back even further, there are drinks on the list inspired by songs of my youth, like the very first drink on the menu the "Oro Negro" (Jimi Handrix), there are drinks that have been inspired by perfumes, football, films but once I have picked an inspiration I build flavours around that. The "Captains Shaddocks Gin Fizz" is a gin fizz inspired by a perfume made by Hermes and it's an example of how Grapefruit and Rose work very well together but also the story of captain Shaddock is a historical short story about an Admiral who took the lemon from China over to Barbados cross bred it with an orange, which is now known as a grapefruit but was originaly known as a Shaddock. I try and get ingredients that I think will work well together and I structure them along that narrative for a drink and I just test and test. Some drinks are made 50 times before they are ever served to anyone, even then there is a constant evolution of each drink.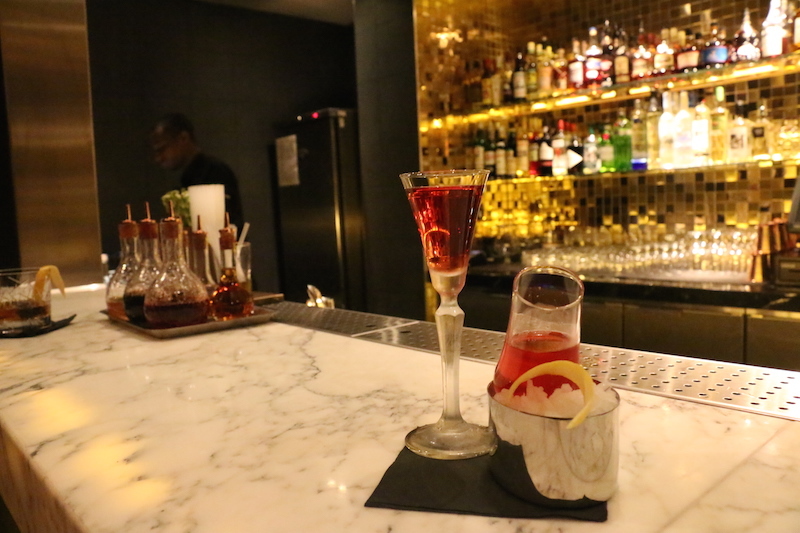 What advice would you give to a young bartender or wanting to get into the industry?
Read and listen. As a young bartender you want to create and you want to make new drinks and things like that but the best point to learn from is history. You build from your classics. Classic cocktails should all be made to a very high standard. Take the Manhattan for instance it is a simple 3 ingredient drink, but it is easy to mess it up. Once you have a broad sense of your classic cocktails then you can start building and create new things, take inspiration from old drinks and twist that into something new.
There seems to be a celebrity element attached to the bartender these day…
The Startender.
Yea, there seems to be a lot of bartenders that have a certain look, for example there was a time when you would never have seen a bartender with tattoos and piercings and all that kind of thing in an upscale establishment.
Long beards!
Exactly. What are your thoughts on that?
It is one of those industries where you have a lot of freedom and people generally when they start bartending they are at that age where you are still fairly rebellious. Bartenders could be compared to modern day rockstars or filmstars, although I would never describe myself as such. I enjoy the limelight but only when I'm at the bar. I don't want people to see me and know I'm a bartender.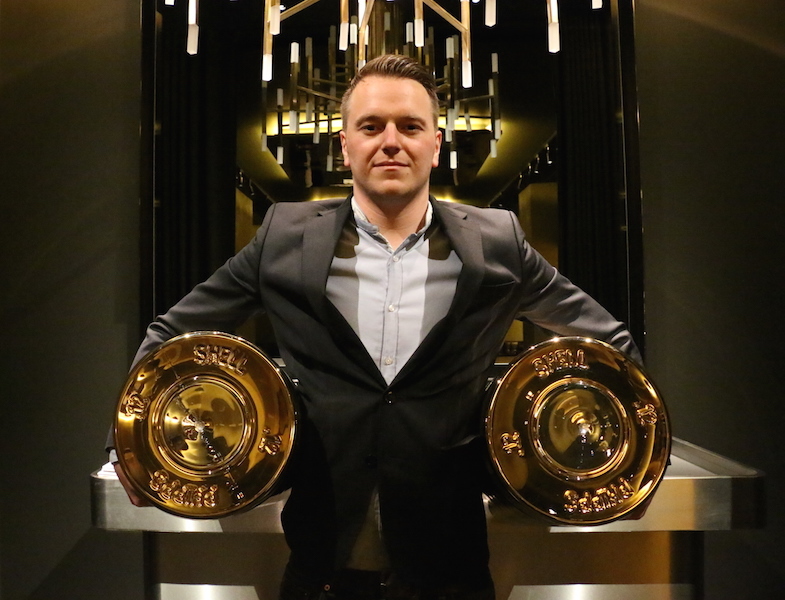 For you it is about the drinks, in the environment.
I design the drinks for here and I am very happy with them but when this bar is successful that will be down to the guys that work here. It's all about the team.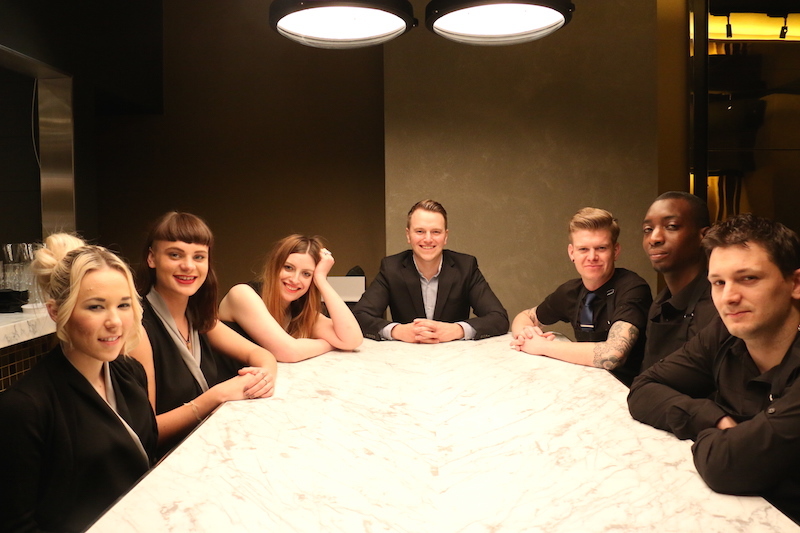 Do you consider yourself a creative?
I suppose so, I have a holistic approach to bars and service and try to make sure everything fits in, you are only as strong as your weakest link. If you were to go to a bar and the service was poor would you go back? Possibly, but not for sure. If you went to a bar and the service was amazing and you got looked after the best you've ever been looked after but your drink was just ok. Would you go back? Of course you would because you have been made to feel like a million dollars and that's what it is all about. At any bar you need to have an all encompassing approach, ambience, service and drinks.
What should people expect when they come to Blindspot?
Hopefully a fun time, good service and great drinks. On the drinks front it is not about throwing drinks at people with flavours they don't recognise, that is something I have learned over the years. You can have weird and wonderful ingredients but customers need something in there that they can recognise.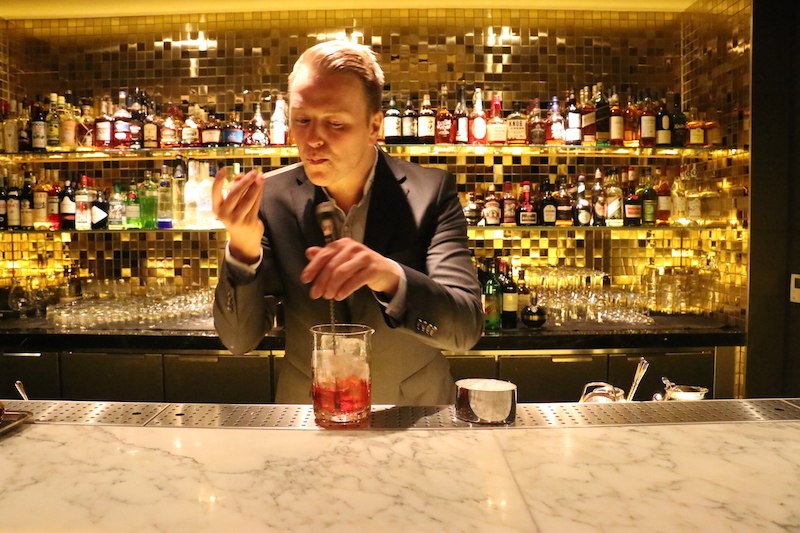 What made you move to London?
The bar scene in Manchester has changed, it is a lot different now, I have been down in London for like 3 years. In Manchester there are like 10 good bars and they are all in walking distance of each other. London is the epicentre, the Artesian has won world's best bar 2 or 3 years in a row. In the world's best 50 bars, 15-20 are in London. I had got too comfortable in Manchester and it was all about going onto the next step.
What are your favourite places to go drinking in London?
Satans whiskers.
69 Colebrook Row.
Charles Lamb pub and kitchen.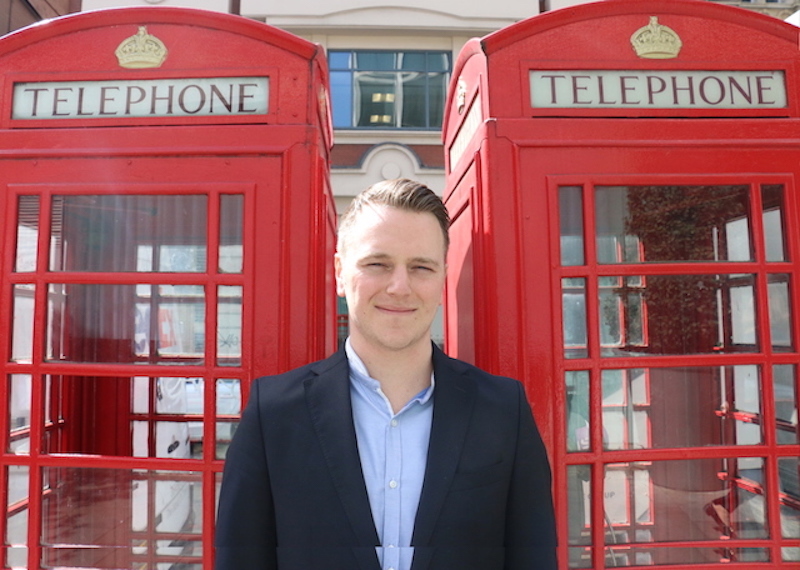 What are your favourite places to eat in London?
Zen Mondo in Angel.
Barnyard on Charlotte Street.
Cerviche in Soho.
Is there anybody that inspired you to do what you do?
Going back to when I first started. The first person to ever inspire me was my first manager, I wasn't very goo when I first started and he kind of grabbed me by the scruff of my neck and helped me improve. I always look at the old managers and owners that I have worked with. Andy Rhodes, Adam Binnersley, Kevin Armstrong at Match.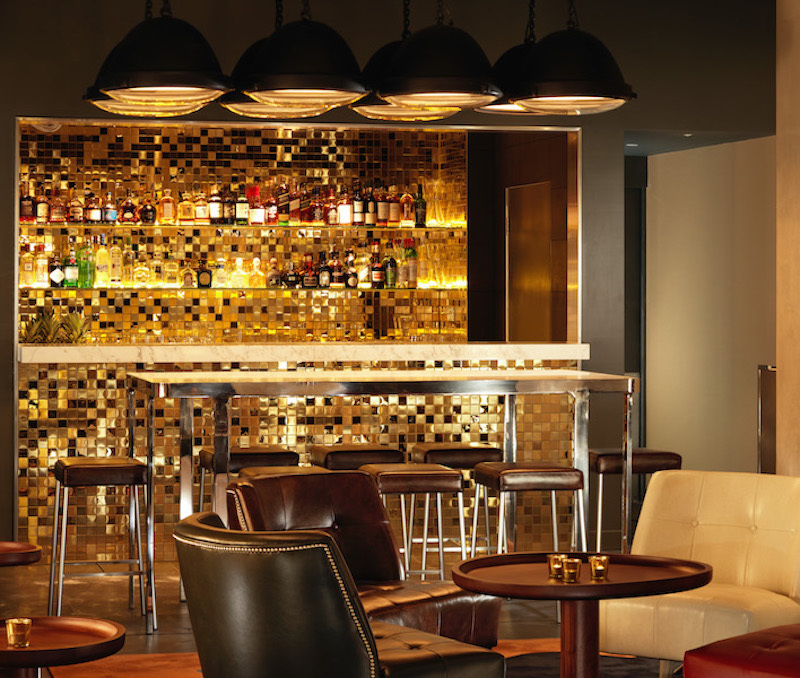 What does the future hold for you and what is your vision?
I love being behind the bar, I want to take in different inspirations and cultures, I'd like to travel a little bit. Do what you see chefs do when they go around the world and pick different cuisines from different places around the world, I want to do the same in terms of incorporating different styles and cultural influences into what I do.
You mention you love being behind the bar, why is that so special to you?
There is a theory that if you spend 10,000 hours doing something you become a genius at it. In hospitality you tend to rack up 10,000 hours quicker than you do in any other industry, so to say you are a genius after 10,000 hours at it isn't quite correct. It's that constant aim for perfection, whether it is building one drink or building a round of drinks. I like the repetition of doing something over and over again until you gain perfection and perfection is something that you are never getting. Unattainable but you aim for it. The freedom you get in the industry to experiment with things and taste spirits. I have probably been lucky enough to have worked with people that have shown me how to play around with things in the right kind of way. Going back to books, my favourite book is harry johnstone's bartenders manual and that book was written in the 1880's and in the first 2 chapters there is so much that is still so prevalent today in how he talks about service and how your general demeanor should be while working in the bar environment.
What are a few of the bartender related books you can recommend?
Harry Johnson's - Bartenders Manual
Gary Regan – The Joy Of Mixology.
David A. Embury – The art of mixing drinks.
Tony Canigliari – 69 colebrook row.
What is your greatest cocktail moment?
When I first moved down to London, I heard a lot about London, how it is not very friendly and so on but I remember being stood behind the bar at 69 Colebrook Row and Jazz music was blaring, I was making cocktails, I didn't feel like I was in London at all. I felt like I was on a film set in Milan
I read that you have won some competitions, how was that experience?
Every two years, Havana Club (rum manufacturer) do what they call their Grand prix. So they have a regional competition North London, South London etc. Then the winner of the regionals goes on to compete in UK final, which contains all the winning bartenders from the regional heats and the winner of the UK final then goes off to Cuba, Havana and then you compete against 50 bartenders from around the world. I won that competition.
How do you feel about the competitive aspect of bartending?
I love to compete. I played a lot of sports growing up. It's nerve-racking but I love the excitement, trying to do the best that you can possibly do is a good feeling.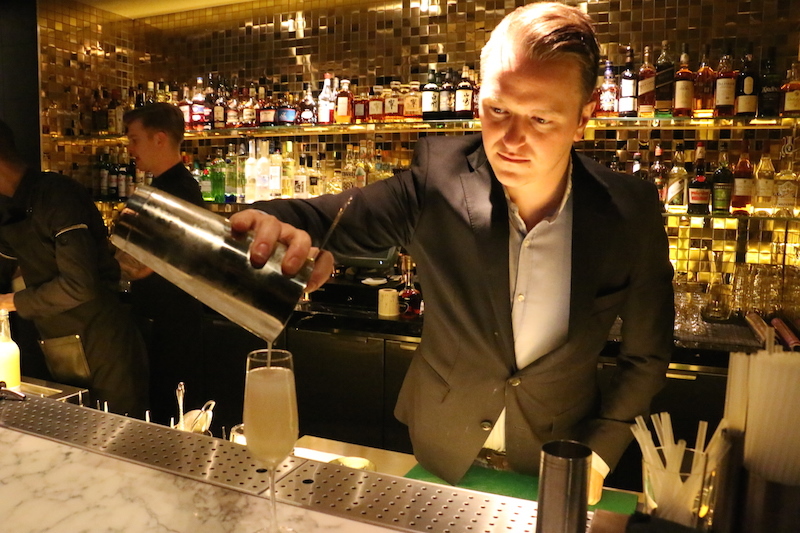 Do you think about legacy?
I think everyone would be lying if they said they didn't. I want to have a good time, I want to make sure the people I work with have a good time and that all the people I have worked with say 'He knew what he was on about' I want them to be able to take something away from talking to me.
Blind Spot is now open for bookings.
Other Locals