About This Creator
Aileen Quintana is a unique find in Miami. You might have met her once, as the girl with the green, or pink, or now yellow and orange ombre hair. Her hair color, which changes every three months or so, is only the beginning of where Aileen's creativity lives. She has worked on shows for top fashion brands, she paints & creates art installations for galleries and events like III Points Festival, all while producing events for PAMM Contemporaries, styling shoots for The Webster, and basically infiltrating arts and culture in Miami as a full-fledged one-woman brand. We met Aileen recently and invited her over for coffee, an interview, and a little photoshoot around Mondrian South Beach.
Where are you from?
Miami, born and raised. People always assume I'm from somewhere else, but Miami.
What is your favorite travel destination?
I travel quite often, I'm always in transit. Always between here, NY, LA, and Tokyo. I did a tour around the world last year. I have issues, I feel like I'm everywhere and nowhere at the same time. I can create a Toyko utopia here, and a sunny spot in Japan. It's where you are I guess. But I guess I have to say Japan is my favorite. Next week I'm going to Austin, then Detroit, then Berlin, then back here for Swim Week, then Japan, then Barcelona sometime in between. Work hard, be nice, smile. Even on rainy days, keep your sunshine.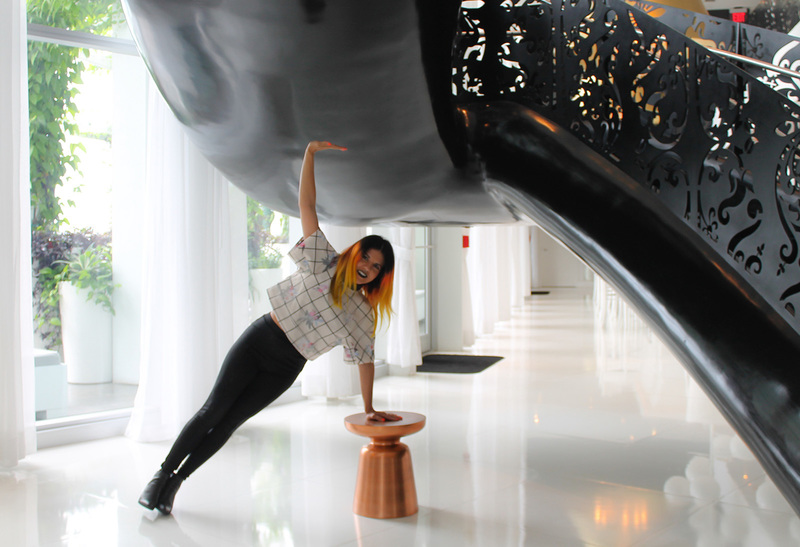 What are your 3 must-pack travel essentials, and why?
Mascara, because you'll look cute every single day. Lucas Papaw beauty balm from Australia. It's made from the papaw plant, and my god its the most moisturizing thing in the world, and it's for face, lips, everything. It keeps you looking fresh. Put a mask on when you're traveling, or anywhere you're sitting. Hydrate constantly, forever young. My cell phone, because even if I'm not making calls, I'm documenting memories with it. Photos and videos and mementos from my travels are all on my phone. It's a reminder of where I'm from and where I am going, and keeping my creative process flowing.
What do you love the most about being an artist in Miami?
The colors. It's absolutely one of my favorite things, I'm a beach mermaid in that sense. I watch the sunrises and sunsets. Nature is the best component to tell you about life. They are abstract, emotional, and a painting you'll only see once in your life. That's the formula of life--you won't have the same experiences as someone else, you won't see the same thing twice. The beach, the quality of life here is brilliant. Miami is where I want to come back and develop, no matter where I travel to. It's important to leave, but it's important to come back, share your stories and inspire others.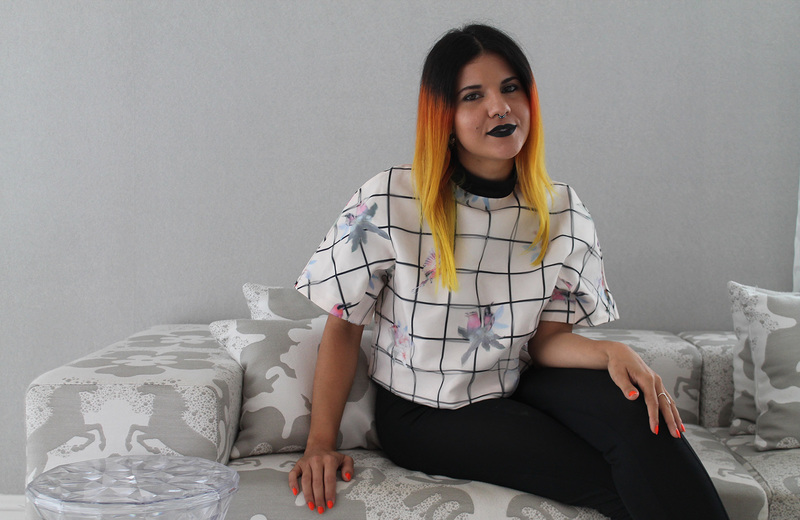 You got your professional start as a makeup artist. How has that evolved over the years into other roles?
It's been a whole experience. My dad would fall asleep on the couch when I was a kid, and he would wake up in full makeup I had created. I wanted to find a way to paint, and I painted faces. I then wanted more ownership--to be a part of production and development, and painting more than faces, painting emotions. Setting moods with installations, it's amazing. I've been hired recently by a techno based music group and I am designing their entire showcase aesthetics. I'm doing the visuals, curating the rooms, and it's beautiful how my role is shifting over the years from fashion to arts and music, and now fashion within music rather than on its own. All three of those platforms have formed into one. I'm a fixture at III Points Festival, which has given me a great way to to get weirdeeerrrr. People are afraid to try new things, and I'm so happy I have a voice to give that to other people and give them things they haven't felt before. I want to inspire one on one, aside from an intimate setting, but spread that energy to a whole room, and to the internet, and further. It's all so beautiful.
Do you have any makeup tips for beating the heat in Miami?
You gotta level out your pH levels in your skin. The more you get your skin used to being hydrated, the less you'll produce oils. An amazing evian spray in the purse in your lifesaver in the summer. Keep it in the fridge, rather than feeling like its getting beaten. Sunblock, sunblock, sunblock, SUNBLOCK! It helps you more than you think, it has so many benefits--anti-aging, a barrier from the sun, perspiration reduction. Sunscreen and water are the best foundation.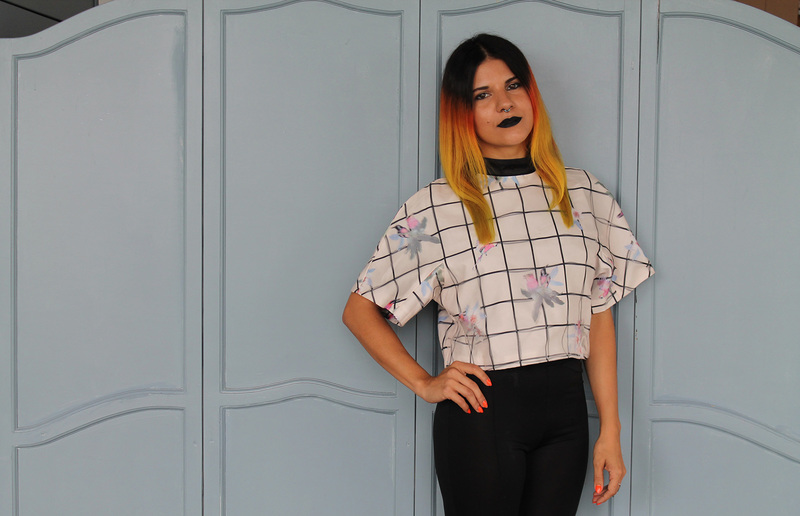 What are some of the projects you are currently working on?
Well, I am creating my III Points installation, which will be happening October 9, 10, and 11. Swim Week I have a couple of designers that I will be working with--I'll be curating the hair and makeup and run of show. I kind of do it all. I'll be traveling a lot this summer, going with III Points. Austin Psych Fest, Sonar in Barcelona, and Movement in Detroit. And Berlin at some point working on an artistic expression. And the visuals for Un_Mute, and I'll be doing their showcases through Art Basel.
Where do you go in Miami to find inspiration, and why?
We're really blessed, really lucky here. Is it weird that I hallucinate all the time? Honestly, everything inspires me. I don't watch TV, I pretty much listen to music all day. I watch the sunrise every day, and my friends are amazing and so so beautifully strange. It makes me really happy, and my family inspires me. I don't know, everything, really. Even this conversation is inspiring in some ways. Great energy, good memories, good moments--that's what life is about.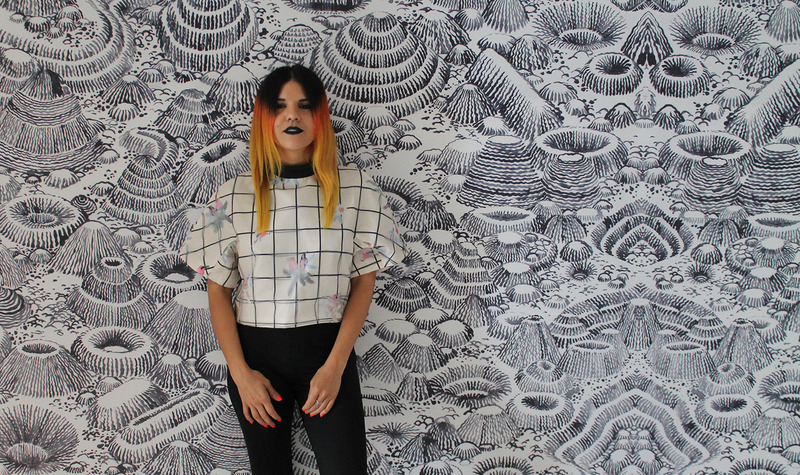 You started your own brand/business years ago. What advice do you have for other motivated entrepreneurs who are thinking of going out on their own?
You gotta do things that make you happy, because then you'll actually do it. If someone wants me to work and do something and I don't have love for it, forget it. The intensity behind loving something is a totally different experience. Do things with passion, or do nothing at all. The only measurement of owning your own business is that it's not a business, it's a lifestyle. You can have a 9 to 5, and that fixture in your life--I probably work 20 hours a day. I'm always pushing myself, and developing a lifestyle. It's constant meeting, working, developing projects, selling whatever you're doing. You have to love it because it isn't easy. The harder you work, you'll see results. Don't get frustrated, and remember to breathe. Try to find something that doesn't exist, because that's a big key to success. Have your voice, and that independence, and let it all happen. Make your life abstract.

About Miami:
Favorite restaurant: Mandolin. The Federal. Even though I'm a pescetarian, there are some great vegetarian options. Bengal has amazing Indian food. Sushi, I like several places. Taste Cafe, I like that for lunch, they have great sandwiches. I'm pretty chill.
Favorite place to grab a cocktail: 27 has a great vibe, they have great concoctions. I'm a tequila girl, everything else makes me kind of sick. I usually have aged tequila, mescal preferably, But I love Don Julio 1942. I also love going to Trade, I'm either at Electric Pickle or Bardot. Those are my three homes.
Favorite café: I'm not gonna lie, Panther Coffee cold brew with a shot of espresso
Favorite spot for retail therapy: Style Mafia is my baby girl's line. I am a strong advocate for Simo, I love what she's doing. I love that she's bringing a different fast fashion into Miami's market, that's also accessible. We're kind of mutual muses.
Favorite museum/gallery: I sit for the board for the PAMM Contemporaries. May 16th we are having a fundraiser, everyone should totally come. I sit with them as a co-chair and curate the social programming for our group. I host field trips and create events, and it's a great group. I have a lot of fun!
Best way to spend a Sunday in Miami: Lazyyyy dayssss. I like to vegetate and listen to the ocean. I kind of party for a living, so I like to mellow out or chill with my family. It's nice to do absolutely nothing at times. Mondrian is so nice to sit and chill out and watch the sunset. I like to keep it mellow when I'm not working. Maybe a spa day. Get a massage. Canoodle and cuddle with somebody. Or paint. Whatever.
What do you recommend first-time visitors do for an authentic Miami experience: You gotta go to Versailles. My Cuban ass will tell you that! Hear the old men talk about Cuba, you gotta go down 8th Street, go to Little Havana and escape the modernized culture. Go to the Art Deco strip and look at the awesome buildings on Ocean. Go to the Webster and check out the creative fashion there--I do their campaigns and editorial work. It's amazing to play with all of these one-of-a-kind pieces. You gotta go to the Perez Art Museum. The aesthetics and visual and arts are so amazing. You can have a romantic dinner at Cecconi's, it's so cute.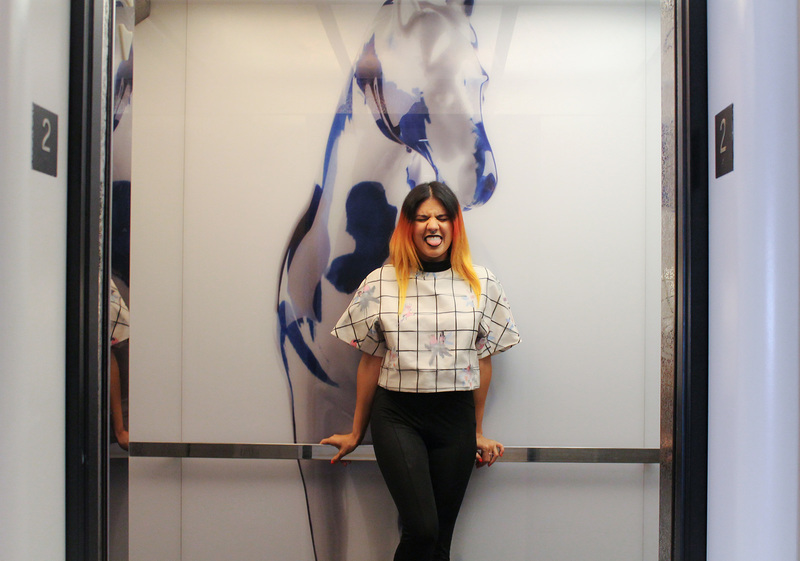 Find this creator:
Instagram: @MakeupByAileen
Facebook: Makeup By Aileen
Twitter: @MakeupByAileen
Website: MakeupByAileen.com
Other Locals