About This Creator
When it comes to names, sometimes one just isn't enough. This is the case for artist David Anasagasti, a.k.a Alouishous San Gomma, a.ka. AHOL SNIFFS GLUE. Contrary to the latter name, which is also his moniker for tagging graffiti, AHOL is anything but. Offering strangers a Stella while chatting with the neighbors, and taking breaks to discuss potential projects with peers and friends as inspiration strikes, AHOL is magnetic, and is really just downright pleasant to be around. People stop by to take photos of his graffiti outside as we discuss his life and inspiration, including how he left the 9 to 5 world to create his artwork full-time. Of course, we also had to get a litttle insight on where this born & bred Miamian likes to spend his time.
What's the story behind your name?
AHOL is the tag I came up with, to be anonymous, on walls, and Sniffs Glue is a shoutout to the Ramones. Everyone thinks of graffiti aligned with hip hop, but I'm more punk rock. Back in the day The Herald and everyone refused to say AHOL Sniffs Glue, so I made up Alouishoius San Gomma as a "real name." I won't tag my real name, David Anasagasti anywhere, but I am less private about it than I used to be.
Where are you from?
Born and raised in Hialeah. I bounced around a few neighborhoods, and now I'm downtown. I've never lived on the beach - I don't want to become one of those people who never leaves the beach.
Was there a moment when you knew your future was in art?
I started with graffiti and the art world, and I learned the aesthetics from a buddy who was dating an art teacher. I felt empowered creating art - but I never thought I would make a living off of it. Little by little I got more engulfed in it, and it's pretty cool when you're going through things--I lost my mom, and art was that friend I needed and I threw myself into it. It just kind of happened.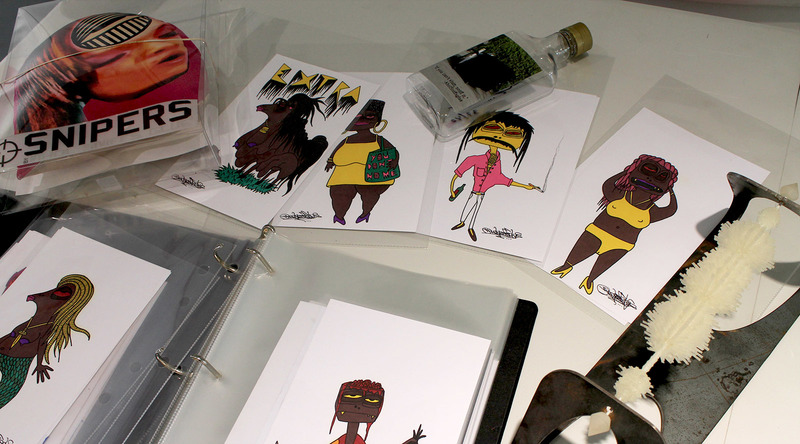 What was the turning point in your career in terms of getting discovered?
Getting laid off a year and a half ago, doing customer service. Clerical stuff! I was pretty good at it, and they laid off half the company. I called Gregg and he said keep doing the art, keep doing new stuff, and I haven't looked back since. So getting laid off was a blessing. I was juggling walls late at night, throwing parties, and having meetings all juggled around a normal job--no one knew I was 9 to 5er. People were at homes with hangovers, and I was in a cubicle. I've been working since I was 16, I never thought I could make a living off of artwork. I don't ever want to go back to a cubicle--ever. I've been doing full time art since getting laid off a year and a half ago. Before that though, I had a show called Full Time, because I was working full time and using that to inspire my work.
What do you love about the street art scene in Miami?
The exposure is definitely great, and people recognize my work thanks to the street work. When it comes to street art and graffiti, I'm very biased because of how I grew up. I only care about my crew and my friends pretty much, peace on the streets does not exist. If there's problem, you have your crew. The wall by Electric Pickle was an illegal wall, the cops actually showed up. They brushed off the situation because the Pickle told them it was ok, even though it wasn't even their space. Family first, you know? You help out your friends when you can, and work hard. You have to roll with the punches.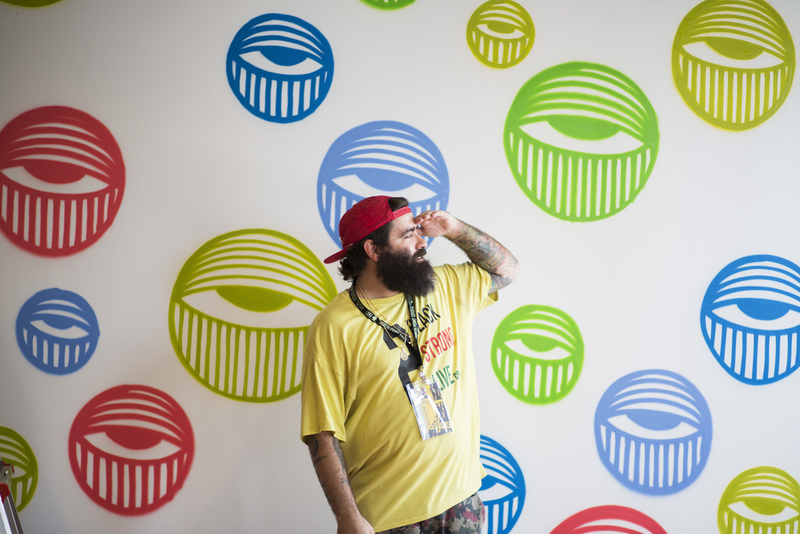 Tell us about your signature "drowsy eyes." What are those all about?
I started I was in a band called the Panty Raiders. I was playing bass, but I loved making the flyers. I was drawing characters, and stacking just heads. They have three teeth no eyes from sniffing glue. Then I started doing just the eyes stacked up. There are no words, no letters, the eyes are symbolic as a powerful image, and the pattern has gotten very popular. That's also why I made it a point to incorporate other things. The eyes came from interacting with people on the bus. I would try and draw something every day when I got off the bus.
You're known for the graffiti, but what kind of art do you create besides the eyes/walls?
3D printed jewelry, which is sold at the Perez Art Museum. Also 3D printed sculptures made from sound waves, different words and phrases in a tangible form. At the time, 3D printing was not as common as it is now. I've also tried prints, but only if they are on brand--they are on liquor bottles, unused bottles, printed and signed by me. The history museum bought one and catalogued it, which was pretty cool. I don't want to just do what other people want. I just did a show with the Miami Music Club, with a group I work with called The Huffer Collective--we did a bootlegged version of 3D mapping and using acetate on a projector that overlapped with a performance. And there was a musical aspect to it as well. I like to flex different stuff, even if I can't turn a monetary gain on it, I want people to understand the creative universe is sometimes more important than paying the rent. Also, we did this show during Basel with these custom pillows, and the inspiration behind that was the Maury Povich show, I used the audience's honest reactions and expressions to the staged scandals. Those pillows are also being sold at the Perez Museum.
Tell us something unexpected that we wouldn't guess.
I just bought a computer for the first time. I used to do everything on my phone--everything. Once I got into animation the guys I'm working with were like "Dude, you could do so much more with a computer. " They told me to just get and they will show me how to it. I just got a Mac and I am having so much fun with FaceTime. I FaceTime my brother all the time even though he lives in Cutler Ridge.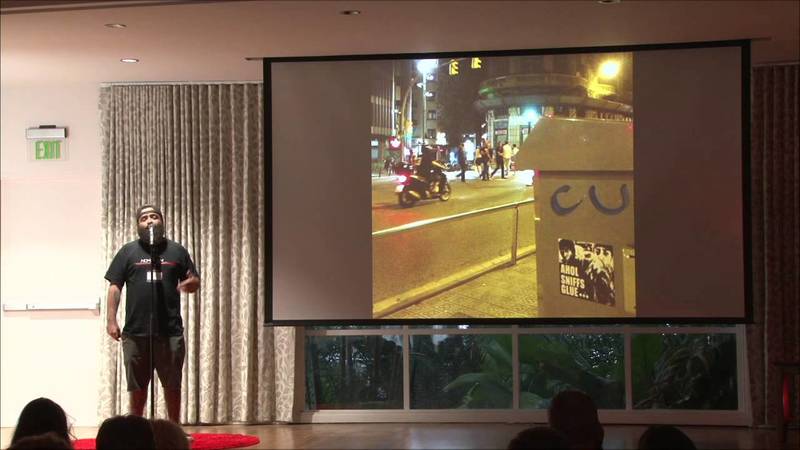 You were a part of the first TED talk here in Miami. What was that like?
They wanted me to prepare for it, and I turned down their help and freestyled it. It was authentic. Maybe not smart but honest. It was awesome, I hyped it up--but not too much, so I wasn't too nervous, then it sold out. So I was really scared, but it was from the heart. There are some bloopers - my slideshow was running too fast, so my mental marks were way off. But whatever, I did it. I did like 10 minutes, which was kind of like the middle mark for time length.
What are your sources for inspiration in your work?
In the beginning, the bus ride to work was my inspiration. I used to draw every day when I got to work based on who I encountered on the bus or on Biscayne. Even though work wasn't great, it was a great takeaway. Work is still an inspiration. Someone was hating on me and graffitied something bad about me, and I held a popup show there. So it just kind of works. The popup stuff that isn't planned, that's what's cool--it just happens that way.
Is there a reason you've stayed in Miami?
I always thought traveling was a luxury thing, but I've made the most out of being in Miami. Traveling is a luxury, and people who travel the world and paint and go around and do that--a lot of them are kind of living couch to couch and trying to leave a mark. Why fake it? Miami is really chill and I love it. Plus, with Gregg, we move pieces all over the world, technically I've developed strong roots in my hometown with the support of the city, but also Gregg who's pushing my stuff and working with cultured collectors. I'm very thankful.
Tell us about Biscayne World and your vision behind the short film.
It's been shown around the world at various film festivals, and once that wraps I'll probably do an art show and maybe release a book. I'll probably put it online, do a proper film festival thing. The movie, if anything, is a perfect example of how whatever is going to happen is going to happen. I've never been a believer of authority--and if the police had helped me that day, there would be no movie. It put me in a situation to start riding the bus, where I got inspired. It's like everything happens for a reason. Borscht gave me a grant to make the movie, and it made it clear that the punches will forever be coming. If it wasn't for all these fucked up things that happened, I couldn't have the opportunities that I have had. Losing my mom to cancer, it was tough, but it's made me realize so much about life and about other people. Your best day could be someone's worst day, we can only hope to understand each other.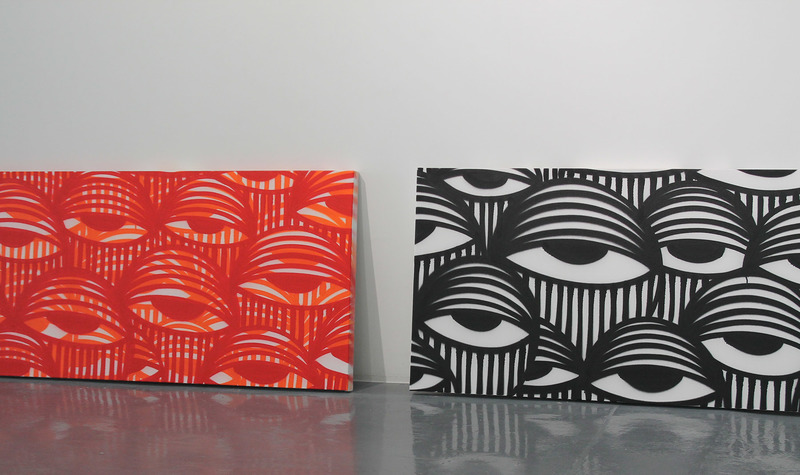 How did you end up at Gregg Shienbaum gallery?
I was run over while I was on my scooter and Gregg reached out and said I'll do an art show here and we'll give 100% of the funds to you. I brought in everything I had laying around the house and he sold a ton of it. We called the show Hit & Run since that's what happened to me. Afterwards, Gregg approached me with a business relationship and we've been working together ever since. A guy actually came from Naples and bought part of my scooter from the accident, it's hanging in a bar. I show so much love to Miami and do community stuff. Now, it's crazy how things have developed and how my art is seem by collectors. They come here because they collect art like Warhol, Lichtenstein--famous work. Then they see my stuff, and it's a compliment to think they come looking for Warhol and leave with AHOL. Buyers are everywhere! They don't come expecting to buy AHOL and they have to have it. Serious collectors buy AHOL, which is cool because they aren't stuck on just the classic artists.
What was this party you hosted last year during Art Basel? I hear something about free tattoos at Mokai?
Yeah, I did that with Opium Group. I told them I would only do it if it was extra ratchet. So yeah, like 30 people got free tattoos of the drowsy eyes, and actually the demand was high and people had to get turned away. Otto and some bearded drag queens were there too. It was not a typical night.
What does the future hold for AHOL? What's next?
I did some cartoons for the new show Ballers, I can't say which episode, but that's something to look out for. It's crazy how things change in a day. Someone sees something, talk about the gallery, then call and request more. The clients
Around Miami:
Favorite Restaurant: For Spanish food, Enriqueta's. It's a nice little gem, but it's not open all the time. Manolo's for late night Spanish food, it's open 24 hours.
Favorit Bar: The Deuce, but everyone says that. Churchill's in Little Haiti, and Gramps is great, they still have affordable drinks.
Favorite Record Shop: Sweat Records, I have a few walls there, and Lolo is great--I love people who are doing their thing for the love of Miami.
Favorite Thrift Stores: The Flamingo Plaza in Hialeah is the best for thrifting.
For people coming to Miami for the first time, where should they go? Definitely go to Ocean Drive to see it, you have to just see it. Don't spend all your time there, but experience it. Touch the sand, swim in the water. Don't spend all your time in shitty bars. Don't get trapped either--cross over to the mainland. Little Havana definitely, The Wynwood thing is a little over the top now, but it's also a global destination, so stop by and see it--you don't have to even get out of your car. Going out to the Everglades and ride bikes, you could even hit the Miccasoukee Casino because sometimes they have really cool shows there--some people let you bring beer on the boat.
Find This Creator:
Website: AHOL SNIFFS GLUE
Gallery: Gregg Shienbaum Fine Art
Instagram: AHOL SNIFFS GLUE
Twitter: AHOL SNIFFS GLUE
Other Locals